Description


"I say, 'Get me some poets as managers.' … Poets, those unheralded systems thinkers, are our true digital thinkers. It is from their midst that I believe we will draw tomorrow's new business leaders." --Sidney Harman, CEO Multimillionaire
Want to make a living doing meaningful, valuable work...the creative way?
This is a day for those who (want to) make a living doing what they love, while also making something meaningful in the world that is of value to others. e.g. indie authors and artists... coaches and trainers... counsellors and healers... activists and makers... movers and shakers of all kinds. A day to open the gateways to creative flow.
Creatives and creative entrepreneurs often define success differently and work from different drives and values to the conventional world.
And there are principles of conscious creation that we never learned at school and a psychology for creative success that is not yet widely known.
What does this mean for you? If you're not having the success you want, or finding it all too hard, or want to make a transition but finding yourself pulled back, again and again, it may well be because you're a creative type trying to force yourself into doing business in conventional ways that don't suit you.
You're stuck, unable to take the steps you need to take next. Or you don't have a clue which move to make.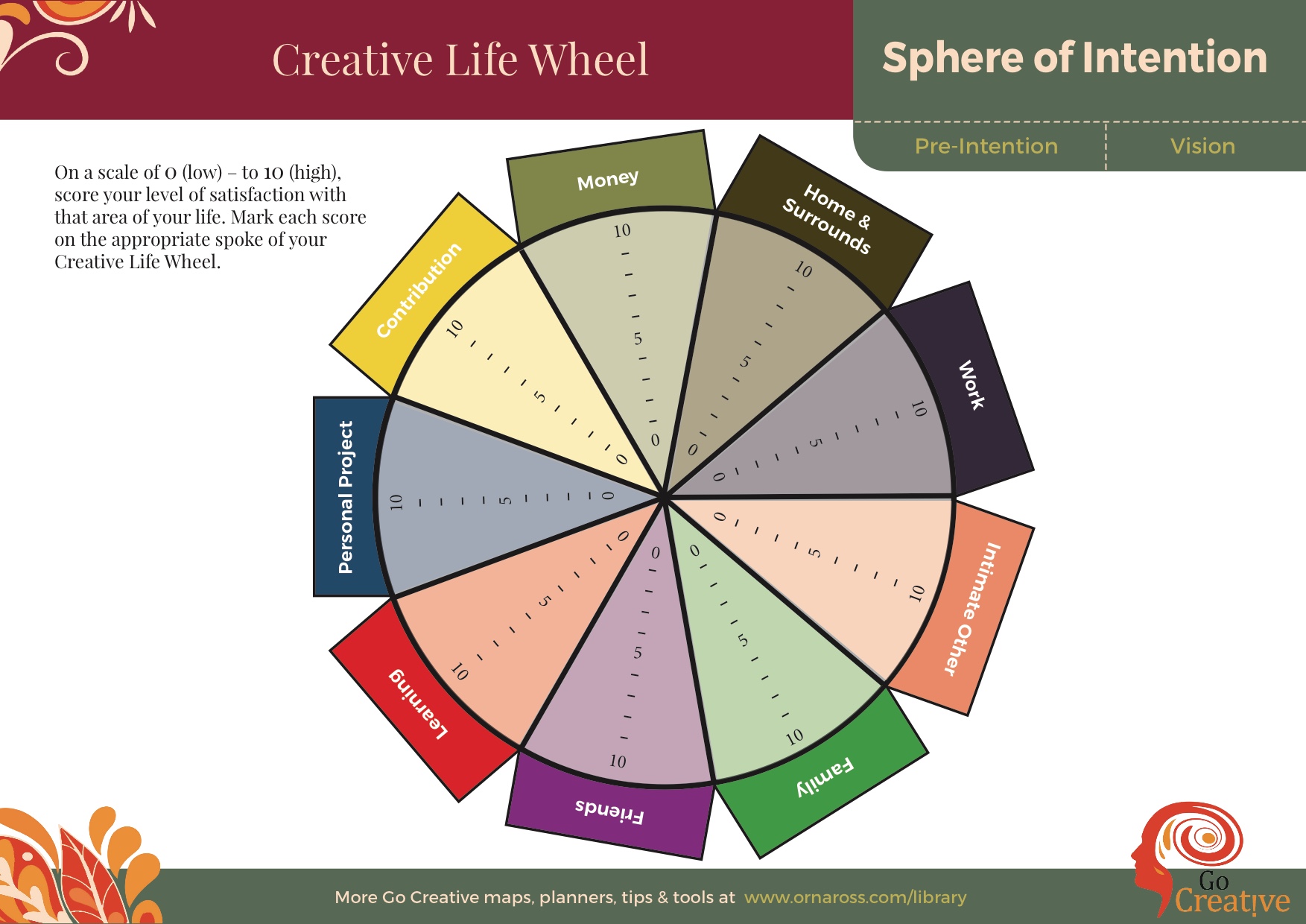 Specifically, that you're lacking one or more of the following:
1. CREATIVE INFORMATION: You're unclear about how conscious creation works. You haven't learned the essential principles and practices. Result: You're creatively under-educated or confused.
2. CREATIVE AUTONOMY: You're not in touch with your true wants. You're dancing to somebody else's tune, being led by craving, compulsion or procrastination. Result: You're resisting or self-sabotaging.
3. CREATIVE ACCEPTANCE: You resist release or surrender. You've been told it's passive or weak, rather than what it is: the core of creative strength. Result: You're drained or exhausted.
4. CREATIVE PRESENCE: You can't summon creative presence. You don't know how to induce the create-state, how to let your sub-conscious do the heavy lifting. Result: You're pushing or striving too hard.
5. CREATIVE FOCUS: You can't settle. You haven't learned, in a distracting and fast-moving world, how to channel the power of your creative attention. Result: You're over-stretched or distracted
6. CREATIVE COURAGE: You're short on spirit. You need more support to experiment with your life, learn from failure, put yourself out there...so you can take risks from a place of safety. Result: You're pulling back or shying away.
7. CREATIVE FAITH: You don't trust the process. You haven't practiced your own way enough yet to relax into creative conviction. Result: You're doubting or dithering.
This workshop is going to show you how to solve these problems and bring you through surefire steps to creative success.
This day is for you if:
You're overworked or underpaid... or both

You're ready to transition to full-time freelance or to accelerate your career and need guidance for your next steps

You feel you have a lot to offer the world but don't know what to do or where to start

You want to understand how business works in our creative digital age

You're doing your best but not getting the results you want.

You're struggling with information overload

You want to think more freely, feel more confident and act more independently

You're in a conventional job or own a business in a traditional industry, and struggling to keep up with all the changes

You often feel anxious and don't know why

You want to increase your profits or salary while spending less time at work.

You're procrastinating, resisting or self-sabotaging

You intend to learn from life's inevitable failures, rejections, losses, or conflicts -- not suppress, fear or avoid them

You want to banish block, foster flow, finish what you've started, have fun, inspire others, love what you do and make a meaningful difference in the world
Wondering if it's worth it?
ORNA ROSS is a bestselling and award-winning author who runs two global creative communities: the

Alliance of Independent Authors

and

The Creativist Club

.
She has repeatedly been named one of the 100 most influential people in publishing by The Bookseller, the trade magazine of UK publishing.
---
TESTIMONIALS FROM OTHER CREATIVE MENTORS:
Joanna Penn: Orna's events have been life-changing for me. With wisdom, kindness (and the occasional kick in the pants!) she is able to cut through the noise and focus on what's really important for creatives. Her f-r-e-e-writing exercises have helped me with my books and my business. I highly recommend her events. Bestselling author and award-winning entrepreneur, TheCreativePenn.com
Mark McGuinness: Amid all the hype about the latest tools and technologies, we don't hear so much about wisdom, compassion and hard-won experience. Orna Ross has all of these in spades, and is generous in passing on her knowledge. I value my conversations with Orna and always come away with a valuable new perspective on things. I'm sure you will too. Award-winning poet and creative coach, 21st Century Creative Podcast
TESTIMONIALS FROM PREVIOUS ATTENDEES:
Mike Butcher: Packed with useful tips and solid ideas...
Richard Buxton: This course will radically change both my day-to-day and long term approach. It was also highly entertaining and invigorating.
William Collier: Very inspirational and gave me loads of practical steps towards making a living...
Julie Cordiner: Wow! This was a fast-paced, content-packed and inspirational day. A fabulous blend of creative exploration and business-focused wisdom, which encouraged me to develop new perspectives and think strategically about my options for making a living...Unforgettable and great value.
Paul Ian Cross: Orna's free-writing sessions were incredibly useful to help focus the mind [and] I learned a great deal but I also had time to network... Thank you for a fantastic event!
Cinzia De Santis: In my previous career I had hundreds of hours of training. This session was by far the most useful I've attended.
Cheynne Edmonston: This is a value-packed, fun day... Prepare to be highly informed! You won't be disappointed.
T. K. Elliott: You cannot put a price on information and practical advice from people who have "done it" very successfully. I went home with a clearer idea of what I needed to do next. Thoroughly recommended.
Jennifer Gillham: I've finally found my tribe. I had a blast... and now know I Can Do This! I learned. I laughed. I cried. I even peed my pants. Okay, maybe not the last one, but the information and atmosphere was so fun I didn't want to leave even a second early during breaks to beat the bathroom or coffee lines
Jill Harris: The day after taking this workshop I published an ebook and hired a narrator for [an audiobook]... so inspiring!
Henry Hyde: An information- and enthusiasm-packed day.. You're plunged into a pool of vital and often ground-breaking information and methodologies that provide you with an extensive armoury... Outstanding.
Reen Jones: An excellent day, well worth the money for the amount of advice and information gathered together for us.
Claire Lewis: An absolutely brilliant day... I have a wealth of information and practical strategies to increase my income, and a greater understanding of my own challenges... all delivered with great humour and energy.
Pia Mandelin: I cannot recommend it highly enough for anyone who is serious... You leave the day bursting with ideas (and a to-do list the length of your arm!) and realising that what may have seemed like a distant dream, is in fact, achievable.
Hazel Mary Martell: This was a very useful day. As well as lots of practical advice, we were encouraged to look inside ourselves to discover our true motives... Well worth every penny!
Baeti Mary Mothobi: I did not feel out of place or find the presentations out of my depth because the atmosphere was full of reassurance and was inclusive of all equally.
Stephen Oram: This was a day that will inform a lot of what I do over the next five years.
Janine Pounder: You will leave feeling excited, empowered and ready to get started!
Hazel Roberts: The whole day certainly opened my eyes to the future of making a living... it also offered an incredible amount of opportunities, including how to build a brand... There is no stopping me now!!
Tracy Stanley: A valuable workshop with a good balance between content to help you... and activities to challenge mindsets which might be holding you back.
Colin McCarthy-Stewart: I came away with a plan of action that would have taken many, many months (or more!) without the knowledge gained from this day.
Gary Swaby: Helped me understand all the options that are available for me to take advantage of. It filled my mind with productive information ...and forced me to evaluate my attitude. I recommend everybody who's serious about book publishing to sign up for this seminar.
John Harry Thomas: Practical, professional, well presented and organised. Would highly recommend the seminar.
Vilhelmina Ullemar: I travelled to London specifically to attend this workshop. Within the first day of getting back, I've already taken more dramatic and progressive action than I had within the entire preceding year. This was an invaluable, energising experience - I'm so glad I took the chance!
Virva: Real eyeopener! Highly recommended! Absolutely worth every penny!
Taron Wade: I found this course to be great value for money. It gave me some practical easy-win next steps, but also a lot to think about in the longer term regarding the economics behind creating a business... A very focused and well-run session. I would highly recommend it…
Ginny Walker: What a fabulous course! Loved the positive 'can do' energy in the room all day! The day was informative, fun- packed and thought-provoking. You listened and learned, while taking part in written activities which allowed you to recognise blocks in yourself and the ability to let go of those to move forward! Thank you so much!
Christopher Wills: Contrasts the reality of the business side with a valuable introspective look at the self to get into the [right] mindset. I recommend it.



"In the two creative communities I work with, the Alliance of Independent Authors and the Creativist Club, I regularly see members who (apparently suddenly) start to soar.
"They figure out how to express their message in a way that inspires others to action.
"They start to create great blogs, articles and books, updates, products and projects. Their work starts to reach growing bands of fans and followers. They start to make good money.
"Soon, they're standing out and scaling up, hiring talented help, setting up great joint (ad)ventures.
"Others look on, perplexed.
"They're working just as hard, planning and striving and making sacrifices too, but it isn't paying off. They are overworked and underpaid. What they're creating isn't being found by others. They're not having the impact they should. Everything feels like a struggle.
"Often, they think this is a matter of luck but actually, whenever a creative breakout happens, certain key conditions have come together.
"I've spent the past few years codifying these creative conditions, most especially what the first group does that the second group does not: the attitudes they adopt, the actions they take, the awareness they work from.
Those who are getting ahead know that we are now living in the creative age. They know how 21st-century creative enterprises succeed. They know what it is to go creative.
In January, I'm launching a nine-book series that will explain how to thrive, professionally and personally, in our digitised, networked, creative economy. The day event distills the information from this Go Creative! series into a fun, empowering and evidence-based workshop."