Description
Event Schedule:
This is a one session class that runs on Sunday afternoon, August 12.
Sunday, 1:00 PM - 4:00 PM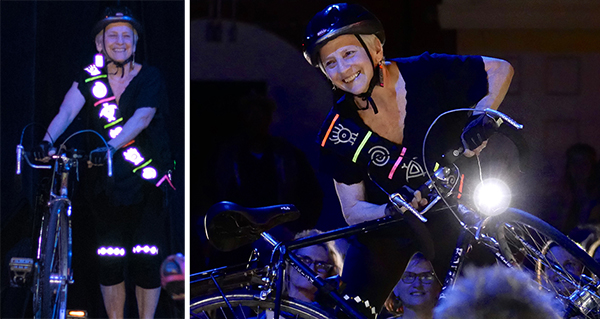 Class Description:
In this one afternoon introduction you will make your own Hi-Vis Safewear sashes to BE SEEN and BE SAFE! Apply retroreflective designs to be seen in the car headlights when walking, riding your bike or riding your skateboard at night. Apply fluorescent vinyl to be seen during the day.

A materials fee is included in the ticket price and covers:
• cut pieces of black cotton for sashes
• reflective vinyl
• fluorescent vinyl in yellow-green, orange and pink
• plastic sheets for protecting the sashes
• a variety of cut designs in both reflective and fluorescent vinyl

Students will learn:
• distances that various garments can be seen at night (black, white, fluorescent and retroreflective)
• what makes a retroreflective fabric reflective
• what makes fluorescent fabric fluoresce
• how to protect reflective and fluorescent designs
• how to create designs for sashes
• how to sew a very simple garment, the sash
• students who want to make Hi-Vis SafeWear garments from start to finish and use the Artisans' Asylum vinyl cutter and heat press, will need to take a tool testing workshop for vinyl cutter.
Artisans Asylum tools:
Students will use the sewing machines to sew the layers of fabric together.

You will leave with a beautiful finished Hi-Vis SafeWear sash so you can BE SEEN and BE SAFE!

Class Minimum:
This class will run with one or more students - join with a friend!
Instructor Biography:
Lenni Armstrong is a Somerville-based artist with decades of experience in visualization design and teaching. She taught interactive design at MassART, NESAD, Interactive Factory, United Digital Artists, and the CDIA.

Passionately committed to acting as a steward of Earth, she excels at conveying information about structures and events outside the range of human perception: from the nanoscale to the global scale, and from events occurring in a nanosecond to changes occurring over geological time.

In her spare time, she gives workshops on Hi-Viz Reflective and Fluorescent Design, Earring & Pin Making, Winter Hat Making, and Visual Journaling.

For more about Lenni: http://www.SAFEnSTYLIN.com and http://informmotion.biz/about/