Description
This class is for Saturday Feb 9, 4:00-5:30pm. There is another available on Valentines Day, Thursday, Feb 14, 6:00-7:30pm. You may register for that class here.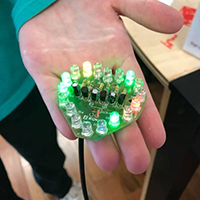 Make an LED flashing heart project for or with someone you love in this learn to solder workshop.

Have fun learning a new skill by making something with your own two hands. Assemble and solder a flashing LED heart kit is powered by any USB port, and you can add a battery pack (not included). Soldering is a skill useful in electronics and for other hobbies and can be mastered by anyone with a little patience.
Cost is $20 plus Eventbrite fee or $25 at the door (if available). Parents of children ages 10 and up, may attend this workshop with their child for free. Couples may attend together. 1 kit per ticket.
This workshop:

Helps you assemble your electronic flashing LED heart kit.
Teaches the basics of soldering for hobby electronics.
Is fun!
Make a Day of It: While you are in historic Downtown Burlington why not make a day of it? Eat lunch or dinner at Valerios Italian Restaurant or another of our great dining establishments, grab ice cream at Smitty's Homemade Ice Cream, and visit our great downtown businesses like Wayne's Attic or Persnickity Books! Lots of great things to experience in Downtown Burlington!