Event Information
Location
Cleveland - VIRTUAL
YOU CHOOSE
Cleveland, OH 44101
Description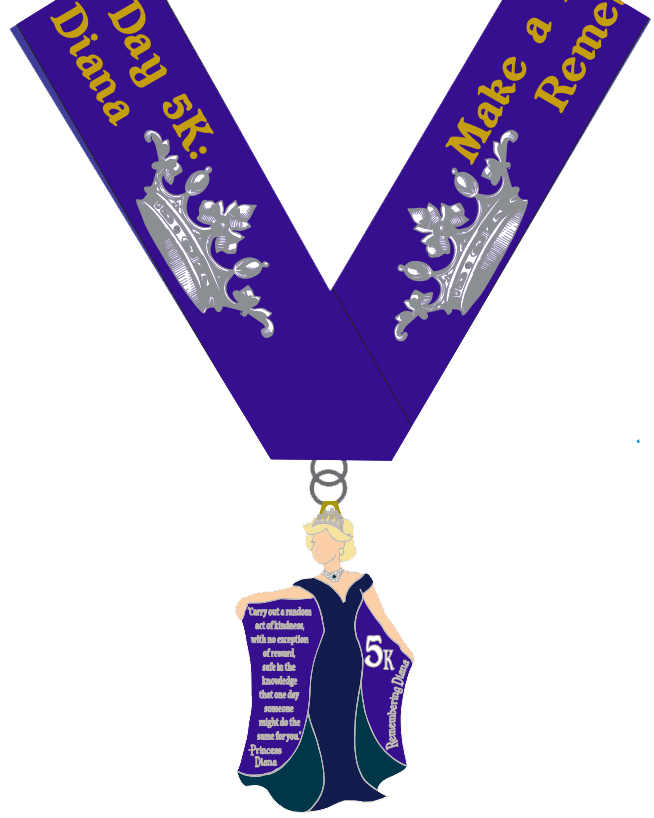 August 31st is the 20th Anniversary of the death of Princess Diana. For our second annual Make A Difference 5K, we want to honor the People's Princess, and encourage everyone to go out there and do something good. The medal has a quote from Princess Diana that says, "Carry out a random act of kindness, with no expectation of reward, safe in the knowledge that one day someone might do the same for you." (there is a typo on the sample medal above, but it will be fixed on the actual medal. It will say expectation, not exception)
October 28th is National Make A Difference Day. So you have the entire month of October to complete your Make A Difference Day 5K: Remembering Diana, and we encourage you to go out and do a random act of kindness too!
We will be donating at least 15% of each registration to the International Committee of the Red Cross, an organization that Princess Diana helped to put International pressure to pass a ban on the use of land mines. Her concern over the use of land mines was largely for those they injured–particularly children and others after the conflict was over. Today the ICRC responds quickly and efficiently to help people affected by armed conflict. We also respond to disasters in conflict zones, because the effects of a disaster are compounded if a country is already at war. Emergencies are unpredictable, so our rapid deployment capability is hugely important.
What: This is a 5K to honor the memory of Princess Diana and to encourage everyone to go out and MAKE A DIFFERENCE!

When: Complete your race any time in October 2017.
*Medals and bibs will begin shipping at the end of September, and after that will ship within 2 to 5 days of signing up
Where: You choose the course and you time yourself (you'll report your finishing time to us).
Why: Because we love Diana, Princess of Wales.
Cost: The price is $17 and that includes your medal, bib and shipping. Plus, at least 15% of every entry will be donated to the International Committee of the Red Cross . *We are in no way affiliated with this charity, we like to choose a different charity for each of our races and are happy to raise funds for them.
Date and Time
Location
Cleveland - VIRTUAL
YOU CHOOSE
Cleveland, OH 44101