Make A Difference Day 2017 - Habitat Restoration at Sabercat Creek
Description
Every October, MAKE A DIFFERENCE DAY activities are held throughout Fremont, for the community to participate in. This year, one of the locations will be at Sabercat Historical Park for Habitat Restoration.
***
Instead of registering here on Eventbrite, please sign up via the local Fremont Make a Difference Day website and online registration form. There is a place where you can say whether you want to volunteer for a particular project. If you still want to help at Sabercat Creek (after having seen all of the other options), then please note that on the form. If you are one of the first 500 people to sign yourself up via the Fremont MADD site, you'll be able to request a snazzy MADD T-shirt. Also, you can put yourself on the list to be updated about the Volunteer Appreciation Event (date to be announced later), if you wish.

***

Our main tasks will be removing invasive plants, some of them spiny or prickly (we'll have a small supply of thorn gloves), and sheet mulching much of the site. We may have a couple of native trees or shrubs to plant, basins to refresh, and browse protection cages to expand or remove. Depending upon turnout, some volunteers may harvest native grass and sow seed on site. We'll also need a small group of volunteers to collect trash in the creek and surrounding areas.

Volunteers of all ages are welcome. A signed waiver is required for each participant. Children under the age of 12 require an accompanying adult unless prior approval is obtained from the workday supervisor. This volunteer opportunity will fulfill community service hours. Please bring any forms you will need to have signed.
Site 5 is located along Becado Place in Fremont, CA. We may be working closer to the entrance to Becado Place (and the creek's entrance onto the site), or even on the south bank, instead of at the cul-de-sac end of the site... Look for the red truck with the City of Fremont logo. Those bringing cars can park along the northeast side of the street or in the cul-de-sac at the end of the street. Parking is limited, so please carpool, bike, bus or walk if possible. The nearest bus stops are at the northwest corner of Bryant St. and Pine St. (from the Fremont BART, take AC Transit 212, then 210), and at the northwest corner of Mission Blvd. and Cedar St. (from the Fremont BART, take AC Transit 217). Please check tripplanner.transit.511.org for further details.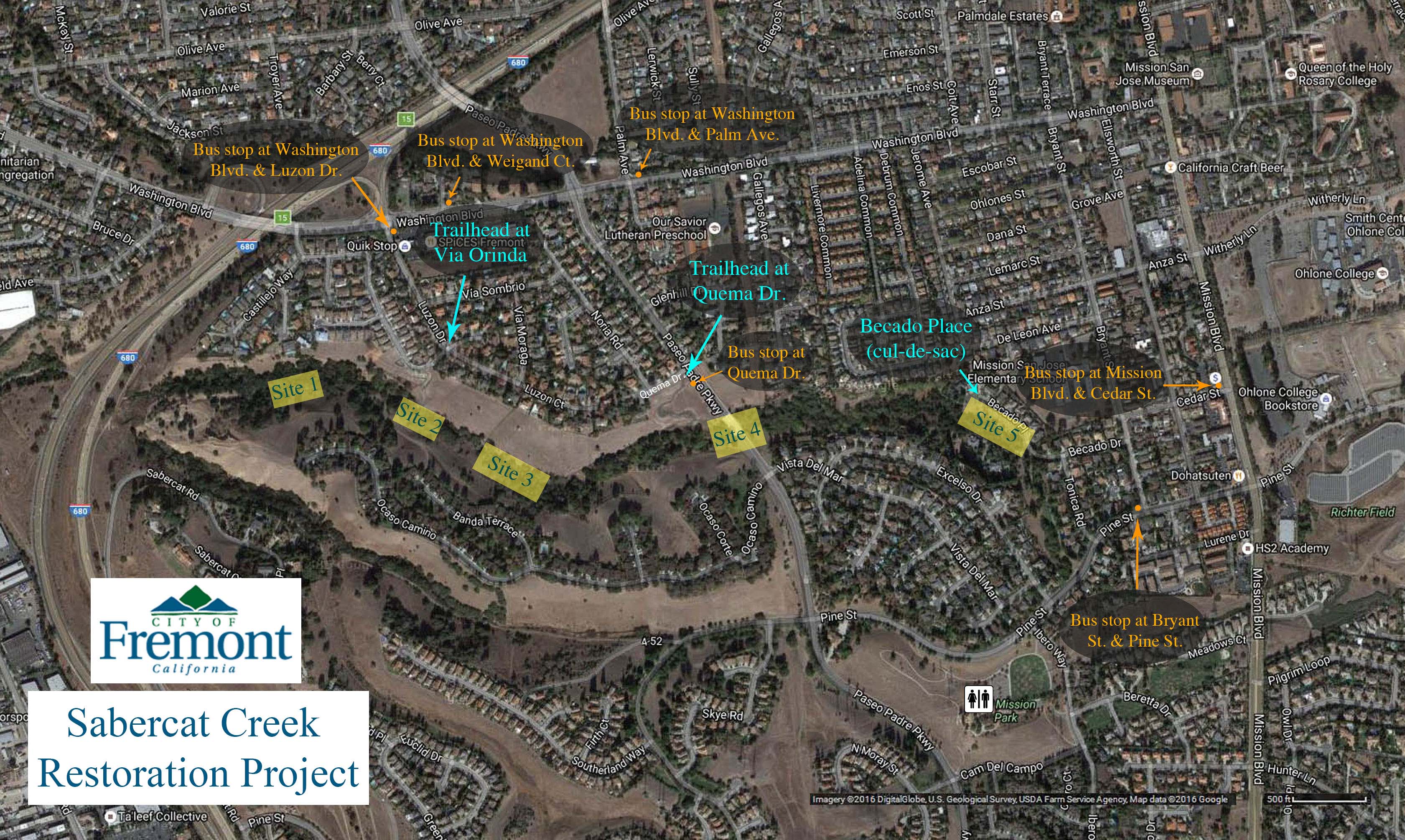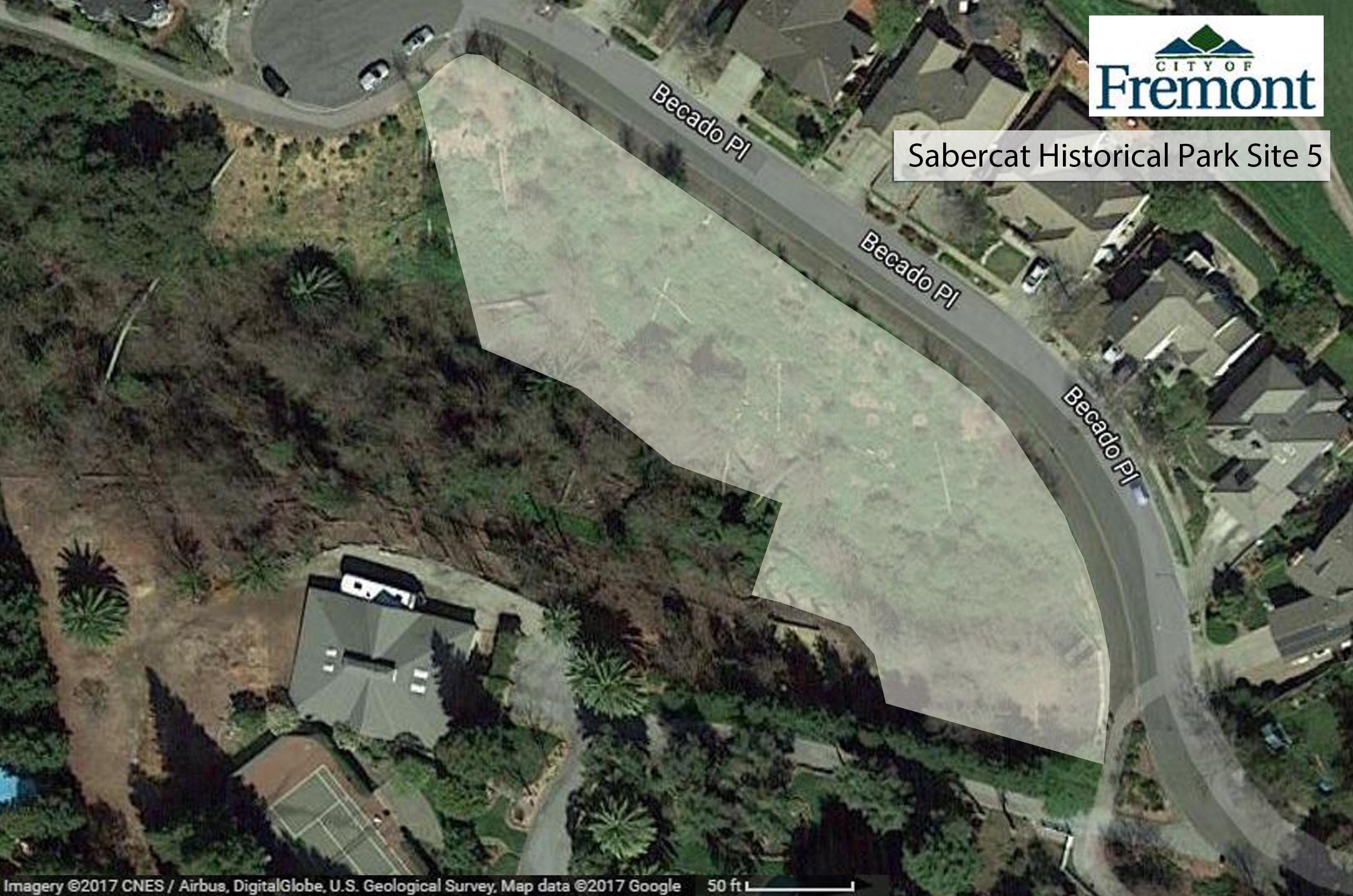 If you register for the event on Eventbrite, you'll receive an email including the mobile phone number for the workday supervisor, in case additional directions are needed on the day of the event.
*
RESTROOMS: The closest public restroom is located at Old Mission Park, on Ibero Way off of Pine Street. It's advisable to use a restroom before you arrive on site.

Provided:
Tools and a small supply of thorn gloves (the smallest we have is a small adult size, so kids might prefer another option).

Water to refill bottles.

Rubbing alcohol or Tecnu.
Please bring:

A signed waiver form. No waiver, no participation.

A reusable water bottle.

Outdoor work attire (hats, sunscreen, sturdy closed-toe shoes/boots and long pants are recommended; a long-sleeved shirt is desirable, since there are lots of prickly plants).

You are welcome to bring your own gloves and tools (if so, please label them). Extra tarps and buckets - or even a wheelbarrow, if you happen to live nearby Sabercat - might be especially useful for this event.


Community service hours forms, if applicable.

Printed map to confirm exact site location.
Required:

All participants must sign a waiver form. Even if you handed a waiver form in for a previous volunteer event, we need a new waiver form for each new date.

Minors under 18 must bring a waiver form signed by a parent or legal guardian.

Children 12 or under require an accompanying adult.
Caution: Our sites include some invasive poison hemlock, which is poisonous if eaten, and skin contact with it may result in a rash. There is also a lot of native poison oak around the edges of some sites, and in some cases in areas where we might be walking. Most of it is marked with red-painted stakes. Some sites have native stinging nettle, although most of it is marked with flagging tape, too. Contact with this plant might result in stings and temporary discomfort. It should be possible for those who are sensitive to these plants to avoid them. We will have rubbing alcohol and Tecnu along to remove oils/irritants from poison oak and poison hemlock. Additionally, Site 5 has two very active honeybee hives in/on logs. If you have an allergy to bee stings, it might be wise to bring your epi-pen. The site is very large, so we should be able to have sensitive individuals work on the other side of the site, but it never hurts to be prepared. Pacific Coast ticks have sometimes been found in the park. This tick does not transmit Lyme disease, but we still advise volunteers to check their bodies (especially exposed skin) for ticks after the work day. Most of our restoration sites include somewhat steep slopes that volunteers should be able to walk up and down in order to participate.

PLEASE NOTE: When you complete your registration for this event, you DO NOT need to print a receipt or ticket. You DO need to BRING A SIGNED WAIVER! No Waiver, No Participation.
If you have already registered for an event, you should receive a notification of any changes in location or schedule (e.g., due to heavy rain) via an email from Eventbrite.

Links:
Please check this Eventbrite page for volunteer events hosted by the City of Fremont Environmental Services
Please visit our Sabercat Creek Riparian Habitat Restoration Google Site. (We hope to add more info about the native and exotic plants on our restoration sites soon).

The Friends of Sabercat Creek Facebook Group is a social forum for those interested in the goings on at Sabercat Creek to share photos, thoughts, and more!

City of Fremont Volunteer Opportunities (including Environmental Services)
Schedule of future work days:

Sabercat Creek Habitat Restoration work parties are scheduled for the 1st Saturday of the month (except October-November, when it'll be the second Saturday), from 9am-noon. There will be additional work days as needed. We will also be holding occasional creek clean-ups.

Oct 14, 2017 (2nd Sat - No work day on Oct 7), 9am-noon Sabercat Creek Habitat Restoration, Site 4 (Take trail down from Quema Drive and Paseo Padre Pkwy trailhead. Turn left at the main trail, go through cattle gate, and site will be on your right.) https://www.eventbrite.ca/e/habitat-restoration-days-for-sabercat-creek-in-fremont-ca-jan-dec-2017-tickets-31980364130
Oct 28, 2017 (4th Sat), 9am-noon, Make a Difference Day, Sabercat Creek Habitat Restoration, Site 5, Becado Place https://www.eventbrite.ca/e/make-a-difference-day-2017-habitat-restoration-at-sabercat-creek-tickets-38116622845
Nov 11, 2017 (2nd Sat - No work day on Oct 4), 9am-noon Sabercat Creek Habitat Restoration, Site 3 (37°31'36.3"N 121°56'09.8"W [enter into GPS: 37.526747, -121.936060]) & maybe Site 2 (See location descriptions and map in event description above.) https://www.eventbrite.ca/e/habitat-restoration-days-for-sabercat-creek-in-fremont-ca-jan-dec-2017-tickets-37745675331
Dec 2, 2017 (1st Sat), 9am-noon Sabercat Creek Habitat Restoration, Site TBA https://www.eventbrite.ca/e/habitat-restoration-days-for-sabercat-creek-in-fremont-ca-jan-dec-2017-tickets-29058932048