Make a Book - The Easy Way with Chris Pattillo and Theresa Murphy

Saturday, August 24, 2019 from 11:00 AM to 3:00 PM (PDT)
Event Details
Make a Book - The Easy Way

 
Chris Pattillo and Theresa Murphy 

 
August 24, 2019  
Are you serious about wanting to share all your great finds from your family history research but are not sure how to tackle what seems like a daunting task? Do you have some computer skills but don't feel creative? If yes, the upcoming workshop by Theresa Murphy and Chris Pattillo is for you.
This will be a real workshop where you will actually start your book. The online program from Walgreens will be used in the class. It is FREE, very easy to use, powerful, flexible and offers a bounty of tools to make your project look fabulous.
This will be a two-part hands-on workshop starting at 11:00 with an introduction to the program and some book-making basics. We will break for lunch after which Theresa and Chris will work side-by-side with attendees to get a start at creating your book – it can be a practice run or you might decide to finish it at home. Chris and Theresa will be available to help until 3:00.
We will show you how to create a basic family tree that can be inserted into the Walgreens program and embellished once there.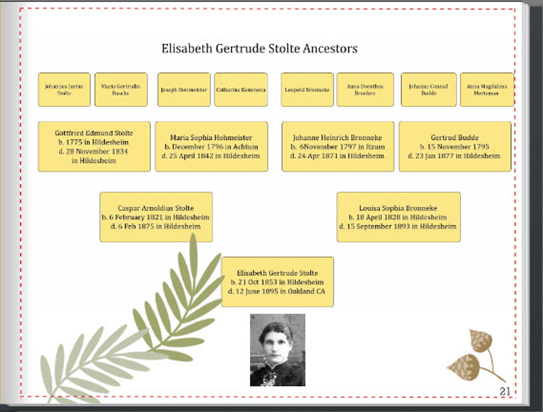 If you want to get a head start on the class, you can:
Create a free account at Walgreens. If you already have an account for prescriptions and purchases, you may want to create a new account for your ancestor book to share with family members.

Review your family pictures and get them scanned into .jpegs for upload.

Think about who you plan to share your book with and which branch of your family you want to focus on in your book. (Theresa and Chris have done multiple books for different family branches.)
If you want to just come to the class and learn as you go, that's great too.  Just come and enjoy!
 Theresa Murphyhas been a member of CGS since 2018. Currently, she is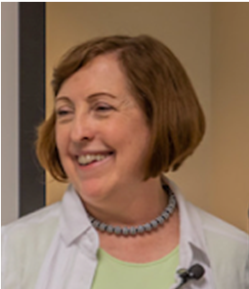 actively involved in planning the update for our website as part of the Website Committee. Prior to creating her books using the program at Walgreens she researched several other similar sites and decided that Walgreens offered the best balance of capabilities and price. Theresa also has a background that includes website design 
She has been researching her ancestry since 2016 and traveled to Ireland to visit her family's homelands. She created a genealogy trip book and then used that as inspiration to create ancestor books for her mother's and father's families. These have proven to be a great way to share pictures and family stories with many generations in her family.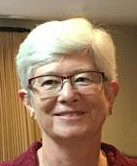 Chris Pattillo joined CGS in 2004. She was chair of the investment committee for ten years and is currently a board member, chair of the Website Committee and the Development and Member Services Committee. She was part of the Capital Campaign with Jane Lindsey and Sandy Fryer and co-chaired the Strategic Planning Committee in 2017-2018. 
Chris has published five family history books – the most recent using the Walgreen's program after seeing Theresa's book at a CGS event.
REGISTRATION INFORMATION:
Please bring a Lap Top computer and scanned photos, and bring your own lunch for the break.
Pre-registration is required. Audience size is limited to 15 so register early. 
CGS members enjoy a reduced rate of $40.00.
Non-member admission fee is $65.00* and can be applied towards a new one year CGS membership the day of the talk.
Register early to confirm your seat.
PAYMENT OPTIONS:
Credit card  payments will be processed by Eventbrite.
 *Event fee is non-refundable.
When & Where

California Genealogical Society & Library
2201 Broadway, Suite LL2
Oakland, CA 94612


Saturday, August 24, 2019 from 11:00 AM to 3:00 PM (PDT)
Add to my calendar
Organizer
   Connecting people to their diverse family heritage

Whether you have Gold Rush ancestors or have no family connection to California, you will find extensive support for your genealogy research at the California Genealogical Society (CGS) in Oakland. The society offers research services, online indexes and databases, and a research library housing over 38,000 reference materials from California, the United States, and around the world. CGS is a 501(c)(3) nonprofit corporation. The library is conveniently located in Uptown Oakland, one block north of the Paramount Theatre, at 2201 Broadway, Suite LL2. We are three blocks from the 19th Street BART Station.
Phone: (510) 663-1358 
Non-Discrimination Statement
The goal of the California Genealogical Society is to connect people to their family heritage and to promote a spirit of diversity and inclusivity for our members and patrons. The California Genealogical Society does not tolerate discrimination in any form. 
Courtesy Request
In order to maintain a welcoming and healthy environment, please refrain from using scented products at CGS events or in the library.
Photography Notice
California Genealogical Society (CGS) may take photographs, audio recordings, and video footage in our library, classrooms or events for historical records or publicity purposes.  If you do not want to be photographed or filmed, it is the individual's responsibility to 'opt out' by notifying the event leader or photographer at the event.