Make 2018 a Higher Revenue Year - Linda Le, Paula Smith, Ron Gibson
Description
Join us (Linda Le, Paula Smith and Ron Gibson) for our upcoming 3 Unique Master Classes to Make 2018 a Higher Revenue Year for You – Tuesday, January 23 2018.
Three different Master Classes in the one day. Pick individual Master Classes or stay for the whole day.
Scroll down for full details of each.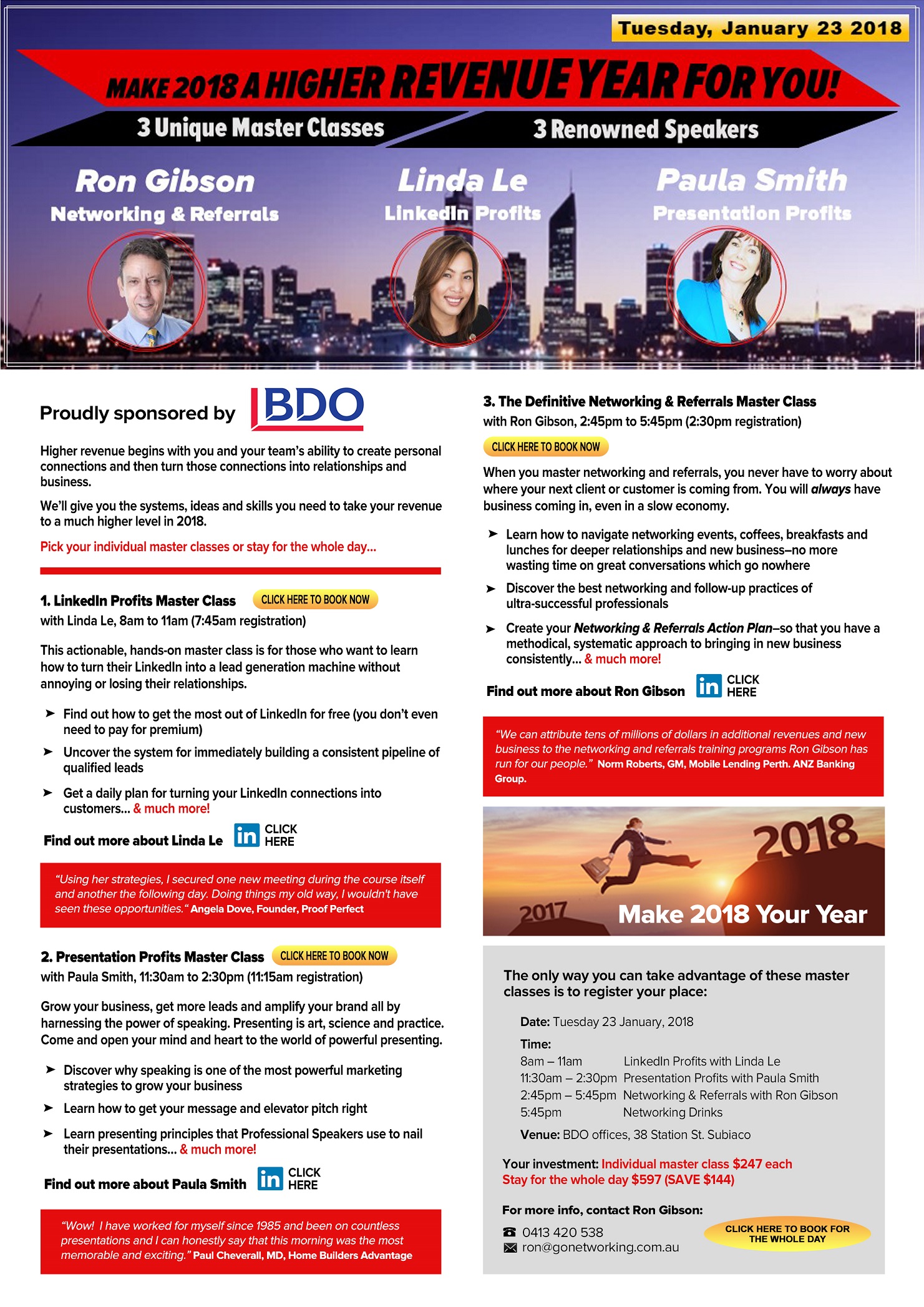 Master Class #1: LINKEDIN PROFITS – with Linda Le, 8am-11am ($247)*
This actionable, hands-on Master Class is for those who want to learn how to turn their LinkedIn into a lead generation machine without annoying or losing their relationships.
Using real life examples, proven techniques and easy-to-copy case studies, you will learn how to use LinkedIn for growing your personal brand, business opportunities, relationships and sales pipeline.
You will:
Find out how to get the most out of LinkedIn for free (you don't even need to pay for premium)
Learn how to craft a LinkedIn profile that gets you found more easily and attracts new opportunities
Learn how to build a powerful network of contacts that will help grow your business or enhance your career
Discover how to market your products and services without being spammy or annoying so your prospects remember, like and trust you
Get HUNDREDS of sample scripts and words to say to connect and communicate with new connections and prospects
Unlock LinkedIn's referral machine potential – so you don't have to make uncomfortable cold calls again
Uncover the system for immediately building a consistent pipeline of qualified leads
Discover the little-known tools that are free to use, provides maximum impact and will save you hours of time on LinkedIn
Get a daily plan for getting more out of LinkedIn with just 10 minutes a day… and much much more!
Based in Singapore, Linda Le is the go-to person when it comes to winning more business on LinkedIn. Linda's presentations are designed to be thought provoking, jargon-free and practical, moving her audiences into action. Her approach to simplifying and leveraging LinkedIn has enabled C-Level executives, business owners and professionals to navigate through the LinkedIn maze to accelerate the growth of their business and advance their career.
"Using her strategies, I secured one new meeting during the course itself and another the following day. Doing things my old way, I wouldn't have seen these opportunities." Angela Dove, Founder, Proof Perfect
Master Class #2: PRESENTATION PROFITS – with Paula Smith, 11:30am-2:30pm ($247)*
Speaking is one of the most profitable skills you can learn in modern business. You can grow your business, you can get more leads and you can amplify your brand all by harnessing the power of speaking. Then once you have your ideal client in front of you, you then need the skills to be a confident and charismatic presenter who can engage and influence your audience. Presenting is art, science and practice. Come and enjoy Paula's Master Class and open your mind and heart to the world of powerful presenting.

In this workshop you will discover:
Why speaking is one of the most powerful marketing strategies to grow your business

Why getting your message right is critical

Modalities to get your message out to the world

Presenting Principles that the Professional Speakers use to nail their presentations

That elevator pitch really does matter and much more..
Paula Smith CSP – Is your expert in Presentation Intelligence. Professional Speaker, Author, Master Trainer and Business coach. Paula has been helping experts, entrepreneurs and senior leaders harness the power of speaking for over 30 years.
Wow, what an eye-opening session this morning! I have worked for myself since 1985 and been on countless presentations and I can honestly say that this morning was the most memorable and exciting. Paul Cheverall - Managing Director – Home Builders Advantage
Master Class #3: The Definitive NETWORKING & REFERRALS Master Class – with Ron Gibson, 2:45pm-5:45pm ($247)*
Nothing in your marketing-business development tool box can consistently connect you with your best prospects and land you new business like networking and referrals can. Nothing!
When you master networking and referrals, you never have to worry about where your next client is coming from. You will always have business coming in, even in a slow economy.
You will learn:
Part One: PROFITABLE NETWORKING
● How to build a network which regularly delivers new business so you never have to suffer the pain and anguish of "feast and famine" again
●How to "work" a networking event and get results even if you're not a natural networker―no more turning up to events and going home empty handed
● How to follow up so that you capitalise on the connection that you have made
● How to follow up on your follow-up so that you move them forward toward a win―no more opportunities disappearing into a black hole
● How to navigate networking coffees, breakfasts and lunches for deeper relationships and new business―no more wasting time on great conversations which go nowhere
● The secrets to making networking groups and memberships pay off quickly
●The perfect "follow-up and keep-in-touch-system" so you don't accidentally drift away from your contacts and ensure your deals and referrals don't fall through the cracks
● The best networking practices of ultra-successful professionals
● How the best networkers integrate networking and building relationships into their already-crammed schedule
Part Two: ENDLESS REFERRALS
● 5 specific things you can do to get more and better referrals
● How to unlock referrals from loyal clients, without asking
● How to find and initiate contact with your most promising referral sources―and start the relationship on the right footing
● How to make it easy for your referral sources to SEND and KEEP SENDING business your way
● How to tell people what you do to get more referrals
● Why other professionals refer you once or twice and then disappear―and what you need to do to keep the referrals coming
● Non-salesy, non-pushy language you can use to increase referrals, without begging for names
● Creating your Referral Generation Action Plan―so that you have a methodical, systematic, disciplined approach to making referrals happen consistently and avoid the "dumb luck" method of not knowing if or when your next referral is coming
Ron Gibson is Australia's leading professional expert on generating business through referrals. His 150 plus funny, on-the-money, real-world presentations each year distil more than 25 years of experience and insights gained from building his own successful business, exclusively from relationships and a strong word-of-mouth reputation.
"We can attribute tens of millions of dollars in additional revenues and new business to the networking and referrals training programs Ron Gibson has run for our people." Norm Roberts, General Manager, Mobile Lending Perth CBD. ANZ Banking Group
* FREE Networking Drinks 5:45pm - 7:30pm
These three Master Classes focus on increasing sales, getting more referrals, winning more business, boosting profit, earning more loyal clients, building stronger relationships and making more money.
Choose to STAY FOR THE WHOLE DAY and pay just $597 (SAVE $144).
See you there!

Linda Le, Paula Smith and Ron Gibson

Proudly sponsored by: