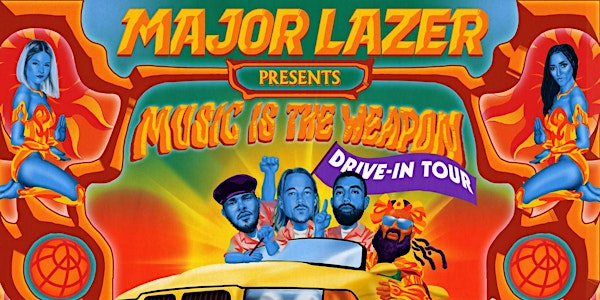 MAJOR LAZER: Music Is The Weapon Drive-In Tour (Elk Grove, CA)
Location
Bradley Ranch Winery
11070 Bradley Ranch Road
Elk Grove, CA 95624
United States
MAJOR LAZER presents Music Is The Weapon Drive-In Tour -- the Last Northern California Tour Stop -- at Bradley Ranch in Elk Grove, CA
About this event
DOORS: 6PM
music: 7PM
SHOW: 7:30PM
MAJOR LAZER presents:
Music Is The Weapon Drive-In Tour
LIVE Drive-In Concert
* This is not a Pre-Recorded Set, MAJOR LAZER will be performing LIVE In-Person.
Gates at 6pm
Show at 7:30pm
MAJOR LAZER: In the beginning... Under the guise of a Trinidadian dancehall club owner, a Jamaican hero commando who lost an arm in the Zombie Wars suddenly re-emerged with a lazer gun in the place of his missing limb. Since 2009, Major Lazer has enlisted the likes of Bruno Mars, Pharrell Williams, Vybz Kartel, Nicki Minaj, Justin Bieber, Ariana Grande, Anitta, J Balvin, Travis Scott, Sean Paul and Mr Eazi to become the saints and prophets of Lazerism; helping to defeat the forces of evil that plagued the world through music and dance. During that time, Major Lazer released Guns Don't Kill People, Lazers Do, Free The Universe and Peace Is The Mission; and in the process, reshaped the sound of music as we know it. The music brought together billions of souls to hear Major Lazer proclaim the message of unity as they toured the globe. By then, Major Lazer felt his earthly work was done, and he disappeared from mortal view. Yet the peace was not to last, and the world seethed with doom once more. So with Walshy Fire's help, the Grammy award winning, genre-smashing, hit-making, culture-moving Diplo invoked Major Lazer to return. Hearing their pleas, Major Lazer gave the duo the secret to lasting peace for humanity, sharing it in the form of music. He tasked Diplo and Walshy to bring the world back to a place of wonder and oneness, with the release of Music is the Weapon, and a reminder that we are able to be at blissful peace when we recognise and harness the light in each other!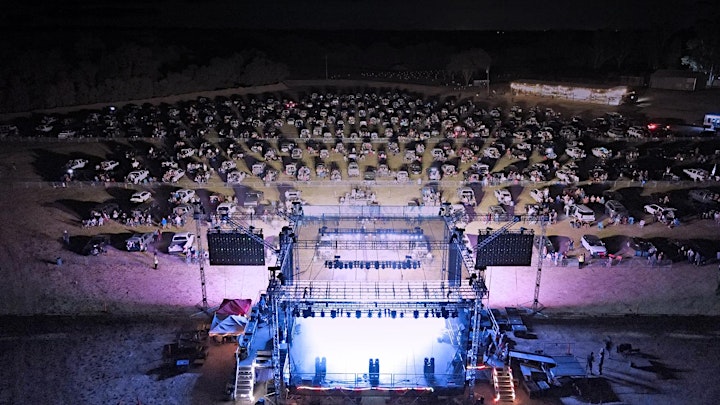 LIMITED DOOR TICKETS AVAILABLE!
TICKET ZONES AVAILABLE FOR PURCHASE
*VIP & PREFERRED TICKET INCLUDES ENTRY FOR 4 PEOPLE IN YOUR VEHICLE, GENERAL ADMISSION TICKETS AVAILABLE FOR GROUPS OF 2+
SOLD OUT - VIP Viewing Front Row - $325
SOLD OUT - VIP Viewing Rows 2-3 - $ 300
SOLD OUT - Preferred Viewing Rows 4-5 -$275
SOLD OUT - Preferred Viewing Rows 6-7 - $250
General Admission Rows 8-21(for 4) - $200
General Admission Rows 8-21 (for 3) - $160
General Admission Rows 8-21 (for 2) - $120
SOLD OUT - Earlybird General Admission Rows 8-21 (for 4) - $160
Additional Entry (more than 4 people in your vehicle) - $40
18+ ONLY
All Tickets include 4 people in your Vehicle. Unless you are purchasing a GA Ticket for 2 or 3 (those respective tickets are good for only 2 or 3 people)
If you have more people than 4 it is $40/extra person. Or 2 or 3 if you purchased GA for 2, or GA for 3.
See map below for location of each ticket type in relation to the stage.
Placement in each ticket zone is First Come, First Serve.
You CAN NOT Arrive with an Uber/Lyft/Taxi, you must arrive with your vehicle. No Walk-Ins allowed.
Tall Vehicles (Trucks, SUVs) will be placed on the sides to not obstruct the views of guests behind you.
If you have a vehicle larger than a Truck or SUV, please contact us at info@brwconcerts.com before purchasing a ticket.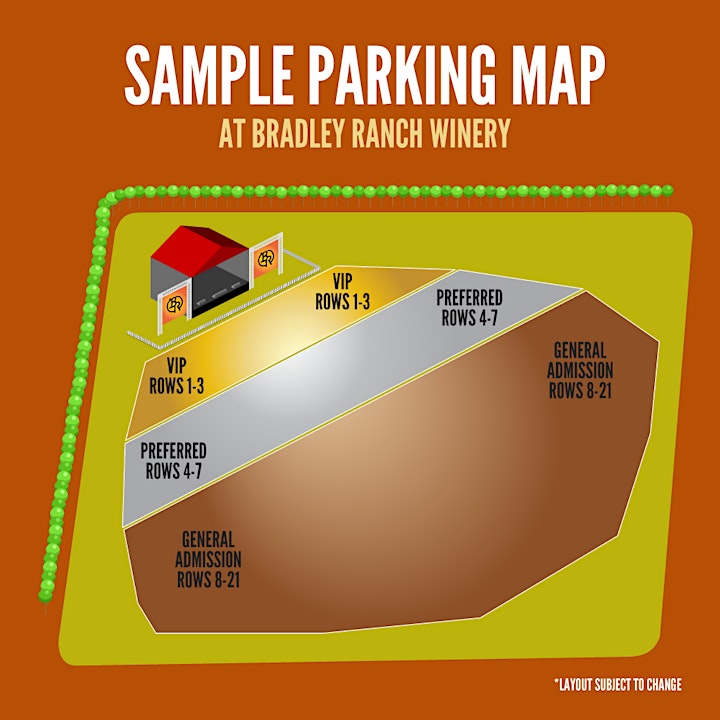 DISCOUNTED HOTEL RATES:
Holiday Inn Express & Suites – 9175 W. Stockton Blvd, Elk Grove, CA 95758 (only 8 MILES from Bradley Ranch!)
*Includes complimentary hot, plated breakfast!
Call 916-478-9000 and request the "Bradley Ranch Concert Series" group block, or use the link below:
http://bit.ly/BRWdiscounthotel
*After following the link, enter the dates for your stay, click "Search", and the discounted rates will appear on the next page.
PROHIBITED ITEMS
The following items are not permitted on venue grounds:
Vehicles will be searched upon entry.
NO Bags larger than 5.5" x 4.5"
NO Outside Food or Beverage
NO Alcoholic Beverages
NO Drugs or Drug Paraphernalia
NO Tobacco Products consumed on premises (cigarettes, vapes, etc)
NO OPEN FLAMES OF ANY KIND - VIOLATORS WILL BE EJECTED W/O REFUND
NO Weapons of Any Kind including Toys
NO Pepper Spray or Mace
NO Professional Cameras
NO Hula Hoops or Flow-Toys
NO Air Horns or Noisemakers
NO Laser Pointers
NO Drones
NO Fireworks or Explosives
NO Pets
FAQs
Everyone must wear a face mask outside of their vehicle at all times per the current county Health Orders
You must come in a vehicle that fits in one parking spot
Headlights must be turned off while parked
Hatches may not be lifted above the car roof line
No sitting on your roof
No sitting in empty car spots, if you are outside your vehicle, please stay within your paid parking spot
No Pets allowed
VIP Parking and Preferred Parking will be sectioned and marked off, first come first serve, if you have a large vehicle you will be placed on the sides of your section.
What time do the Gates to enter the concert parking lot open?
Gates to the Concert parking lot open at 6pm. Please follow the parking attendants instructions. Please DO NOT ARRIVE BEFORE 6pm.
May I buy a ticket when I arrive at the Gate?
No, only presale tickets are available for purchase.
Can I arrive in an Uber/Lyft/Taxi and Walk In?
NO, you must arrive in your vehicle. There is no off-site parking, and no walk-ins are allowed.
May I bring alcohol?
NO OUTSIDE ALCOHOL ALLOWED! Any found by our security team will be confiscated and disposed of.
May I bring food and drinks?
No Outside Food or Drinks Allowed.
There will also be 3 Food Vendors On-Site each day, as well as Bradley Ranch Wine (including Wine Slushees!) as well as local Beer for sale. We ask that you please pack any trash you may create with you to dispose at home, or at the dumpster at our exit.
May I bring my pets or animals?
No, you may not bring any pets. Sorry.
How do we listen to the concert? Is it radio like the movies?
This is a LIVE in person concert. There is a stage and Live Performers. You listen from your parking spot, no radio required.
May I leave my vehicle to tailgate or BBQ?
There is no BBQing or tailgating permitted per the County Health Order. Masks must be worn by anyone who is outside their vehicle and they must be in their space. A mask must be worn when walking to the restrooms.
May I sit in the bed of my truck?
Sitting in a truck bed is permitted – guests must stay in the bed of their own truck, no loitering around the vehicle. If you choose to sit in the bed of your truck, a mask must be worn for the entirety of the time spent outside the cab of the vehicle, per the current County Health Order. We will update these rules when the county makes changes.
Is there assigned parking?
Cars will be queued normally into the lot by our professional parking staff and you may park in spots marked open. There are empty spaces between each car. Spaces ensure physical distancing, therefore you must not sit in those empty spaces either. If you bring an oversized car, truck or RV, you will need to buy two parking spots if the vehicle does not fit in one marked spot. lf you purchased VIP parking, you will have a separate VIP Entrance.
Note, all parking is first come first serve by Parking Zone.
Are trucks or taller vehicles going to be parked further away?
Yes, any vehicle that may obstruct the vision of other vehicles may be parked closer to the back or to the sides to allow for the best viewing of all guests.
May I save car spots for friends / family to park next to me?
First come, first serve. Parking attendants will line up cars as they come in, you may pick a spot. You may try to line up for the concert together to ensure spots are close. There is no promise you will be next to each other; we may not take special requests. Vehicles will be physically distanced in adherence to the current County Health Order.
May I come sit with a group from another car?
Guests must sit with their car and within their car space. No more than six people fit sitting in a parking space at a time.
May I come in an RV, Camper, Bus, Limo, or Very Large Car/Truck?
Yes, however we will require you to purchase an additional ticket to fit your vehicle. Vehicles that are "Lower" may purchase for any zone. Vehicles that are "Taller" such as RVs, Campers, Large SUVs and Trucks that may block views can purchase in Preferred or General Admission Areas, but your placement may be to the rear or sides to not block the views of other guests.
Do I have to wear my mask in the car?
If you have your windows rolled up, you may take off your mask. If you would like to roll your windows down, you must have a mask on in adherence with the current County Health Order.
What is allowed / not permitted at the Drive-In Concerts?
For the safety of our customers, we do not allow firearms, weapons of any kind, drugs (including marijuana) or alcoholic beverages. All vehicles are subject to search. All garbage must stay inside the vehicle; we are not able to provide trash bags per the current County Health Order. See above for Prohibited Items.
May I leave in between concerts and come back?
No in and out privileges. There is a one-time entry; no re-entry is permitted for vehicle or by foot.
Where do I go to use the restroom during the concerts?
Ample restrooms will be open on the concert lot. You must wear a mask and keep a physical distance of 6 feet.
What happens if there is inclement weather?
We will communicate via email, text, and social media if weather threatens the drive-in concerts for that evening.
I am running late. May I arrive after the concerts have started?
Yes, please safely follow the instructions of the parking attendants.
If I don't make it to the concerts, may I have a refund or use that ticket for a different night?
No, concert tickets are purchased are non-refundable. However, you may give your ticket to a friend to use.
Will there be ADA parking?
There will be ADA parking spots closer to the restrooms, you must have a valid handicap sticker or license plate to park there. Please contact us if you require assistance at info@brwconcerts.com