Description
We are calling all CDL Drivers!
We would like to invite you for a day full of great opportunities with Werner Enterprises. You will meet recruiters and current Wener Drivers. Learn about all the company benefits and many opportunities available for you.
Dont forget! free snacks and refreshments!
No CDL??? No Problem, in just few short weeks you can achieve your CDL!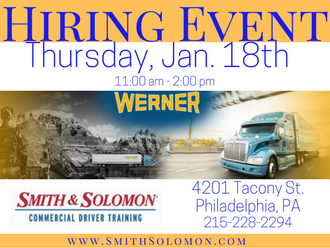 Want to find a company to establish or continue your trucking career?
Smith & Solomon is hosting Werner Enterprises for a day full of information.
Learn about:

• One of the best trucking companies in the USA
• Opportunities and benefits within the company
• Werner rider and pet policies
• Werner average pay $45k to $150K
• Veterans programs
• Tuition reimbursement
• Spouse employment
Free Food & Refreshments