Description
This month's Healthy Tuesdays focuses on
Preventing Chronic Disease & Inflammation

!
Sylvie Beljanski cordially invites you to an evening of good food and interesting people while hearing various experts and specialists share information and answer your questions about Preventing Chronic Disease & Inflammation . This event takes place in the newly constructed Maison Beljanski Building on East 53rd Street.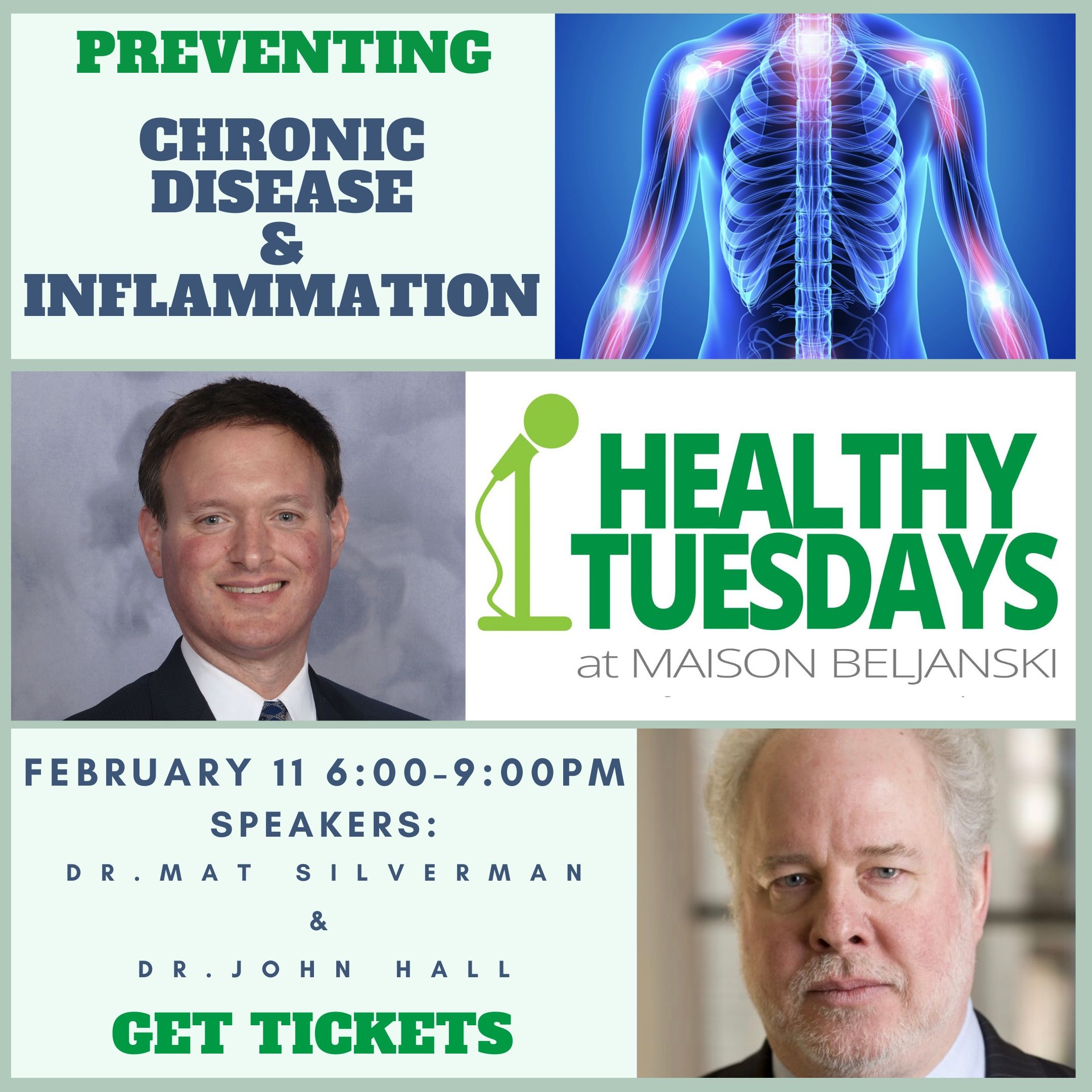 February 11th - 6:00-9:00pm
Ticket includes a wonderful buffet, refreshments and a gift bag
Please RSVP by February 9th
Buffet and Networking
(6-7:00pm)
Guest Speakers
(20 minutes per speaker + questions)
Guest Speakers:
Dr. Mathew Silverman, D.O.
Always striving to transform and improve the health of his patients, Dr. Silverman felt the current system of healthcare was not adequate to meet the needs of individuals. He is a board certified internist and started practicing alongside his father 18 years ago. He discovered functional medicine and uses its methodology to personalize treatment plans for his patients. He started a new practice called the Peaceful Practice, LLC where patients are given the time and space to develop a plan to achieve their highest goals.
Dr. John Hall
Completed his undergraduate studies in Chemistry at Columbia University, New York City. He was a Graduate Fellow at Princeton University, New Jersey working in the Department of Biochemical Sciences and he completed his PhD Degree at New York University, Department of Biochemistry, New York City. Dr. Hall has served as a Consultant in the biotechnology industry and is currently the Director of Research for The Beljanski Foundation, which is working toward curing cancer the natural way.
The evening features networking, buffet, and interactive conversation with health experts.
100% of the proceeds from the event will go to The Beljanski Foundation, a non-profit 501(c)(3), to help fund anticancer research to cure cancer the natural way.
Limited Seating Available. Please RSVP by February 9th.