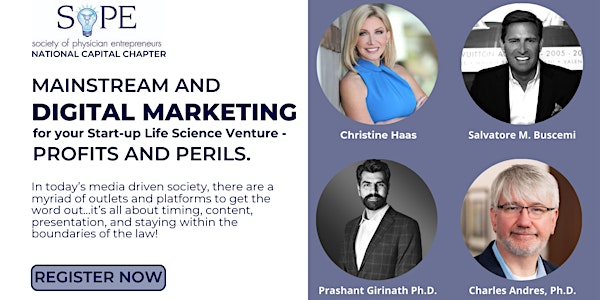 Mainstream and Digital Marketing of your Start-up Life Science Venture
SoPE National Capital Chapter: Free webinar! Mainstream and Digital Marketing of your Start-up Life Science Venture - Profits and Perils.
About this event
As life science and healthcare entrepreneurs, we all have a story to tell.
We want the world to know about our innovation and potentially use the opportunity to attract investors and industry partners. In today's media driven society, there are a myriad of outlets and platforms to get the word out…it's all about timing, content, presentation, and staying within the boundaries of the law!
Join this SoPE webinar for an exciting and insightful discussion about a topic that each of us will deal with at some point in the development cycle!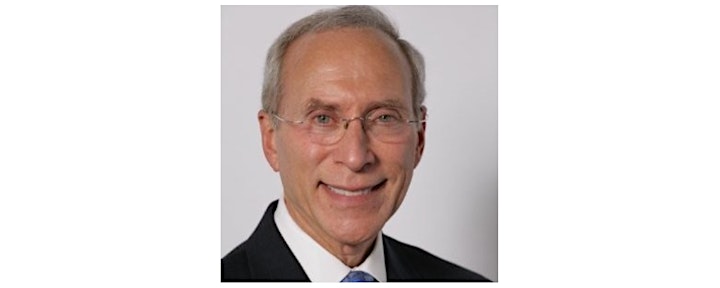 Co-Founder and Chairman of SoPE
Chairman and Chief Medical Officer, BioFactura, Inc., President, Memory Care Communities LLC
A retired ENT surgeon, Dr. Hausfeld has been involved in commercial ventures and is constantly on the look-out for new and innovative entrepreneurial opportunities. The exciting thing about life after the practice of medicine is that now he is able to draw upon the diversified fields of medicine, business, and organizational psychology, and implement novel solutions that have an immediate impact on the client's bottom line. Currently, Jeff is the Chairman of the Board and Chief Medical Officer at BioFactura, Inc.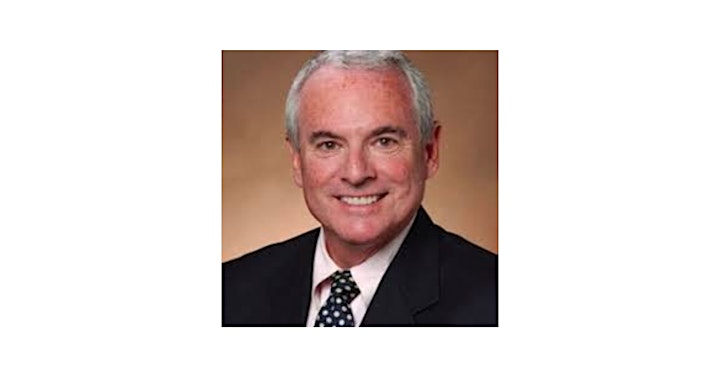 President & CEO, SoPE
Arlen Meyers, MD, MBA, is Emeritus Professor of Otolaryngology, Dentistry and Engineering at the University of Colorado School of Medicine and the Colorado School of Public Health, and founding President and CEO of the Society of Physician Entrepreneurs. He teaches at the University of Colorado-Denver, consults and speaks to companies, governments, colleges and universities around the world who need his expertise and contacts in the areas of bio entrepreneurship, bio-science, healthcare, healthcare IT, medical tourism -- nationally and internationally, new product development, product design, and financing new ventures. He is a serial entrepreneur and life science technology commercialization consultant and advisor.

Salvatore M. Buscemi is the CEO and Co-Founding Partner of HRN, LLC a private multi-family investment office, and CEO of Dandrew Partners Capital Management, his own investment office.
Mr. Buscemi's life science holdings include private direct investments into the following companies: Immunicom, Rejuvenan Global Health, Geneius Biotechnology, AviveAED, SageMedic, Apricity Health, SciTech Development, Thrive Biosciences, and other technology holdings such as Aviva-Singlife and AiScout.
Mr. Buscemi started his career at Goldman Sachs in New York City and has managed his institutional balance sheet since he was 29. Mr. Buscemi currently resides in Miami and is the author of three books on investing.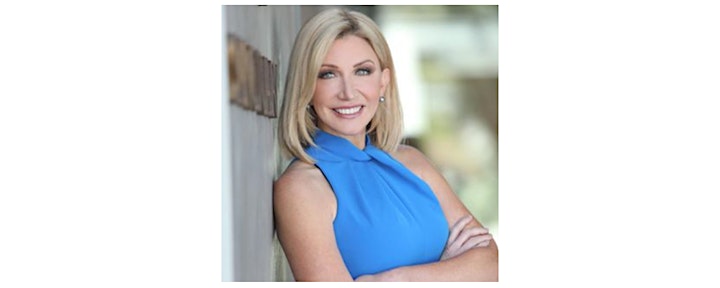 Veteran news anchor and investigative reporter, Christine Haas is a TV broadcaster, public relations strategist and media consultant. As Founder of Haas Communications, Christine provides VentureDNA and its portfolio companies, public relations services, media relations counsel, broadcast interview training and presentation coaching to an ever changing media landscape.
Christine has won 13 Emmys and the prestigious Edward R. Murrow Award for writing and on-camera talent. She has worked for NBC News as a television anchor in top DMA markets including San Diego, Houston and Austin. She is passionate about journalism, writing and connecting with viewers. She has been consistently recognized by her peers and leaders in the industry for her skills, which she is able to bring to each of her clients every day. Her experience with investigative stories have changed state law and have been included into Congressional evidence.

Charles Andres, Ph.D., RAC, is an associate in the Washington, D.C., office of Wilson Sonsini Goodrich & Rosati. He focuses on patent prosecution, strategic patent counseling, IP due diligence, drug and medical device FDA regulatory counseling, invalidity and non-infringement opinions, life-cycle management, Supreme Court and Federal Circuit amicus briefs, and related business matters.
Prior to becoming a patent professional, Charlie spent a decade as a medicinal chemist and early-phase project co-chair at Bristol-Myers Squibb Company, where he won a Presidential Award, among other accolades. He holds Regulatory Affairs Certification (RAC) from the Regulatory Affairs Professionals Society.

Prashant Girinath, Ph.D. is a shareholder in Greenberg Traurig's Intellectual Property and Technology Group. Prashant has designed and implemented IP strategy for companies through all strata, from startups to venture-backed and public companies. He helps clients with their legal needs and IP strategy from inception through public offerings and exits. Prashant works with clients on both the sell-side and the buy-side of M&A. Prashant has represented investors and companies in IP-related matters in financings in all stages from pre-seed to venture capital or private equity rounds and pre-IPO crossover rounds. Prashant has obtained thousands of patents for companies and aggressively developed complex IP portfolios with dominant patent positions that have helped facilitate significant partnering outcomes, especially in the life sciences. He has also represented many companies in licensing and partnering transactions.