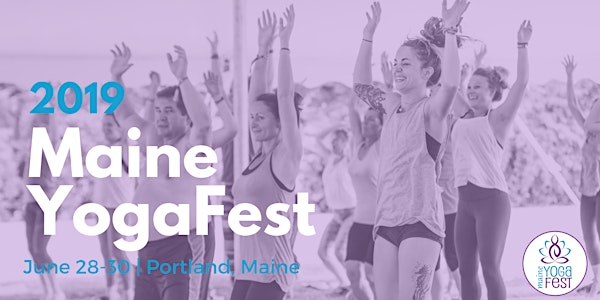 Maine YogaFest 2019
When and where
Location
East End Community School 195 North Street Portland, ME 04101
Description
Maine YogaFest (MYF) is Maine's premiere yoga / wellness festival offering a diverse selection of yoga workshops across multiple styles. Taught by local and regional teachers, we celebrate all that yoga is and does for us! Over the course of the weekend, you'll have the opportunity to plug into this vast yoga community and experience a diverse program infused with talented yoga practitioners, instructors, artists, musicians and sponsors and vendors. Bring a friend or make new friends, it's a festival!
TICKET INFORMATION & REFUND POLICY
Once payment is made, y

ou will receive an email confirmation from Eventbrite. Your e-ticket(s) will be attached to your order confirmation email. Important: If you do not recieve it, please make sure to check your junk/spam folder. If you can't find it there, access the Eventbrite help center.
When the MYF Schedule is LIVE in MARCH you will receive an email to build your festival schedule in our online scheduler, powered by Sched.org.
Need to view or update the information on your order? View easy instructions. If you would like to transfer a pass, you can do it here.

NO REFUNDS OR EXCHANGES.

All sales are final. No refunds or exchanges for tickets purchased through this website will be made. sheJAMs, LLC is entitled to retain all fees collected through this website for services that it performs in taking orders and delivering tickets. You may transfer your pass to another person, follow these simple

directions

. You must be 16 years of age or older to participate. You may attend if you are over 12 years of age with a guardian/adult.

EVENT CANCELLATION/CHANGES.

Notwithstanding the issuance of tickets through this website, the venue and/or sheJAMs, LLC may cancel any event. Also, the venue operator and/or sheJAMs, LLC may change the scheduled teachers/performers or change the event date/time without notice, and any such change will not be considered a cancellation of the event. Where events are held at outdoor venues, the risk of inclement weather is assumed by the Customer. Events may be held regardless of weather conditions, as determined by the venue operator and/or sheJAMs, LLC.

TEACHER CANCELLATION POLICY AND DISCLAIMER.

Maine YogaFest reserves the right to substitute or cancel presenters/teachers as necessary and this is at the discretion of the Maine YogaFest team. In the event that a teacher/presenter cancels or is canceled, a second choice selection will be designated for that time period. No refunds will be given due to teacher cancellations.