Description
Please join us for our 1st Annual Comedy Night!
Cost: $25
When: Wednesday, November 29th
Where: Z​A​N​I​E​S​ ​Comedy​ ​Club - Rosemont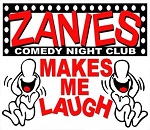 Doors open at 7:00 p.m., show begins at 8:00 p.m.

This is a 21 and over event.

There is a 2 item (food or drink) minimum.

Please be sure to check out our silent auction and 50/50 raffle!
Everyone is invited, so get a group of your friends and family together for a fun evening!
This is a great opportunity to meet other Maine West families, teachers and coaches and support Maine West Athletics!