Description
THINK MARDI GRAS as this Super Sat is the last one before we roll into New Orleans for SUMMIT! IT'S THIS SUPER SATURDAY'S THEME!
Come dressed in your BEST Mardi Gras Costume inspired WORKOUT GEAR :) Think Beads, Masks, Purple, Gold, Green and TONS of fun!!!

Super Saturday events are SUPER fun, think 100s of positive amazing friends working out together all at once!! YUP... FUN!! Tons of recognition!!!

It's ALSO a great way to learn a little more about what coaching is all about. Who are these crazy workout enthusiasts? What do they do all day? Why the heck are they so damn happy on social media all the time? Does it really work? Do they really make money? Get results? And "Can I do it?!" YUP... You will get the answer to all those questions too...

AND... calling all you coaches in the area, If you are ready to build a monster wave of momentum in your business as a Beachbody Coach, then put Super Saturday on your must-do list. We have an AMAZING line up for you... Seriously, you are getting 5 super successful ELITE coaches under ONE roof to help you learn how to grow your business and push through the end of the year!

For many Coaches, these essential, quarterly events are the turning point where it all comes together. The "a-ha" moment when everything suddenly starts to click.
SO, get your ENTIRE team there!! Invite your friends, family, those that you want to join you or that are curious about what you do and let's get the fun started!
And the coolest part of all? You'll connect with other Coaches face to face. You'll celebrate successes, bond with your teammates, and feed off a collective live energy you just can't get from Facebook and Twitter. BUT.. Still make sure to "Like" Our Facebook page for the latest updates and news about the event!

https://www.facebook.com/MaineSuperSaturday/

In other words, your whole Team will be on the same page and laser-focused to take the next quarter by storm!

Alrighty... Sounds awesome right?! It is!! Here are the DETAILS:

Registration: 8:30am
Event Starts: 9am
Raffle!!! Get free Beachbody Swag & Products, plust the chance to win a TON of local goods from lovely biz people in the area who donated graciously!
Line Up: Hear a video from corporate on the newest product and program announcements, training tips, promotions, success stories and more!
AND we have an amazing line up of live speakers that are going to share their top tips, insights and stories with you so you can leave PUMPED to push your biz forward and with a plan in place to take action!
Workout: 12PM (Workout TBA)
Attire: Workout gear (THEME TBA)
What to bring:
Notebook and pen/lap top or iPad for notes! (but let's be serious, you'll already have your phone, so you could use that too!)

Snack: Bars/nuts/fruit in case you get hungry - We WILL be providing some amazing Shakeology bars and snacks!

A water bottle

YOUR TEAM, friends, Family members, Significant other, people you want to help or have on your team!

A great attitude!!





AND EVENT TEES!!! We have AMAZING tanks and tees designed specifically for our Maine Coaches!! Pre-orders have ended...they will be on-sale at the door for $25! Check em out!!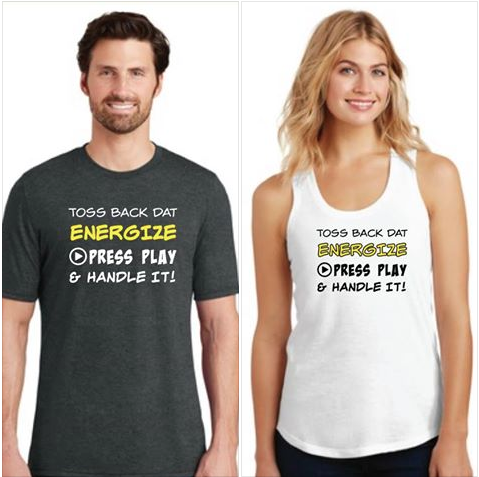 SEE YOU THERE!!!