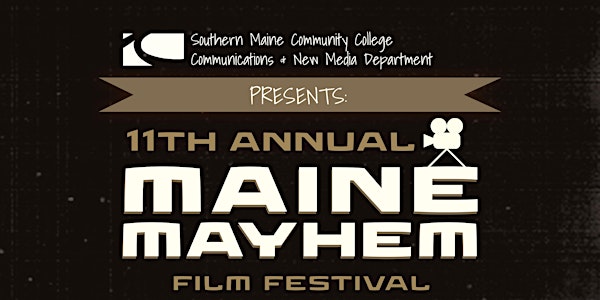 Maine Mayhem 2020/2021 Screening
Maine Mayhem is a festival comprised of senior students from Southern Maine Community Colleges Communication and New Media department.
When and where
Location
The Saco Drive In 969 Portland Road Saco, ME 04072
Refund Policy
Refunds up to 1 day before event
Eventbrite's fee is nonrefundable.
About this event
This year's event will feature films from both this year, as well as those that were not screened last year due to the global COVID-19 lockdown. Join us for an evening of fantastic films from Maine's up and coming young filmmakers.
Gates open at 7:30pm. The first film will begin at Sundown (roughly 8:30pm).
**ADMISSION PRICE IS GOOD FOR A CAR OF PEOPLE, NOT AN INDIVIDUAL**
----------------------------------------------
MAINE MAYHEM 2021 FILMS
Controller
When James Wolfe, a young reporter blacklisted from his job in Boston for putting out a false exposé relocates to a small town in Maine, he accepts a job at a courier where he's assigned an interview with local ventriloquist, Raymond Miller. After James discovers Raymond isn't as he seems, he writes a story that puts his job, his family, and his life into question.
Director: Chad Ackerson
Producers: Chad Ackerson, Parris Leary-Cayer
Freedom
Freedom is a coming of age LGBTQ+ film about learning to love and trust again. After having her heart broken, Natalie mourns the loss of her relationship and works to overcome the betrayal and hurt her ex-girlfriend, Sarah caused her. On one fateful night, a normal food delivery opens the next door for Natalie in her healing.
Director: Savannah Green
Producers: Savannah Green, Jonathan Nelson
Late Nights
Late Nights follows Robbie, a 21 year old father, as he transitions his day into night after getting an alerting call from his boss, Mike. As he secretly meets up with his boss, Robbie discovers his job for the night: sending a man a "message". As Robbie goes further into the night, he contemplates his life choices and whether or not he can go through with the job.
Director: Benji Otte
Producers: Benji Otte, Amelia Ricks
20 Minutes
Julia Croft is a young woman fresh on her job at a suicide hotline. One day, she receives a call from a tearful Martin, who informs her that he fully intends to commit suicide. Julia dutifully follows her jobs regulations in trying to comfort the distressed man, but Martin remains reluctant to divulge the nature of his suicidal impulse.
Director: Hailey Moore
Producers: Hailey Moore, Joshua Clyde Wheeler
Overnight Deliver-Z
Overnight Deliver-Z tells the Story of Larry, a working-class man learning to face the demons of his past while simultaneously trying to survive the zombie apocalypse. While working the night shift he meets Ted, a man that stands against everything Larry believes in. Larry later learns that Ted might be infected. Can he convince his boss of the danger they are in and survive the night?
Director: Marcus Taylor
Producers: Marcus Taylor, Justin Edgar
Listen to Yourself
"Listen to Yourself" chronicles a peculiar day for Ethan Farley, as he wakes up in the body of his roommate Cameron Richards. Yet 'Cameron' soon finds that Ethan is still 'Ethan' — his consciousness is in both bodies, and Cam's mind is nowhere to be found. As 'Cameron' has to act against his anxious nature on a date-day with Cam's girlfriend Megan Lanhart, Ethan inadvertently receives help from his (unknowingly mutual) crush Delaney Belmont while searching for answers. Will Ethan be able to overcome his insecurities and fix the situation before 'Cameron' ruins his cover — or Cam's relationship?
Director: Sam Martel
Producers: Sam Martel, Alexander Wood
----------------------------------------------
MAINE MAYHEM 2020 FILMS
Masterpiece
Holding himself responsible for the sudden death of his wife, an artist begins to paint his masterpiece. While desperately struggling to maintain his grip on reality.
Director: James Redpath
Producers: James Redpath
Bomb Wedding
Bomb Wedding is a dramatic comedy that revolves around a young woman named Clementine Clark, who returns home for her wedding. Everything seems to be going smoothly, even with the obnoxious soon to be in-laws, until two FBI Agents show up on her mother's doorstep the night before the big day. With Clementine's father being on the FBI's most wanted list, the family agrees to putting four Agents undercover at the ceremony the next day. Little do they know; Clementine's criminal father is not the only threat to this wedding.
Director: Aleena Warren
Producers: Aleena Warren, Nicholas Halle, Grant Bodine, Gweneth Thornton, Chloe Dearborn
Homecoming
As Peter chases his dream job that will keep him away from the town he grew up in, he's met with resentment from his childhood friends. And, during an emotional night out, doubts creep in.
Director: Daniele Amandolini
Producers: Daniele Amandolini, Krysta Black