Come stop by our Mainchance Building. Enjoy Food, Drinks, Live Performances and Great Music, all while we raise money to fund our program.
About this Event
First 20 Guests Will Receive a Mainchance Gift Bag.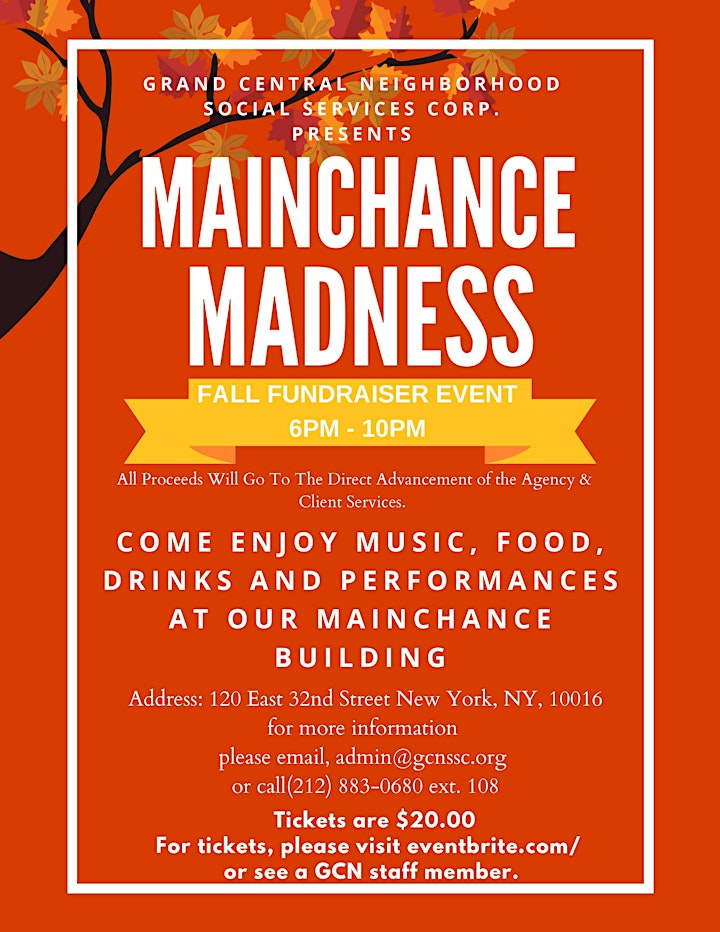 Grand Central Neighborhood is a nonprofit organization committed to providing immediate relief to New York City's homeless population. Through our MainChance Multi-Service Center we offer basic necessities such as food, clothing, showers, and beds for evening respite.
We also have a wide range of social services including case management, group workshops, medical and psychological services, treatment referrals and housing assistance. Our Soup Kitchen serves 3 (Three) meals daily, 7 (Seven) days a week and is open to the public.
In order to help people use our center as a bridge to a more secure life, we have designed a delivery of service program to meet our clients at their various levels of need - tailoring our services to fit the specific situations of each individual in a welcoming and safe environment. We recognize that, for some, simply coming in from the streets is a significant step.
Please help us continue our mission by donating through PayPal https://www.paypal.com/cgi-bin/webscr?cmd=_s-xclick&hosted_button_id=M9QRYK2C2WRRE. Or Sending a check or money order to: Grand Central Neighborhood Social Services Corp.120 East 32nd Street, New York, NY 10016. or Dropping off donations of personal items such as clothes, shoes, toiletries.
Sponsorship opportunities are available. Please contact admin@gcnssc.org or 212-883-0680 x108