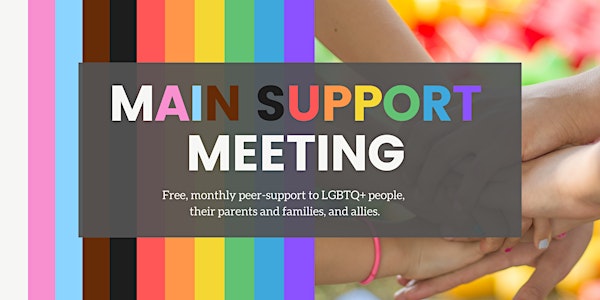 Main Support Meeting May 2023
We offer a monthly peer support group for LGBTQ+ people, family, and friends. NEW TEEN ATTENDANCE POLICY
By PFLAG Melbourne/Space Coast
Date and time
Monday, May 8 · 6:30 - 8pm EDT
Location
Project Response, Inc. 745 South Apollo Boulevard Melbourne, FL 32901
About this event
New Policy For Teen Only Meeting, Please Read
A parent of guardian must come inside and check in each youth that they are responsible for.
The parent of guardian must stay on site, either in the adult meeting or outside in their car.
Youth will be excused from their meeting one at a time to use the restroom.
Youth will not be allowed outside before the end of the meeting unless escorted by a facilitator.
Covid 19 policy
N95 OR KN95 Masks are suggested but NOT required to attend and we will have masks available for those who need them.
If you are experiencing any Covid symptoms or have not been vaccinated please stay home.
For the main peer support group we will be limiting space to a max capacity of 25 people.
For the teen support group we will be limiting space to a max capacity of 10 people. A guardian MUST stay on the premises.
If you are unable to attend for any reason and need support or resources please reach out to us via e-mail or social media.
To attend either meeting, registering for a free ticket here is *required*. If for any reason you cannot make it please "refund"/cancel your ticket or message PFLAG Melbourne Space Coast as soon as possible, as this allows another person to be able to attend.
**TEENS DO NOT REGISTER HERE; This event page is for the main peer support meeting, not the teen support group. **
For teens wanting to attend the Teen Support Meeting follow this link:
https://may2023pflagteen.eventbrite.com/
PFLAG Space Coast Melbourne is inviting you to our monthly peer support meeting. As always we would like to remind everyone PFLAG offers peer support (not professional) that is available at no cost and open to all who wish to participate in a safe and confidential space.
Meetings are held every 2nd Monday of the month from 6:30-8:00pm EST at Project Response in Melbourne, FL. Doors open at 6:15 pm and meeting starts at 6:30pm.
If for any reason you require support but don't feel comfortable joining the group meetings please feel free to reach out to us at any time through our Facebook, Instagram, Twitter, website , or email pflag.msc@gmail.com .
You are never alone.
If you are interested in becoming a PFLAG member, memberships are $30, and that goes to PFLAG National.
Any amount higher than $15 will be donated directly to funding PFLAG Melbourne Space Coast chapter, allowing us to do all the things we do for our community.
Directions:
You will be directed to our donate page and then the Paypal donate button.
Select the amount you wish to donate, minimum $30.
In the NOTES section include your first and last name, email you want PFLAG emails to be sent to.
Click here to be directed to the Donate page.
We are now using Mail Chimp for our mailing newsletters!
Click here to sign up to PFLAG Melbourne Space Coast mailing list!