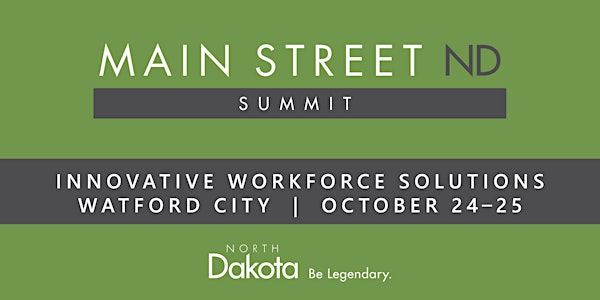 Main Street ND Summit 2023
The Main Street ND Summit provides an opportunity to connect, learn, get inspired and gain insight to build your community for the future!
Date and time
October 24 · 8am - October 25 · 5:30pm CDT
Location
Rough Rider Center 2209 Wolves Den Pkwy Watford City, ND 58854
About this event
1 day 9 hours

Mobile eTicket
North Dakota's economy is changing, and attracting skilled workforce to your company and community is more important than ever. To attract the best and brightest, private and public sectors need to work together to tell the story and show why employees need to call North Dakota home.
The 2023 North Dakota Main Street ND Summit is your opportunity to learn from experts and network with other community leaders. Theme this year is Innovative Workforce Solutions. The summit will feature nationally renowned keynote speakers and hands-on workshops that will provide you with the tools to attract and retain the next generation of North Dakota's workforce.
There are several tours and activities that you can also sign up for when you register. Here is a listing of the extra activities that will be taking place:
Artists on Main Street Cohort Meeting
Tuesday, October 24, 12:30 to 3:30
70 spots available
Join Michele Anderson, Rural Program Director for Springboard for the Arts, and Emily Kurash Casey, Director of Community Programs at Rethos, for a workshop on how to tap into your local creative community to revitalize your downtown district.
Artists on Main Street is a program that activates artists and creatives to address challenges and solve problems in downtown districts. These challenges are often issues that are left to over-extended city staff, business or building owners, or district stakeholders. By employing creative and community-centric models, new methods of activity and investment can take place in your downtown.
Artists on Main Street can work in any size community—from 200 people to 200,000 people—because it focuses on a specific district and area.  By attending this workshop, you will learn from five North Dakota communities who have participated in this program along with the basics of planning for district activation, connecting with and employing artists and creatives, and how "lots of little" efforts can make a big impact in your district.
Theodore Roosevelt National Park Guided Bus Tour
Tuesday, October 24, 1:30 -2:30
44 spots available
Enjoy this guided tour of the North Unit near Watford City offering scenic vistas with a breathtaking panorama at Oxbow Overlook. Keep an eye out for bighorn and longhorn sheep and watch for cannonball concretions, giant cannonball-shaped rocks formed by wind and water.
Ag & Energy Tour
Tuesday, October 24, 1:30- 2:30
44 spots available
Enjoy this guided tour of Agriculture and Energy developments near Watford City that have contributed to the continued economic growth of the region.
Arts and Culture Walking Tour
Tuesday, October 24, 4:00 – 5:00
40 spots available
Long X Visitor Center is Watford City's center for arts, culture, commerce, history and community hospitality.  Sip, view, and learn about the town's recent history and its vision for the future.
Main Street Development Tour
Tuesday, October 24, 4:00 – 5:00 pm
60 spots available
Join for a guided tour of downtown Watford City, which has been the heartbeat of the community since incorporation in 1914.  Learn about several redevelopment projects including the Renaissance and TIFF development project, First International Bank, and Trust / Outlaws Steakhouse and Convention Center / Six Shooters Theater AND S&S on Main, home of Legendary Smiles / Slow Ride / ICON Architectural Group. 
Art Class
Tuesday, October 24, 5:00 pm – 7:00 pm
20 spots available
Sit back, relax, and let your imagination run wild in this guided art class. Enjoy this evening at the Long X Art Gallery and take home a beautifully Bison painting.
End of the Rope Movie Showing
Tuesday, October 24, 7:00 – 9:30
150 spots available
When a family mysteriously disappears from the town of Schafer, North Dakota, suspicion lands on a sociopathic hand, and the entire community rises up to take justice into its own hands. Based on the true story of the infamous Charles Bannon case of 1931.
Watford City High School Ambassadors Cultural Fair
Wednesday, October 25, 4:00 pm
Join the Watford City High School Ambassador's program at the Roughrider Center for the second annual Cultural Fair. The students will be showcasing different cultures and backgrounds that make up the community of Watford City. Enjoy a wide variety of foods, music and other cultural displays.