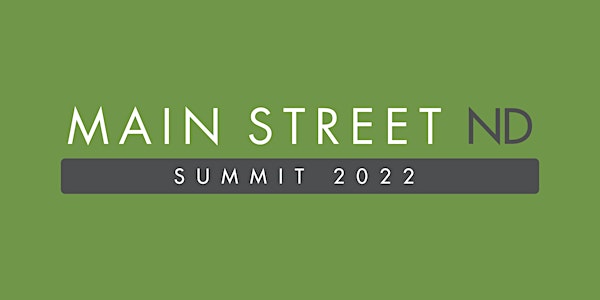 Main Street ND Summit 2022
The Main Street ND Summit provides an opportunity to connect, learn, get inspired and gain insight to build your community for the future!
When and where
Location
Bismarck Event Center 315 South 5th Street Bismarck, ND 58504
About this event
North Dakota's economy is changing, and now more than ever, a skilled workforce is vital to the success of every community and company – big and small. To attract the best and brightest, we need to come together and tell our story about why people should call North Dakota home.
This year's theme, Inspiring Community-Driven Workforce will address the importance of community vibrancy for all generations by highlighting how community assets are critical to economic resiliency, and workforce attraction and retention across North Dakota.
During the summit, attendees will have the opportunity to hear from a variety of world-renowned keynote speakers and partake in engaging breakout sessions that will provide the tools and resources to support community volunteers, local champions, business owners, and elected leaders at both the local and state level as they work together to create unique communities to attract a talented workforce.
Confirmed speakers for the 2022 summit include:
• Anthony Melchiorri, the host of Travel Channel's Hotel Impossible, Five Star Secrets, and Extreme Hotels.
• Amanda Brinkman, the chief brand officer at Deluxe and creator, producer, and host of the Small Business Revolution.
• Think 3D, a business management consultant company that helps clients build intentional cultures. Their belief is that a healthy culture has three dimensions – personal, professional, and potential.
This FREE summit will help EVERYONE go home and start planning and implementing tools and strategies that promote the value of their healthy and vibrant community to attract and retain a talented workforce.
Pre-Summit Social: Oct. 24 from 4-6 p.m. at the Morton Mandan Public Library
Summit: Oct. 25-26 (see agenda for time) at the Bismarck Event Center