Main Street MoonFest "Antlers, Top Hats & Tiaras" Wine, Ale & Spirit Stroll
8 BLOCKS, 15+ STOPS, HISTORIC MAIN ST --"Antlers, Top Hats & Tiaras" Wine, Ale & Spirit Stroll. Buy tickets early; sold out event last year
About this event
Hunters Moon Main Street Moon-Fest
"Antlers, Top Hats & Tiaras" - Wine, Ale & Spirit Stroll
October 17, 2020; 2-7pm
2020 Tickets on Sale Now!
Tickets are limited and non-refundable.
$25 General and $35 VIP
The Stroll will be held from 2-7 p.m. on Saturday, October 17, 2020 on Historic Main Street in Calvert and include tastings from featured Texas wineries & breweries through 8 blocks of historic Main Street.
VIP Benefits:
* Designated registration area for VIP ticket holders
* VIP wine glass lanyard to highlight Stroll status
* Special readings from one of the Stroll Spirits:
Fortune Teller, Tarot Card Reader, Palm Reader
& Psychic Reader featured at Stroll Stops
* Plus general admission benefits listed below​:
General Admission Benefits:
* 2-7 p.m. Hunters Moon Wine Stroll event on Historic
​ Calvert's Main Street Business District (3rd Largest
​ historic district on the National Registry).
* Collectible Stroll wine glass
* Wine glass lanyard
* Tastings at all participating Stroll stops in 8 blocks
of historic business district
* Entertainment at Stroll Stops
* Swirl map showing all participating retail Stroll
Stops, Texas wineries, breweries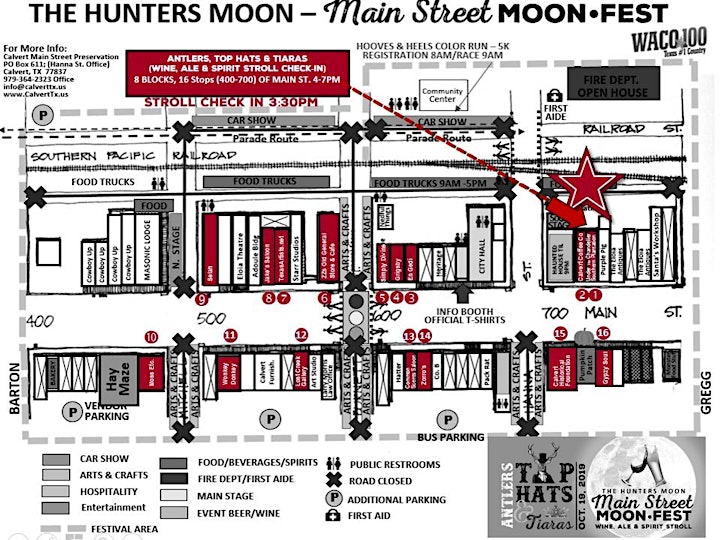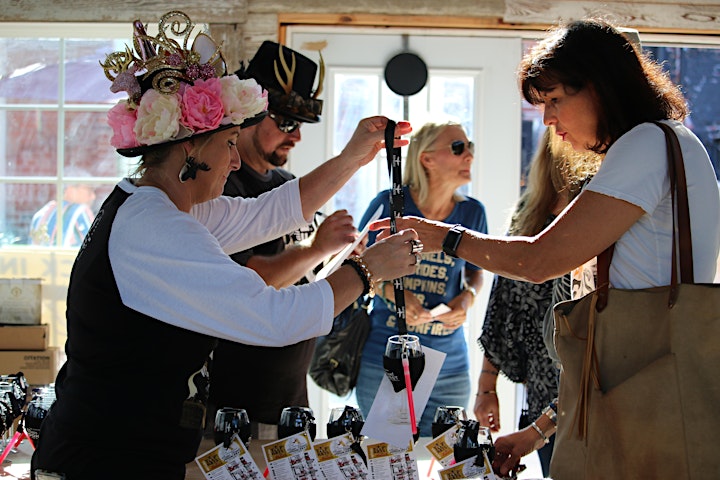 Organizer of Main Street MoonFest "Antlers, Top Hats & Tiaras" Wine, Ale & Spirit Stroll
Calvert Main Street Preservation, A Texas Non-Profit 501(c)3 Organization founded to promote economic vitality and opportunities on Main Street and the surrounding blocks on the National Registry in Calvert, Texas. 
Purpose:  
a.)  To preserve, promote and protect Calvert's eight blocks in the historic business district on Main Street and surrounding blocks on the National Registry
b.) To develop and implement a strategy for economic development and historic preservation
c.) To actively conduct fundraising activities to provide monies for preservation, economic development and promotion.