MailChimp + James Victore present: Take This Job & Love It '13

Saturday, October 5, 2013 from 10:00 AM to 5:00 PM (EDT)
Event Details
MailChimp +

James Victore presents:
Take This Job and Love It '13
A one day live event about work, life, and bucking the status quo. Come reclaim your creative freedom and access a higher level of badass-dom.

The Times Center Stage,   New York City,    Oct. 5 + 6*, 2013
James Victore, TOTALLY LIVE. TOTALLY RAW.

"I wanted to make a symposium but all I could come up with was a revolution."- Victore
Take This Job and Love It '13 is a one day sympsium where James breaks down the philosophies he's followed throughout his career and teaches you how to use these methods to maximize your own life and work.
TTJALI '13 is the convergence of design and creative arts, personal development and social impact. It's a place to reignite the passion in both your business and your life—to dig deep into to the fire that made you want to be a creator and fan those flames. Building on last year's event, TTJALI '13 goes deeper into identifying the methods you need to promote creative courage and work through the hard questions on your path to personal greatness.
This is a revolution. Designers, writers, artists, small-business owners, educators, anyone who wants to learn how to light up your career, harness your power and make a positive difference in the world—this is for you!
+++ What we'll be covering

Understanding the value of your opinion and it's place in your work

How to have confidence while living with fear and self-doubt

Feck Perfuction: How perfection kills creativity

How to cultivate your unique voice and vision

How to develop relentless authenticity and creative courage

How to live with purpose

The importance of play in your work and life

How to access radical freedom or, when a paycheck just isn't enough

The value of being unreasonable

Accepting responsibility for your awesomeness

Coffee! Dance breaks! Swag!

And much more
+++ Buzz 

"James Victore is a man of action. He believes that knowing about jazz and wine and auto-racing can make you a better designer. That graphic design is about experiences and stories and using your hands. That the best designs punch you in the gut – or, at the very least, stop you in your tracks. -Jocelyn K. Glei, 99U
"His provocative style extends from his own work to how he encourages others." -Karen Day, CoolHunting
"Guns blazing, James Victore speaks with audacity, candor, and unmatched intensity. His lectures abruptly inspire, offering not a passive call-to-action but a demand for change, promising to light a fire - not only in your heart, but also under your ass." –Jenny Venn, Asst. Prof. of Art, Graphic Design, Univ. of Wyoming

"The opportunity to live and work with James Victore will wildly exceed your expectations. James sees, shares, and understands peoples' potential - and helps you build upon it; there's nothing quite like it." - Scott Belsky, Behance and 99U

"James Victore tells it like he sees it, bringing his highly acclaimed art to life with compelling comments, lively stories and insightful experiences. His wit and wisdom are amazing."
–Gemma Gatti, CEO Portfolio Center
"When all was settled down yesterday evening, my wife looked at me and said, 'You're different. You're happy.' I swear I teared up there and then... And I thank you for changing my future." - J.N., Washington, from the Dinner Series 2011

"I feel intoxicated from all the creative energy, passion and courage that was summoned everyday in Victore's studio. It was a privilage to fail successfully and repeatedly with all of you and I definitely left hungry for more!" -J.Z., Bogota, Colombia, from the Dinner Series 2011
See James in action here: Q+A Tuesdays, here: 99U talk, and here: AIGA San Fran talk
+++ Agenda

Saturday, Oct. 5
\9:00am- 9:45am\
Coffee & Check In at The Times Center Stage
\10am-1pm\
Event program
\1pm- 2:30pm\
Lunch break - on your own
\2:30pm-5pm\
Event program

Saturday, Oct. 5
\7pm-10pm\
After party with Live Band Karaoke at The Art Director's Club

Sunday, Oct. 6*
\11am-1pm\
Badass brunch at James Victore's studio
+++ Directions
The Times Center, Stage, 242 West 41st Street, New York, NY 10036  (on 41st Street, between Seventh and Eighth Avenues, in the heart of Times Square.)

Saturday night after party @ The ADC with Live Band Karaoke,  7-10pm - The Art Director's Club, 106 W. 29th St. between 6th + 7th Avenues.
Sunday Badass brunch 11am-1pm - James Victore's studio, Williamsburg Brooklyn, 36 South 4th St. #D3, Brooklyn, NY 11249 (between Wythe + Kent Aves.)

+++ Policies
Tickets to TTJALI are non-refundable, but fully transferable. In other words: if you can't attend, send a friend in your place. If you do so, please let us know by Sept. 20, 2013 so we can change the name on our list. Thanks y'all!
Have questions about MailChimp + James Victore present: Take This Job & Love It '13?
Contact James Victore
When & Where

The Times Center
242 West 41st Street
New York, NY 10036


Saturday, October 5, 2013 from 10:00 AM to 5:00 PM (EDT)
Add to my calendar
Organizer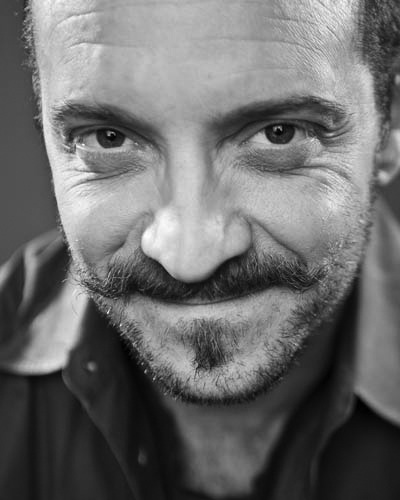 Contact James: unicorn@jamesvictore.com
James Victore is an author, designer, activist, artist and firestarter who teaches creatives how to illuminate their individual gifts in order to achieve personal greatness. Described as "part Darth Vader, part Yoda," James is widely known for his timely wisdom and impassioned views about design and it's place in the world. He reaches thousands online with his weekly Burning Questions video series and leads game-changing workshops and seminars that help creative types of all spheres live and work successfully. At the helm of his independently run design studio, James continually strives to make work that is sexy, strong and memorable; work that tows the line between the sacred and the profane.
James' work has been exhibited at the Museum of Modern Art in New York and is represented in the permanent collections of museums worldwide. His clients include Bobbi Brown Cosmetics, Moet & Chandon, Yohji Yamamoto and The City of New York. His work was published in a monograph titled, Victore or, Who Died and Made You Boss? Victore teaches at the School of Visual Arts in NYC. He lives, loves and works in Brooklyn.
See James in action here: Q+A Tuesdays, and here: AIGA San Fran talk
MailChimp + James Victore present: Take This Job & Love It '13