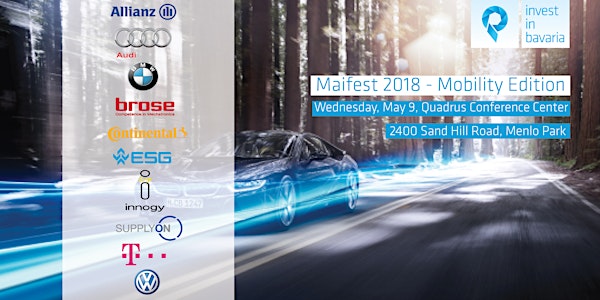 Maifest 2018 - Mobility Edition
When and where
Location
Quadrus Conference Center 2400 Sand Hill Road Menlo Park, CA 94025
Description
Maifest 2018 - Mobility Edition brings together industry-leading Bavarian & German multinational corporations and innovative growth-stage tech companies to network and collaborate about the Future of Mobility, primarily Autonomous Vehicles (AVs), Electric Vehicles (EVs), Connected Car, urban mobility, fleets, TNCs/ridesharing, and logistics.
Senior executives from German companies responsible for corporate venturing, R&D, strategy, and digital innovation primarily in the Automotive & Mobility space but also in Manufacturing, Logistics, Insurance, Telecommunications, Cybersecurity, and Energy & Infrastructure will outline how they collaborate with technology companies in shaping the Future of Mobility.

Tech companies from Silicon Valley, across the US, and abroad will have the opportunity to strengthen their connections to OEMs, Tier 1 and 2 suppliers, and multinational corporations as potential clients, partners, or service providers from Germany, the largest and most robust economy in the Europe/EMEA region.
*** If you are not available to attend the entire conference, consider joining us from 5:30 PM - 8:30 PM for the evening portion of the conference (does not include pitches, demos, networking, test rides).
Tickets are available HERE
The evening features Keynote and Panel Discussion by experts from BMW iVentures, Brose, Stanford, Lyft, McKinsey & Co., moovel (Daimler), Nauto, and Waymo (Google), followed by our Bavarian Happy Hour: beer, wine, full menu, and a Maifest performance by Bavarian traditional dancers! ***
Afternoon Agenda
"Maifest: Connect"
12:00 pm Registration & Lunch - Courtyard

1:00 pm Welcoming Remarks - Main Hall
1:15 pm Corporate Pitches (ca. 7 min. each) - Main Hall
2:15 pm - 4:30 pm 1:1 Meetings via Matchmaking App Brella.io (max. 10 min) - Main Hall + Panoramic Deck

4:30 pm "Autonomous Networking" - Bavarian beer & appetizers will be served! - Panoramic Deck
Simultaneously:
2:15 pm - 3:00 pm Workshop: TechWanderlust: Germany - Q1 Conference Room
3:30 pm - 5:00 pm *LIVE* Product Demos & Test Rides - Q1 Conference Room & Courtyard
Evening Agenda
"Autonomous, Connected & Supercharged : What Does the Future of Mobility Hold?"
Join us for Keynotes and a Panel Discussion with mobility experts from research and industry, followed by our Bavarian Happy Hour with Bavarian beer, wine, full menu and a traditional Maifest dance by the Bayerischer Heimat- und Trachtenverein San Francisco Golden Gate (More info)!
5:30 pm Welcoming Remarks
5:45 pm Keynotes
Managing Director, Silicon Valley Mobility | Lecturer, Stanford Graduate School of Business
Founder, RESTREET | Professor, University of San Francisco School of Management
6:30 pm Panel Discussion, followed by Q&A
Panelists
Zach Barasz
Partner, BMW iVentures
Giovanni Circella, Ph.D.
Director, 3 Revolutions Future Mobility Program
UC Davis Institute of Transportation Studies
Regina Clewlow, Ph.D.
CEO & Founder, Populus.ai
fmr. Director of Business Development, moovel (Daimler)
Jennifer Haroon
VP, Strategy & Corporate Development, Nauto
fmr. Head of Business Operations, Waymo (Google)
Lia Theodosiou-Pisanelli
Director of Autonomous Strategy, Lyft
Dr. Kilian von Neumann-Cosel
Director, Business Development, BROSE
7:15 pm Bavarian Happy Hour - featuring Bavarian beer, wine, food, and traditional dancers!
1:1 Meetings via our Matchmaking app before the Conference!
Our networking and matchmaking app, powered by Brella.io It offers you the opportunity to schedule 1:1 Meetings with conference attendees based on a unique compatiblity score! Upon registration you receive the register.
---
If you have any questions, please contact us at maifest@bavaria.org.
Looking forward to seeing you on Wednesday, May 9th!