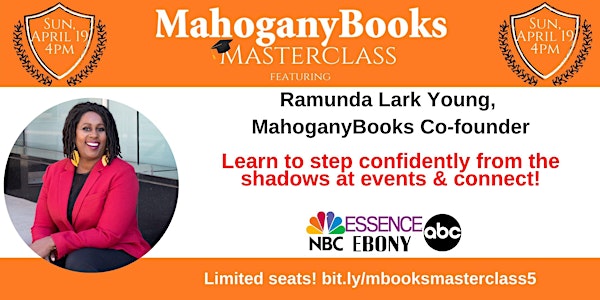 MahoganyBooks Masterclass feat. Co-founder Ramunda Young
Learn tools, tips and strategies to make impactful business connections that impact revenue.
Date and time
Sunday, April 19, 2020 · 4 - 6pm EDT
Location
MahoganyBooks 1231 Good Hope Rd. SE Washington , DC 20020
About this event
This Masterclass is for You if:
You are the entrepreneur who lacks the confidence and skillset to successfully build your network
You find yourself in agony and feel nervous when it's time for you to communicate your brand verbally to strangers
You find yourself being overly excited about attending live events and quickly become discouraged because you feel intimidated by other entrepreneurs who speak the business language
You wonder how other entrepreneurs can clearly communicate their mission and make connections with ease while you are tongue-tied trying to verbalize your brand
You are an introvert who never makes it to the front of the room
With this Masterclass You'll Learn to:
Arm yourself with the tools to create win-win business relationships.
Never leave money on the table again.
Connect with influential leaders and master your "Value Voice".
Build your network before you ever need a job
Step out from the shadow at events, even as an introvert
Make lasting connections at conferences!
Only a limited number of spots available for the right handful of individuals. Will that be YOU? Make the commitment today that you will no longer self-sabotage yourself and your amazing brand. Your voice is valuable and it needs to be heard. The truth is being in the entrepreneurial game with powerful heavy hitters can be intimidating and fearful. But guess what? Even the most successful people in business had to step out of their comfort zones. You're next!
About Ramunda Lark Young
Ramunda Lark Young has worked as a Community Relations professional for almost a decade and is skilled at building authentic business connections that generate revenue. While working at a Fortune 500 company, Young garnered sales of more than a quarter million dollars and won numerous awards which highlighted her relationships with local organizations in the community.
Additionally, she and her husband Derrick created the award-winning MahoganyBooks, a bookstore with books for, by and about people of the African Diaspora where building relationships with non-profits, publishers and authors is critical to the overall mission of the company. With Young at the helm of strategic partnerships, MahoganyBooks is now nationally known among bestselling authors, celebrity writers, community leaders and others.
Young is passionate about teaching entrepreneurs the gift of authentic connections and recently launched Ramunda Young, Inc. where she is the Connection Strategist, CEO. Her powerful SOAR Sessions and workshops help turn contacts into contracts. Young is also a dedicated community leader. She was appointed Commissioner of the Prince William County Human Rights Commission and recently elected Vice Chair. She has been featured in Essence Magazine, Vanity Fair and named a 2018 Root 100 Honoree. Young proudly serves on several boards including The BELL Foundation and the Prince William Chamber of Commerce Education/Innovation Committee and was named one of five Influential Women by Prince William Living Magazine. She is a proud socialpreneur and sought out speaker of literacy, community involvement and women in business. Young is on a mission to arm entrepreneurs with tools to SOAR (Surpass Obstacles and Rise) in life and beyond while creating dynamic personal networks, professional relationships and increased self-confidence along the way. She proudly lives with her husband and business partner Derrick and their daughter, Mahogany.
About the organizer
MahoganyBooks believes in social entrepreneurship and is the premier destination of books written for, by or about people of the African Diaspora. We take a leadership role in the African American community by promoting reading, writing, and cultural awareness as tools to improve communities as well as enrich the lives of motivated individuals.