Description
Mahir Digital Bersama Google in collaboration with SITEC





GROW YOUR BUSINESS ONLINE WORKSHOP SERIES 2
In this 2nd series of Mahir Digital Bersama Google, attendees will be learning on:

1) Basic of digital marketing plan
- 62% of Malaysian businesses are connected to the internet, but only 18% have a brand presence online. Forward-thinking business owners have a major opportunity to innovate where others hesitate. Master the main components of digital marketing and create effective digital marketing campaigns that drive sales and profitability.

2) Market research with powerful free tools
- Understand your competitors and the behavior of your target customers better through market research. Discover free and powerful tools such as Google Trends and Market Finder.

SITEC bring you experts from Google Malaysia to share with you helpful tips and knowledge that you can use in your business.

Register now!

Agenda
13:30 Registration
13:50 Introduction to SITEC
14:00 Basic of digital marketing plan
16:00 Market research with powerful free tools
17.00 Group photo session & networking
* This class will be conducted in English.

Who should attend?
Business owners, employees from SMEs/ SMBs, people looking to increase their digital skills or thinking of setting their own business

Enquiry & Registration:
Website: https://www.sitec.com.my/mahir-digital-bersama-google/
Email: ecclass@sitec.com.my
Tel: 0172609960 (Salman)
This program is organized by Mahir Digital Bersama Google in collaboration SITEC. FREE Admission
About SITEC:
SITEC (Selangor Information Technology and E-Commerce Council) was initiated by Selangor State Government in 2015. We conduct a series of seminars aiming at increasing the e-Commerce know-how for Small and Medium Enterprises. We also host forums and discussion panels inviting emerging and successful e-commerce entrepreneurs to share their stories and real-world experiences. We hope this can serve as the catalyst for the traditional industry to transform their business successfully online and help Selangor to stay at the forefront of social-economy growth driven by this new and fast growing world of e-commerce.
---
This event is free of charge. However if you cannot make it, do have the courtesy to alert us via email ecclass@sitec.com.my or just buzz me via WhatsApp at 017 260 9960.

Below are some reminder for you:

1) Registration
Event will begin at 1350 and registration starts at 1330. Check-in process is simple, just show us the barcode/QR code of your mobile ticket, or tell us your name will do.
2) Seats
Free seating. Please fill up the front row first. :)
3) Location
SDCC (Selangor Digital Creative Centre) is located inside i-City Shah Alam (https://goo.gl/maps/nd3Ma8sHUwm). Look for E-28-1, we are at 1st floor and there's a bunting at the staircase, you won't miss it.



4) Parking Rate
Monday to Sunday (6am - 7pm): 1st 2 hour or part thereof,RM3, Subsequent 2 hour of part thereof RM3.
Monday to Sunday (6pm - 6am): Per Entry, RM10
5) Upcoming series schedule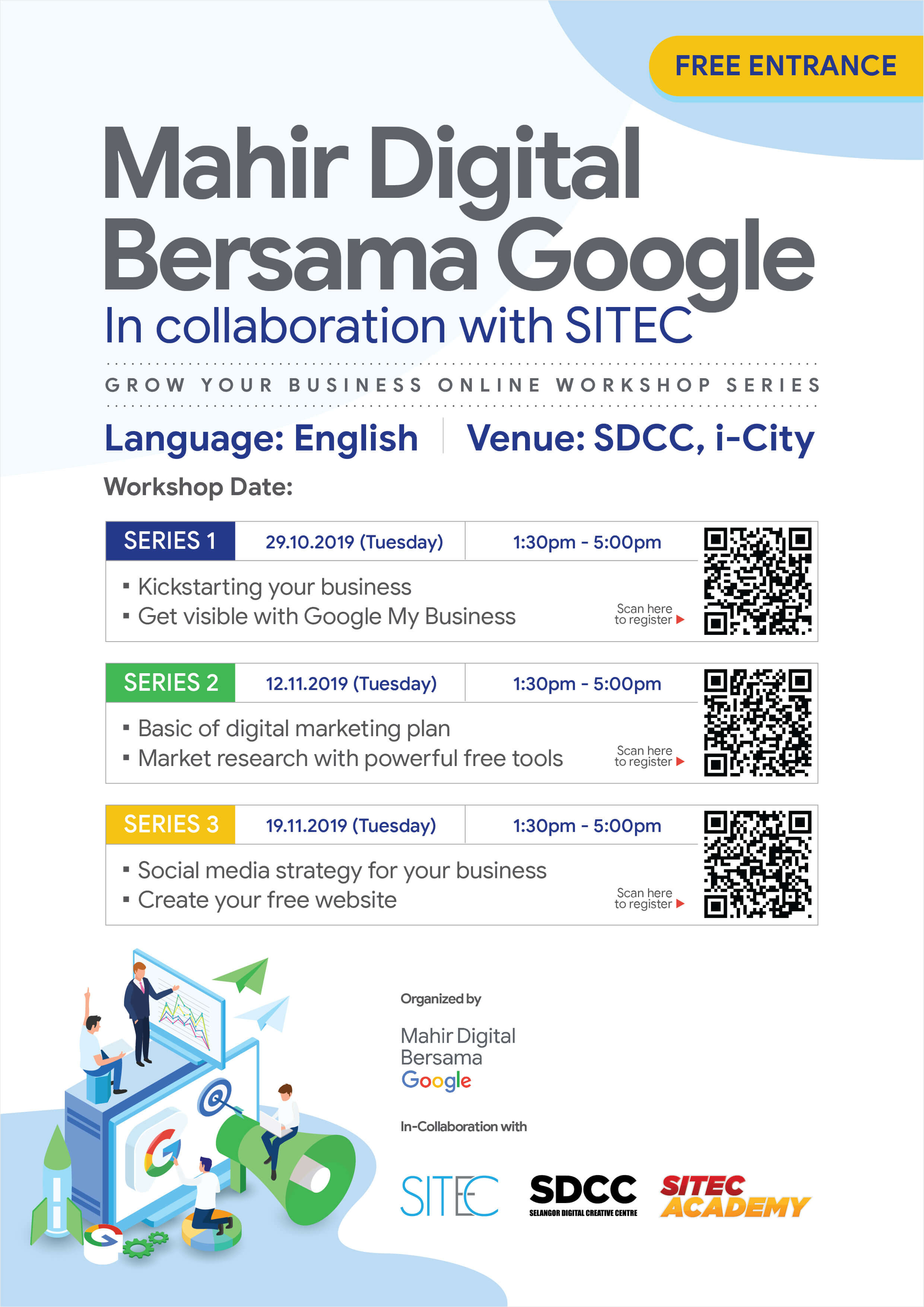 So I sincerely hope you do not give this a miss. Thanks for reading this and I'll see u soon!

Best regards,
Salman Ahmad
0172609960
SITEC