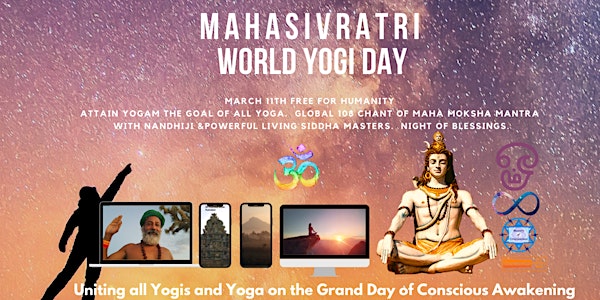 Mahasivratri World Yogi Day Powerful Blessings, Global Maha Moksha Chant.
Free & Open Event: Grace of empowerment blessings of Siddha Masters | Global 108 Maha Moksha for Humanity- Be the Light Mandala of Grace
About this event
MARCH 11 GRAND NIGHT OF AWAKENING CONSCIOUSNESS Mahasivratri World Yogi Night of Lord Siva: The Night to achieve enlightenment.
Receive the empowerments of Mohanji, Brahmarishi Hills and Living Siddha Masters, imparting the grace blessings of awakening, realization, transformation & activation for you to be the Yogi.
World chant of Maha Moksha 108 Times as a Global Mandala of Light for you, your family and the Healing of the World. Powerful Blessings.
Siddha Yoga Master Nandhiji has been directly initiated by Lord Siva, Babaji and Eight Gurus to help humanity awaken Consciousness "Set alight our Inner Lamp. Be the Yogi. As Blessings One! "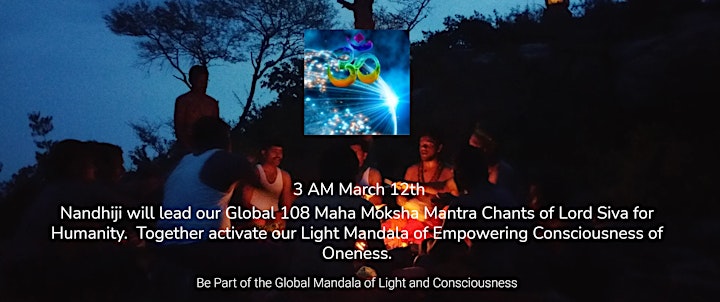 Mohanji is a co-founder of World Yogi Day. Receive his blessings and Divine Transmissions of light in his invitation to you.
American Siddha Yoga Master Baba Nataraj is 91 years old receive the blessings that he got directly from Lord Siva in his invitation to you.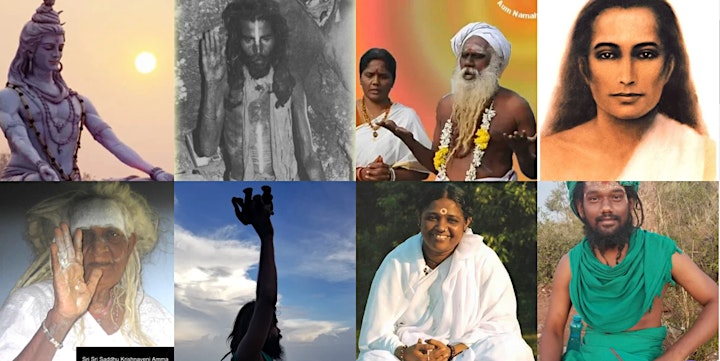 Divine Timing and Participation of Yogis from India. All timings are approximate and subject to change in the Divine moment.
Nandhiji 9PM - 10.30PM PT: Satsang, Mantra Empowerments
Mohanji 10.30PM PT: Blessing & Light Transmission
Avatar Baba Nataraj 10.50 PM Grace Blessings
Brahmarishi Hills 11.3.0 Blessings from Sacred India, Mantra & Light Transmission. https://brammarishihills.wordpress.com/ see more.
Radhamma
Rohini Mataji
Tavasiswamy
Mahaswami
Bhairavasekar Swamy 1AM PT: Blessings from Sacred India, Mantra & Light Transmission
Adi Sokkar 1.30 AM PT: Blessings from Sacred India, Mantra & Light Transmission
Nandhiji 3 AM PT Global Maha Moksha 108 Chants Together- Consciousness Upliftment for Humanity
AUM
TRIYAMBAKAM YAJA MAHE
SUGANDIM PUSHTIVARDHANAM
URVARUKAMIVA BANDHANAN
MRITYOR MUKSHIYA MAAMRITAT
AUM
The Maha Moksha Mantra is supremely healing and protective. Nandhiji will lead a global chant for you and Humanity. The mantra will be changed to heal all your personal issues (health, wealth, suffering, relationships, career, spiritual growth.) We will also chant for planet earth, nature, yoga, humanity, animals, world peace and healing of all global issues.
All that is done on Mahasivratri is amplified in Consciousness and Auspicious.
With the coming of the Dawn, we return refreshed as spiritual light to live that truth as blessed beings incarnate and fortunate in every way. We close with invoking Lord Vishnu (In aspect of the awakened Mind) and Goddess Laxmi Naranaya to bless our physical lives with wealth and auspiciousness. Aum Namah Sivaya.
*The recordings of these broadcasts will be posted in your World Yogi Day Learning Portal after the event.
HOW TO PARTICIPATE:
-You will receive a login for your own personal World Yogi Day Portal where you can watch the Live and Recorded blessings of these and more than 5 other living Siddha Yoga Masters and join the Global Maha Moksha Chant
- Watch powerful transmission of Grace, Blessings and Empowerments to awaken your superhuman Divine Consciousness.
- Attain Yogam, the goal of all Yoga. Effortless luck, joy, abundance and love.
- Discover and experience the Grace of Lord Siva as we meditate and chant together.
- Experience the powerful Light of Consciousness helping you make your breakthrough to Super Consciousness. Those who are ready may experience enlightenment in a single night on Mahasivratri.
- Enjoy a library of teachings, resources and wisdom filmed at the most sacred sites and temples of South India. Nandhiji has gathered teachings and blessings from the enlightened Holy beings of India to share with you.
You will have access to all the recordings and resources free for one year as a gift to inspire your further awakening.