Description
Get pumped: It's the 11th annual Maha Festival, presented by Buildertrend!
☀️☀️☀️☀️☀️
This celebration of music and discovery includes:
• Wednesday, August 14: Opening Night at various venues throughout South 13th Street/Little Bohemia
• Thursday, August 15: Maha Discovery (one-of-a-kind innovation conference) at Metropolitan Community College's Center for Advanced and Emerging Technology, Fort Omaha Campus
• Thursday, August 15: Maha Middle Show featuring Pinback at The Waiting Room
• Friday, August 16 & Saturday, August 17: Maha Music Festival at Stinson Park in Aksarben Village
☀️☀️☀️☀️☀️

Acknowledgement:
By purchasing passes to Maha events, you agree to adhere to the Maha Ticket Purchase Terms and Conditions.
Passes increase in price on July 15 at noon CT and again on the day of the event: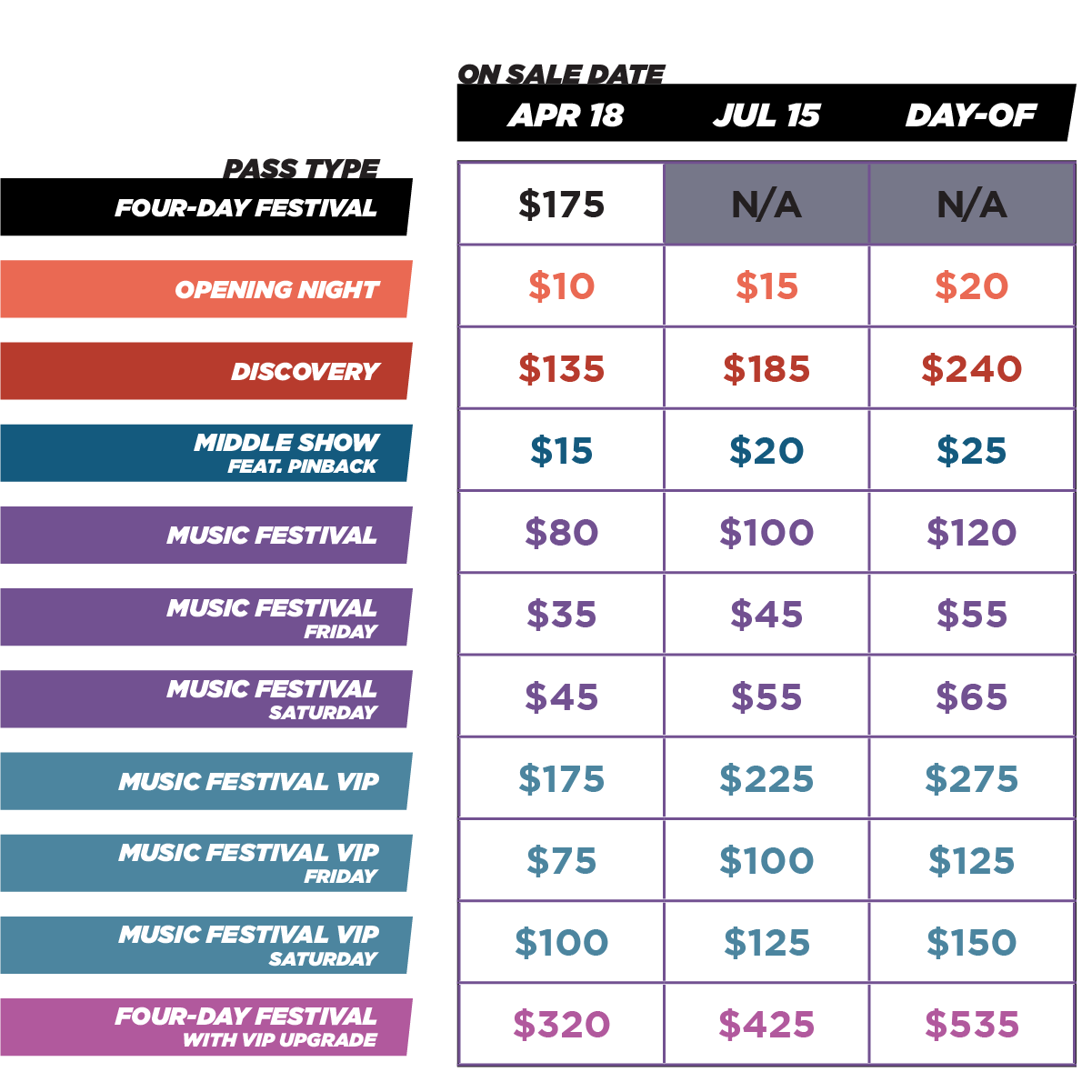 ---
Frequently Asked Questions
Can I get a refund?
Sorry, no. All sales to all Maha events are final.
Are kids allowed?
Each venue has different regulations:
At Maha Music Festival, kids 10 and under are free when accompanied by a paying adult. This includes VIP ticket-holders. There are loads of fun activities and things to explore for all ages.
At Maha Discovery, it's best to leave kids at home.
For Opening Night, check the individual venue listing coming soon to MahaFestival.com.
Am I allowed to leave and come back?
At Maha Music Festival you may leave as many times as you'd like BEFORE 7:00 p.m. on Friday and Saturday, and come back ANY TIME. If you leave AFTER 7:00 pm, you will not be allowed to re-enter the festival without purchasing a new ticket at the day-of-show price (if tickets are not sold out). VIP ticket holders and volunteers may leave and re-enter at any time.
At Maha Discovery and Opening Night events, you can come and go as you please.

When do the lineups come out?
Maha lineup announcements start April 18 at 7 p.m. CT.
Where can I find the schedule and set times?
The schedule including set times will be published on MahaFestival.com in May. Changes or additions to the schedule are likely before the events kick off, so check back for the most up-to-date info.
How does my wristband work?
This year, Maha is debuting RFID (Radio Frequency Identification) technology on all Maha Festival event wristbands. This scannable wristband will serve as your pass to the event. It will be scanned any time you leave and re-enter the music festival. The music festival and conference will also debut a cashless system, meaning you will load money onto your wristband and use that to pay at all vendors — including food, drink, and merchandise — throughout the day.
What if I don't have a credit or debit card?
You can still load cash onto your wristband. There will be a Maha Bank on-site at the music festival to get cash loaded onto your wristband quickly, easily, and securely.
---
Get more info on the new Maha wristbands and lots more at MahaFestival.com/FAQ.
Contact info@mahamusicfestival.com with any questions. Happy #Maha11!
Performers
Location
Refund Policy