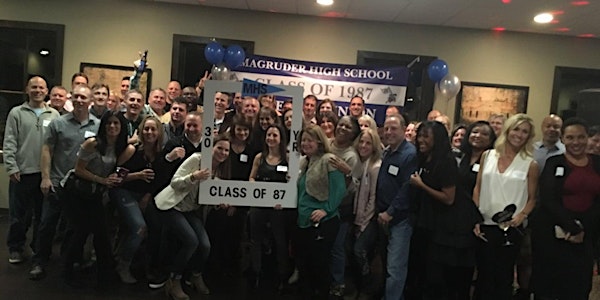 Magruder High School Class of 1986, 1987 and 1988 Combined Reunions
An opportunity to frolic, feast, and have fun with friends and Frenemies from back in the h.s. years. Spread the word to '86, '87, and '88
When and where
Location
Outta The Rabbit Hole 17511 Redland Road Rockville, MD 20855
About this event
I am trying to support as many MHS Alumni as I can. Francie Cobb - Class of '87, is a total rock star, she has volunteered to make some items that we can use for picture taking as she did for our last reunion. How soon we get a certain number of tickets sold will determine if we have decorations and keepsakes for each graduating year.
We will be having the reunion at a location owned by an MHS Alum (Brian Marshall - Class of '89) . The music will be provided by Dj Ty (Tyrone Lyles Sr. - Class of '87), who is also an MHS Alum. I will continue to update you as things come about.
Those of us that are coming from out of town can use this link for a discounted hotel rate just around the corner at Hilton Garden Inn Rockville-Gaithersburg 14975 Shady Grove Road | Rockville, MD 20850
Booking Link: https://www.hilton.com/en/book/reservation/deeplink/?ctyhocn=RVCHMHW&groupCode=CHWMAG&arrivaldate=2022-11-25&departuredate=2022-11-27&cid=OM,WW,HILTONLINK,EN,DirectLink&fromId=HILTONLINKDIRECT
I'm going to try to get this info to those who are not on Facebook somehow. If anyone has any suggestions or can help spread the word, please contact me @ 915-331-2088(Pamela) or tell people to purchase their ticket(s) as soon as possible.
Below are items I've personally designed from another site.
https://www.logosoftwear.com/mySavedDesign.php?c=eb75dc7960ca2473aa157953083d8bb6&utm_campaign=designlinks&utm_medium=send_design_qs_desktop_new&utm_source=design_link_qs
https://www.logosoftwear.com/mySavedDesign.php?c=d5632738b79e38c139317dcc8f41e2ea&utm_campaign=designlinks&utm_medium=send_design_desktop_new&utm_source=design_link
https://www.logosoftwear.com/mySavedDesign.php?c=2cfe3ea44736ccaa4a00d1b8d6143fb5&utm_campaign=designlinks&utm_medium=send_design_qs_desktop_new&utm_source=design_link_qs
https://www.logosoftwear.com/mySavedDesign.php?c=9fa8d76c16ba138eb82344d9bccb521d&utm_campaign=designlinks&utm_medium=send_design_qs_desktop_new&utm_source=design_link_qs
https://www.logosoftwear.com/mySavedDesign.php?c=e277b40fbc33e8408ebfa9fdc164c652&utm_campaign=designlinks&utm_medium=send_design_qs_desktop_new&utm_source=design_link_qs
https://www.logosoftwear.com/mySavedDesign.php?c=22bf2b9869a8ea4db8561ac3728d4d7e&utm_campaign=designlinks&utm_medium=send_design_qs_desktop_new&utm_source=design_link_qs
For those of us who like to put our own spin on things, there's a site called www.artscow.com where you can make personalized apparel, mugs, keepsakes, paper products, phone covers, stamps, and more. https://www.artscow.com/
You can get free shipping on orders over $20 with code SHIPPED20