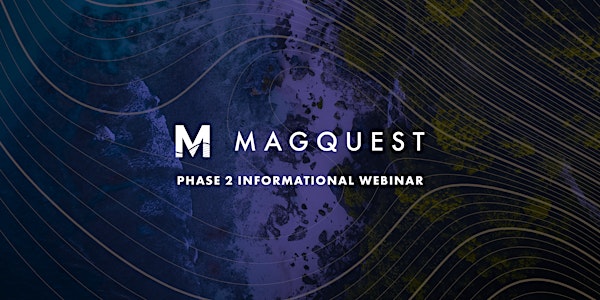 MagQuest Phase 2 Informational Webinar
Description
Join us on July 10, 2019 to learn about the next phase of MagQuest and how to be part of our solver community



Meet the MagQuest team and get an in-depth orientation to Phase 2 of MagQuest. This informational webinar will cover the key differences between Phase 1 and Phase 2, including format, fidelity, and the new opportunity to connect with the MagQuest solver community. The session will conclude with a live Q&A.
Phase 2 is open to new solvers and will award $1 million in cash prizes.
This informational webinar is the first in a series of Phase 2 webinars. Future topics may include a technical deep-dive on relevant submission topics and an overview of regulatory or commercial considerations. Subscribe to the MagQuest newsletter to receive upcoming webinar invitations and other challenge updates.
About MagQuest:
MagQuest is a $1.2 million global competition to advance how we measure Earth's magnetic field. This open innovation challenge is designed to attract new ideas to increase the efficiency, reliability, and sustainability of geomagnetic data collection for the World Magnetic Model (WMM). With MagQuest, NGA is inspiring solvers to apply their expertise to a wide range of potential solution areas.
In Phase 1, MagQuest sought concepts that proposed novel methods or technologies that may provide sufficient data for the WMM. The challenge awarded $200,000 to 10 Phase 1 winners.


In Phase 2, MagQuest seeks detailed designs and plans for data collection methodologies, including a concept of operations, a description of expected performance and potential risks, and an overview of potential future program management. Phase 2 is open to solvers from Phase 1, as well as new solvers who did not participate in the first phase of the challenge. Phase 2 submissions are due by August 28, 2019.
At NGA's discretion, additional phases of the challenge may follow Phase 2. These phases, if executed, are anticipated to award an additional $2.5 million in cash prizes plus potential nonmonetary incentives.


To learn more about entering the challenge, visit MagQuest.com.