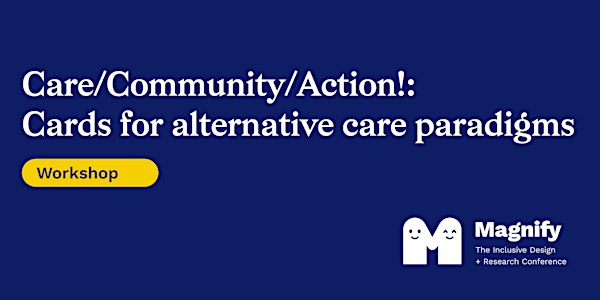 Magnify Conference Workshop: Care/Community/Action!
Care/Community/Action!: Cards for alternative care paradigms by Morgan Martino
About this event
To attend this workshop, you must have a ticket to the wider Magnify conference. Tickets for this workshop will be invald without purchasing both.
Care/Community/Action! is a generative card set that facilitates the examination and reimagining of material cultures and designed environments through a lens of care.
These cards are intended as a systems change tool for designers, researchers, educators, and other curious minds to begin unpacking ideas of what care is and can look like through collections of images, questions and creative prompts. Using applied design research practices, participants are able to link small actions and artifacts to larger systems and values that they are entangled in. Through the untangling of these relationships, new understandings of what care is, how it shapes and connects communities, and how it relates to justice, equity, and sustainability can be formed. Participants can then begin imagining new worlds and paradigms that can better foster communities and societies that centre and uplift care as a core value and philosophy.