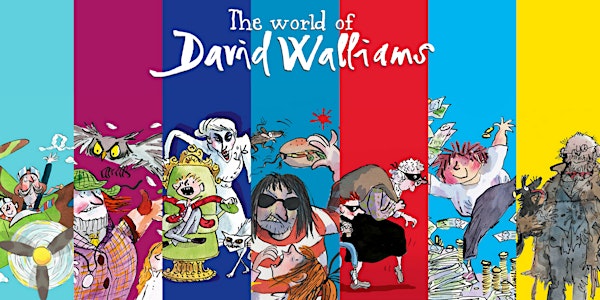 Magical story telling with David Walliams - children's author
When and where
Location
Ark Burlington Danes Academy Wood Lane London W12 0HR United Kingdom
Description
The West London Summer Programme, supported by The National Literacy Trust is excited to share the opportunity for young people attending West London schools to enjoy the magic of books with the award-winning children's book author, David Walliams.
He will host a lively storytelling session at Burlington Danes Academy on Monday 31st July 2017, please arrive at 15:00 and be ready for an incredibly inspiring and unique experience.
Tickets are limited and are for students attending West London schools only (and their families). If you are not sure if you are eligible to book a ticket, please email Lina Akbar (lina.akbar@future-foundations.co.uk).
Timings:
15:00 - Arrive and register (please bring your ticket to save time)
15:30 - Take your seats and welcome by organisers
16:00 - Story Telling by David Walliams
17:15 - Close and depart
David Walliams' books are some of the funniest written for children in recent years. Praised as 'the new Roald Dahl', David Walliams books, are full of laugh-out-loud humour and naughty behaviour. His books are typically enjoyed and read by children aged 7 to 12, but also have wider appeal! David Walliam's books are as follows:
GRANDPA'S GREAT ESCAPE - Jack and his grandpa are about to set off on the greatest adventure yet!
AWFUL AUNTIE - A heartfelt but hilarious hoot of an adventure about Stella and her awful Aunt Alberta!
Billionaire Boy - A touching and extraordinary novel about a boy who has everything...apart from friends!
The Boy in the Dress - David's brilliant first novel about a boy who isn't afraid to be different!
Demon Dentist - The jaw-achingly funny novel about a boy with a big heart and an even bigger fear of the dentist!
Gangsta Granny - A hilarious and heartfelt story of old age, adventure, stolen jewels and swimming the Thames
Mr Stink - The fun-filled novel about a friendship between Chloe and Mr Stink, the local tramp!
Ratburger - The screamingly funny novel about a little girl called Zoe and the evil Burt the burger man who is after her pet rat!
Click here to find out more about David Walliams and his books.
National Literacy Trust research shows that reading for enjoyment has a significant impact on a child's educational achievement and parents can make a huge difference to their child's literacy development by supporting their reading and being good reading role models. The West London Summer programme are working in partnership this summer with the NLT to deliver a range of events aiming to promote reading for enjoyment and encourage parents and children to read together.
Seats are limited and we expect this event to be over-subscribed, please ensure to book your fully funded ticket ASAP to avoid disappointment.