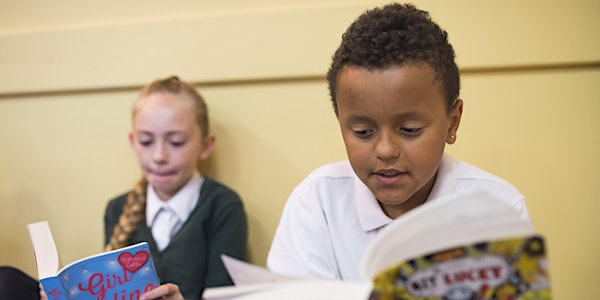 Magical story telling with children's authors
When and where
Location
Ark Burlington Danes Academy Wood Lane London W12 0HR United Kingdom
Description
### NO LONGER AVAILABLE TO BOOK ###
Due to our Voices Festival on Thursday 17th, we will not be running Story Telling on Tuesday 15th August. We hope you can join us, please register here: https://voicesfestival.eventbrite.com
--------
The West London Summer Programme, supported by The National Literacy Trust is excited to share the opportunity for young people attending West London schools to enjoy the magic of books with children's authors.
Each Tuesday at 2pm there will be a magical storytelling session at Burlington Danes Academy, please arrive at 13:45 and be ready for an incredibly inspiring and unique experience.
Each story telling is aimed at primary school students (aged 7 to 11). Parents and younger siblings are invited to join.
Tickets are limited and are for students attending West London schools only (and their families). If you are not sure if you are eligible to book a ticket, please email Lina Akbar (lina.akbar@future-foundations.co.uk).
Timings:
13:45 - Arrive and register
14:00 - Story Telling by children's authors
15:00 - Close and depart
We are excited to share on on Tuesday 1st August we will have Vanessa Woolf - a professional story teller, her stories are real, exciting, magical and engaging from start to finish! On Tuesday 8th August we will have Tony Dallas, a storyteller and writer whose unique blend of interactive storytelling has inspired children, parents and teachers all over the country to make stories come alive. Tony also runs poetry slam and writing workshops with children of all ages.
The National Literacy Trust research shows that reading for enjoyment has a significant impact on a child's educational achievement and parents can make a huge difference to their child's literacy development by supporting their reading and being good reading role models. The West London Summer programme are working in partnership this summer with the NLT to deliver a range of events aiming to promote reading for enjoyment and encourage parents and children to read together.
Places are limited, please ensure to book your fully funded ticket ASAP to avoid disappointment.