Magical Mystery Tour: Starhawk's 70th Birthday Ritual & Solstice Fundraiser
Hop aboard Starhawk's Magical Mystery Tour & celebrate a Solstice ritual, share some music, poetry, and stories of inspiring Earth Activism!
About this event
It's almost Solstice—and it's EAT's 20th Anniversary, and on June 17, it will be Starhawk's 70th Birthday!
We're celebrating with a Virtual Magical Mystery Tour, to visit sites and projects EAT graduates are doing all over the continent, and beyond! We've asked some of Starhawk's special friends to join us on the Invisible Bus for music, poetry, and inspiration.
You're invited on this journey to see permaculture and magic in action, as we meet with past and present Earth Activists to learn the regenerative work they are doing. We'll end up in Starhawk's garden for a Solstice ritual and maybe even a real bonfire.
Help us celebrate two decades of training students to regenerate land and community, and support our work for the future.
Learn more about our goals for this special fundraising event below~
EVENT INVITATION::
Join Starhawk June 17th starting at 5:30 pm Pacific Time*
Ticket: Your donation will serve as your ticket to join. A link to attend our Live Webinar will be email directly to your inbox.
*A recording will be sent out to all donors of this event. We understand it is hard for our global audience to join us live and apologize for any inconvenience.
Contact our EAT Support Team with any questions, comments or concerns: Support@EAT-Activist.org
________
⚡100% of Proceeds go to Earth Activist Training's Diversity Fund offering Black, Indigenous, People of Color (BIPOC):
🗝 Student Scholarships to support those in the fields of environmental and food justice.
🗝 Competitive Pay for Teaching, Speaking, Presenting
🗝 Specialized Student Support in class & community
🗝 High Level Partnerships & Collaborative Programs
Suggested donation: $20. Additional donations to support these programs are warmly welcomed! Minimum donation is just $1, and we appreciate any amount you can give.
For those experiencing financial abundance, if you can consider a $250 donation, that will cover full tuition for a student to attend Starhawk's next Social Permaculture training. A $750 donation will mean one more Diversity Scholarship student can attend our upcoming Permaculture Design Certificate Course online, starting this July. Either of these donations would sponsor a life changing experience!
Your Presence is a gift no matter what you donate.... We are thankful for our global community's continued support!!
________
Celebrating Earth Activist Training & Honoring Diversity!
We are honored to now expand our current diversity scholarship program to a broader Diversity Fund that will deepen our efforts to increase accessibility and inclusivity to diversify the permaculture movement across the globe.
Our goal with the Diversity fund is to improve access to the tools of permaculture for Black, indigenous and all people of color, and to frontline communities affected by injustice. Together we can move towards true resilience.
Funds will provide resources to expand our digital offerings, accessibility and resources within our new online branch, Earth Activists Online:
To build more free community resources to share with Earth Activists globally
To support our current offerings with online tools / platforms / team time
To expand our ability to offer partner/ affiliate programming to support BIPOC students, graduates, speakers, educators, community leaders & changemakers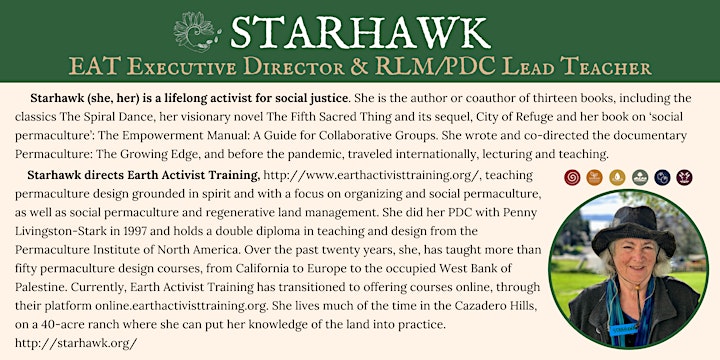 Organizer of Magical Mystery Tour: Starhawk's 70th Birthday Ritual & Solstice Fundraiser