Learn to craft your own herbal mead with Maryland State Champion mead-maker Julie Biedrzycki
About this event
Local County and State Fair Mead and Wine-Making Champion Julie Biedrzycki will share her amassed knowledge and skill in this mead-making workshop hosted in the lushly herbaceous Green Farmacy Garden of esteemed ethnobotanist Jim Duke.
We'll start by touring the gardens to meet some brewing favorites, and Julie will demonstrate starting a fresh gallon-batch of mead. Then she'll show you the completion procedure with an in-process batch from home, to ensure your brew becomes a beautifully clear finished product.
In addition to sampling one of Julie's magnificent finished concoctions, we'll learn about the time, materials, and ingredients that go into crafting award-winning homemade mead. Participants will take home materials to start their own one-gallon batch at home including an airlock stopper, a packet of champagne yeast, and their own selection of fresh herbs from the garden.
Sliding scale admission is available to participants for whom the general rate is inaccessible. Email Veri at greenfarmacygarden@gmail.com to inquire.
Participants must wear a well-fitting mask covering mouth and nose when using indoor restroom facilities, and outdoors when closer than 6' to any community member whose comfort requires it - regardless of vaccination status.
Please bring a snack in case hunger strikes, and feel free to step well away from the group and remove your mask to nourish/ hydrate your body as needed. Don't forget your notepad and writing instrument if you're inclined to take notes!
A plethora of Jim and Peggy Duke's publications and assorted hardy and tropical plant species will be available for sales supporting The Green Farmacy Garden, as well as merchandise supporting Ancestral Knowledge, the local non-profit on whose board Julie presides.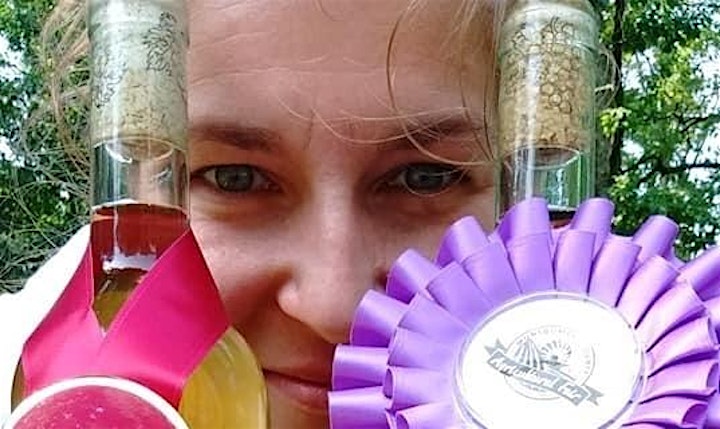 Organizer of Magical Mead-Making with Maryland Mead Champion Julie Biedrzycki
Located in Fulton, Maryland, The Green Farmacy Garden is a sanctuary for approximately 300 native and non-native species of plants that have been used traditionally and/or researched for medicinal applications. USDA botanist James A. Duke, PhD, and his wife, Peggy, collected medicinal plants for over sixty years.  In 1997, they transformed part of their pasture land into a teaching garden highlighting the plants that are featured in Jim's book, The Green Pharmacy.
The Green Farmacy Garden is also a part of the United Plant Savers network of sanctuaries around the country, which strive to educate the public and maintain native plant species that have become at risk or endangered.
Since the garden is located on a large parcel of land, we are always in need of volunteers to help. We are also receptive to students who wish to work on independent projects with medicinal plants.
Tours to the public are on scheduled days or by appointment.