Description
Sample Wine while being entertained by some of the Bay Area's Most Talented Magicians! Two Events in One!
Taste 18 wines at Sunnyvale Downtown host business locations and visit with wine representatives. Every ticketed attendee receives a commemorative wine glass, wine yoke lanyard and drawstring backpack and downtown Sunnyvale map. Plus all the fun and new friends you'll meet while watching Bay Area's best magicians!
Learn more including the wineries featured and other FAQs here: sunnyvaledowntown.com
The magic entertainment is free and family friendly! This will keep your designated drivers happy!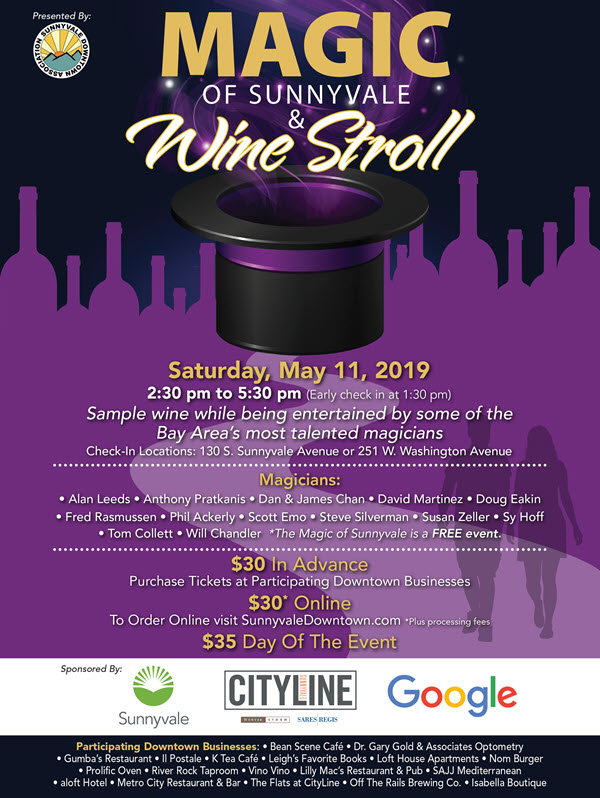 Where: Downtown Sunnyvale ~ Historic Murphy Avenue
Date: Saturday, May 11, 2019
Time: 2:30 pm to 5:30 pm
~ Early check in at 1:30 pm
Check-In Available At Two Locations:
1. 130 S. Sunnyvale Avenue (Dr Gary Gold Optometry) OR
2. 251 W. Washington Avenue (Nom Burger / Prolific Oven patio)
Magicians:
• Alan Leeds • ​ Anthony Pratkanis • Dan & James Chan • David Martinez • ​ Doug Eakin • ​ Fred Rasmussen​ • Phil Ackerly ​ • Scott Emo • Steve Silverman • Susan Zeller • Sy Hoff ​ • Tom Collett • Will Chandler ​​And more... (subject to disappear without notice)
Wineries:
See the list of wineries at sunnyvaledowntown.com/magic-of-sunnyvale--wine-stroll.html
Wine Stroll Ticket Holder Swag!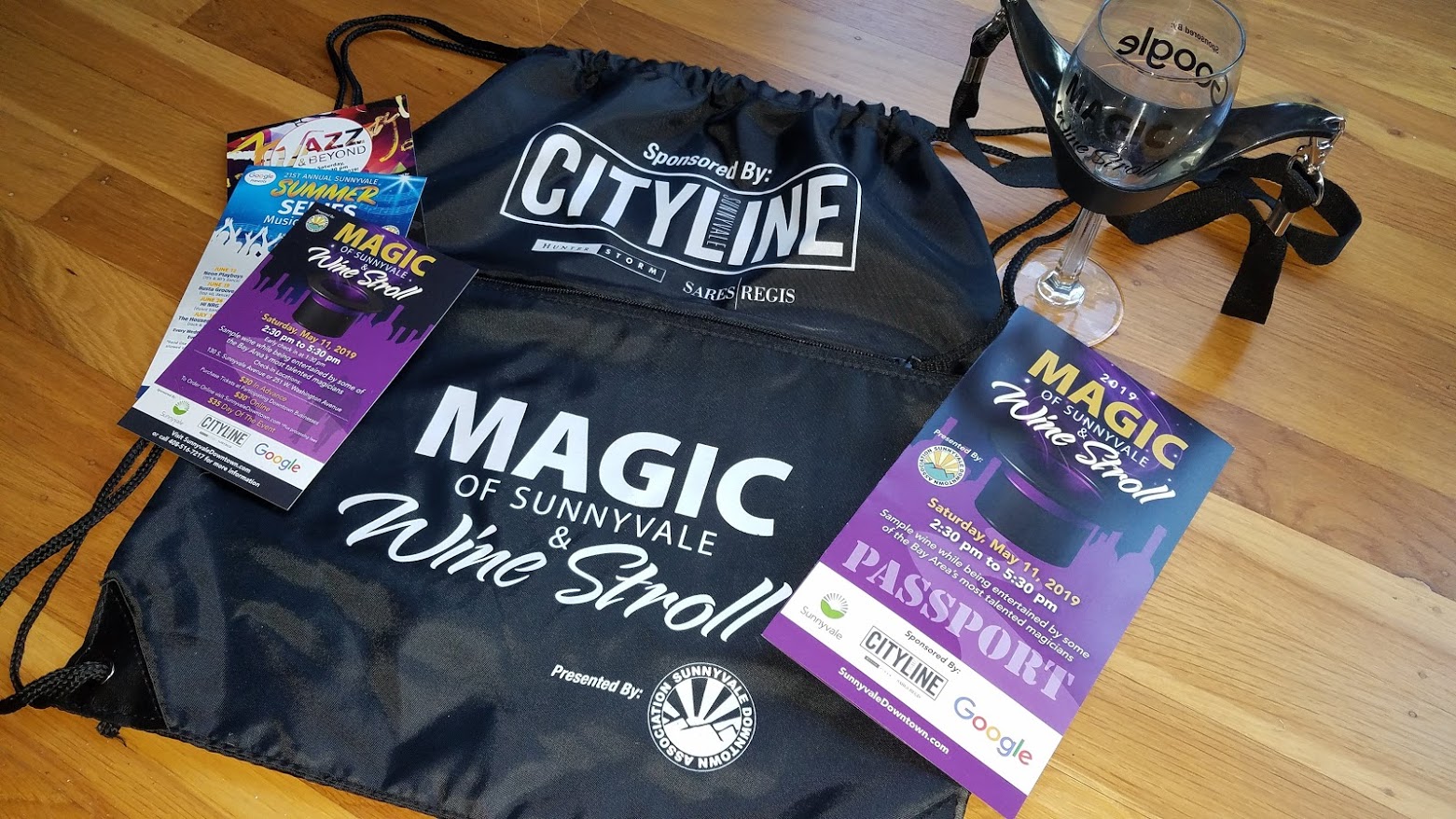 Tickets also Available at Host Locations:
• aloft Sunnyvale • Bean Scene Cafe • Dr. Gary Gold & Associates Optometry • Gumba's Restaurant • Il Postale • Isabella Boutique • K Tea Café • Leigh's Favorite Books • Lilly Mac's Restaurant & Pub • Loft House Apartments • Metro City Restaurant & Bar • Nom Burger • Off The Rails Brewing Co. • Prolific Oven / TAP'T • River Rock Taproom • SAJJ Mediterranean • The Flats at CityLine Sunnyvale • Vino Vino
Tickets also available at host locations $30. Tickets can also be purchased on the day of the event for $35 at the registration desk. Remember, the magic is free but the wine stroll requires a ticket.
All wine stroll participants mus be 21 or older and valid ID's are required by all participants.
Please also be advised that pets are not allowed for this event (maybe a pet duck...)
_______________________
We couldn't do this event without the help of our sponsors!
Our thanks to the City of Sunnyvale, CityLine Sunnyvale and Google!