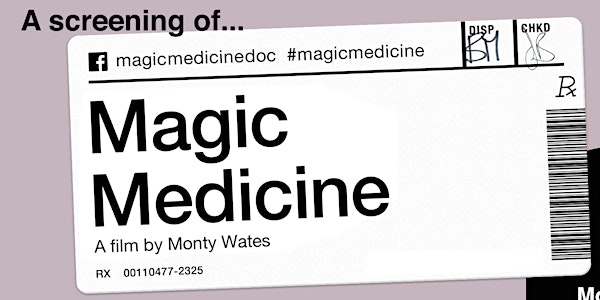 Magic Medicine: A Documentary About Highs and Lows + Panel Discussion
Magic Medicine (15): A Screening + Panel Discussion
When and where
Location
Institute of Psychiatry, Psychology & Neuroscience, King's College, London 16 De Crespigny Park London SE5 8AF United Kingdom
Refund Policy
Contact the organizer to request a refund.
Eventbrite's fee is nonrefundable.
About this event
The Maudsley Psychedelic Society is happy to host a screening of the documentary Magic Medicine. Over 4 years, filmmaker Monty Wates was given exclusive access to the first ever medical trial to give psilocybin (the psychoactive ingredient in magic mushrooms) to a group of volunteers suffering from clinical depression.
The screening will be followed by a panel discussion with Dr James Rucker and Dr Camilla Day, two psychiatrists who worked on the trial at Imperial College London, Crispin Blunt MP (Conservative Party, Chairman of the Conservative Drug Policy Reform Group) and Jeff Smith MP (Labour Party, Founder of Labour Campaign for Drug Policy Reform). The discussion will be chaired by Dr Oliver Bashford (psychiatrist and MPS co-founder).
During the discussion panel, we will hold a Q&A, opening up the conversation to all those in attendance.
Tickets
General entry: 15GBP
Concession: 10GB (Please enter the promo code 'discount' to receive the concession.)
*Ticket sales will be channelled back into the psychedelic research at KCL.
Speaker Bios
Dr James Rucker is a Consultant Psychiatrist and a Senior Clinical Lecturer in mood disorders and psychopharmacology at the Centre for Affective Disorders at the Institute of Psychiatry, Psychology & Neuroscience at King's College London (UK). James completed his medical degree at University College London (UK) in 2003 before training in psychiatry at the Maudsley, Bethlem and Springfield Hospitals in South London. He completed his PhD in the molecular biology of mood disorders at King's College London in 2012. He specialises clinically and academically in mental health problems predominantly associated with mood and is particularly interested in novel drug treatments and drug catalysed forms of psychotherapy in treatment resistant forms of depression and anxiety. He was a clinician in the first pilot study of psilocybin in treatment resistant depression led by Professor David Nutt at Imperial College London (UK). He currently holds a 5 year Clinician Scientist Fellowship awarded by the National Institute for Health Research to investigate psilocybin as a treatment for major depressive disorder resistant to standard treatments. He works with Professors Allan Young and Tony Cleare at the Centre for Affective Disorders, which is a specialist treatment centre for mood disorders and an academic health sciences centre for clinical trials in mood disorders and associated research. When he is not setting up clinical trials with psilocybin, he has an enduring love of electronic music in all its forms and will often be found at music festivals, where he also volunteers with charities that provide safe and supportive spaces for people having difficult drug experiences. He lives in South London.
Dr Camilla Day is a ST6 General Adult Psychiatrist at South London and Maudsley NHS Trust currently working at the St Thomas' Psychiatry Liaison department. She was one of the main clinicians in the first pilot study of psilocybin in treatment resistant depression led by Professor David Nutt and Robin Carhart-Harris at Imperial College London (UK) and has collaborated in qualitative psychedelic research there. She is applying for an MD Res at IOPPN within the Centre for Affective Disorders, investigating the role of self-compassion and the therapeutic relationship in psilocybin's effect in treatment resistant depression (TRD) via mixed methods. She aims to develop a post-dose 'compassion experience scale' to measure the transformational changes that psilocybin can induce during dosing and so help predict response. She lives with her Argentinian husband and their two year old daughter in Southwark.
Crispin Blunt MP, Member of Parliament for Reigate and co-chair of the APPG for Drug Policy Reform . Crispin was elected MP for Reigate in 1997 having formerly served as an army officer. In Parliament, Crispin has served in the Shadow Cabinet with briefs including trade and energy, and security and counter-terrorism. He has served as both Minister for Prisons and as Chairman of the Foreign Affairs Committee. Crispin is currently co-chair of the APPG on Drug Policy Reform and the APPG for Humanism, secretary of the Global LGBT Rights APPG, and a Conservative Middle East Council Vice-Chair. This year Crispin set up and launched the Conservative Drug Policy Reform Group whose objective is to promote evidence-based drug policy reform on the centre right.
Jeff Smith MP has been the MP for Manchester Withington since May 2015. He was born and raised in south Manchester and gained a degree from the University of Manchester. Prior to becoming an MP, Jeff worked as an event manager and DJ at festivals and clubs across the country, and was a local Councillor in Manchester Withington's Old Moat ward for 18 years. He served as the Council's Executive Member for Education and Children's Services and Executive Member for Finance. In Parliament, he is an Opposition Whip. Jeff co-founded the Labour Campaign for Drug Policy Reform, believing that it was time for the party to have an open and frank conversation about drug policy. He is a co-chair of the All-Party Parliamentary Group for Drug Policy Reform, and believes that we need to move away from policies that focus on criminalising users, and instead prioritise harm reduction.
Dr Oliver Bashford (Chair) is a consultant psychiatrist in older adult liaison psychiatry at East Surrey Hospital. He was involved in the Psilodep Trial at Imperial College London, and in 2015 co-founded the Maudsley Psychedelic Society with Dr James Rucker while in training at South London and Maudsley NHS Foundation Trust.
*Please note that photographs and footage may be taken throughout this event and could be used for marketing and publicity including our website, social media or any third-party publication. If you have any concerns or wish to be exempted from this activity, please speak with the event organiser on the day.*