We invite you out to a fun filled, fantastic night. An event where you can share some smiles, enjoy some giggles and forget the daily grind.
About this event
A LADIES NIGHT GONE WILD showing off chiseled bodies, seductive dance routines, cheeky humor and boy-next-door charm that you won't be able to resist! Each sexy performer embodies a different female fantasy and brings it to life, turning your wildest dreams into reality. This isn't the type of show you just sit and watch is a fully interactive experience. The sexy performers dance on tabletops, make their way through the crowd and even select a few lucky ladies to join in the fun on stage. Don't miss your chance to get up close and personal with a QUEENS PACKAGE on stage with a T-Shirt and lap dance from these MAGIC MALE hunks!
Show supports St. Jude's Children Hospital Research.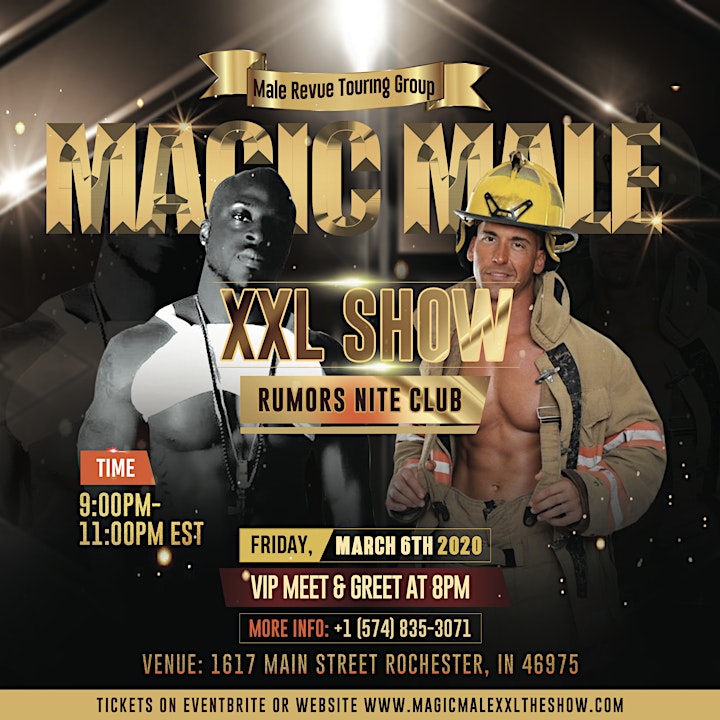 Organizer of MAGIC MALE XXL SHOW | Rochester, IN
MAGIC MALE XXL THE SHOW®
"A MAGIC EXPERIENCE" IS COMING TO YOUR CITY! I, Tristan David and the Magic Male Dancers are traveling the United States in search of THE HOTTEST LADIES NIGHT OUT! These sexy gentlemen tease and please with their charismatic charm and electrifying dance moves on STAGE!! Crowd participation is a for sure thing when you come to see one of the MAGIC MALE XXL SHOWS!! Don't forget to get your shy girlfriend, mother, or bachelorette on stage with you for an ALL OUT INTENSE one-on-one with all of the gorgeous exotic male entertainers!!
Our show supports Breast Cancer Awareness.
World s #1 Voted HOTTEST MALE REVUE & BACHELORETTE PARTY!
Girls night out, just turned 21, Birthday parties, Divorce parties, bachelorette parties, you name it.
TICKETS ARE NOW ON SALE!!