Let's celebrate Joseph Pilates Birthday with a special Pilates Mat Class using his famous Magic Circle!
About this Event
The story goes that Joe's first Magic Circle was first created out of two metal hoops from a beer barrel and two wooden blocks affixed to them. We have much "kinder & gentler" circles available today. My favorites are Balanced Body's "Ultra-Fit Circle®" and "Ultra-Fit Circle® Mini". If you don't already own them, head on over to balibodypilates.com to pick up a pair using my affiliate discount link. Simply navigate to the tab that says "Shop!"
At the end of class we will sing Happy Birthday to Uncle Joe and cheers together. Have your favorite beverage ready to pour a libation for Joe and for yourself.
For this class you will need:
Pilates Mat
Pilates "Magic" Circle
A beverage to cheers with at the end of class!
photo courtesy of Balanced Body®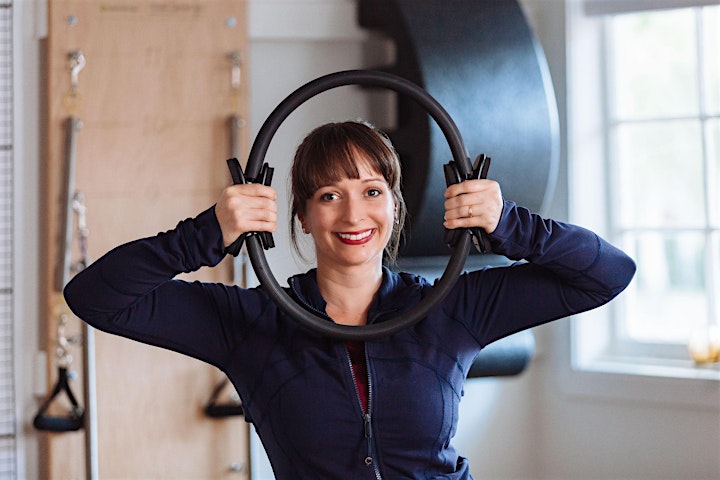 Sarah Artha Negara, Owner & Operator of Bali Body Pilates, has been teaching for 19 years and enjoys working with a wide range of populations. Some of her specialties are injury prevention, post-rehabilitation training, Pilates for Scoliosis, Pilates for Osteoporosis, Pre/Post-natal Pilates & Yoga, Performance Enhancement, Flexibility Training, Dance Conditioning, Barre, and beyond.
Sarah's approach to teaching uses inclusive and transformative language. Learn more about this in her Pilates Intel article here.
Sarah is a Second Generation Pilates Instructor, PMA® Certified Pilates Instructor, Balanced Body® Pilates Master Instructor, Anatomy in Three Dimensions™️ Master Instructor, Balanced Body Barre® Master Instructor, ACE® Certified Personal Trainer, NASM Performance Enhancement Specialist, YogaFit® Instructor, and Reiki 2 Certified. She has an MFA in Dance from Mills College and BFA in Dance from California State University, Long Beach.
Sarah's Pilates education began with Dance Kinesiologist, Karen Clippinger at CSULB followed by comprehensive training with Nora St.John at Turning Point Studios (Balanced Body Education Founder/Director). She has also studied intensively with Pilates Elder, Lolita San Miguel, in her Pilates Master Mentor Training Program, which she graduated from in April, 2019 earning the titles "Lolita's Disciple" and "Second Generation" Instructor.