Drive-in, Dine-in and LAUGH with your favorite standup comics under the stars on the grounds of The Magic Castle in Hollywood!
About this Event
Enjoy an unforgettable night of food and laughter at Magic Asphalt with comics like Bill Burr, Iliza Shlesinger, David Spade, Jay Pharoah, Kevin Nealon & More! No tricks. All jokes. Tune in & Turn it up. Event will transmit to your car's FM radio.
From the producers of the weekly sold out show "BITCH." at The World Famous Comedy Store.
Magic Asphalt is the hottest ticket in town and has been featured in "Things to do in Los Angeles" lists for: Los Angeles Magazine, LA Times, OC Register, Thrillest, TimeOut LA, Beverly Press, DOLA and LA Taco. Magic Asphalt had also been seen on KTLA5, NBCLA, CBS Local & ABC7. Bill Burr has mentioned performing at Magic Asphalt on his "Monday Morning Podcast", Bobby Lee's "Tigerbelly" Podcast, and David Spade's "Netflix After Dark" on Netflix.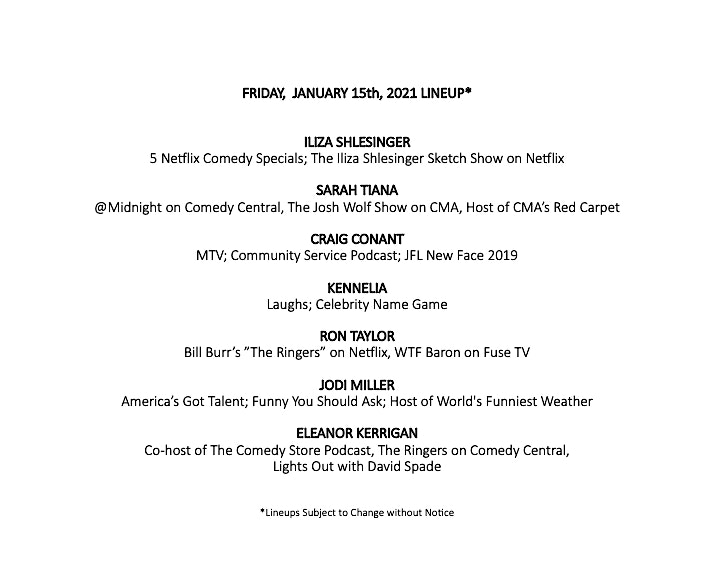 COVID COMPLIANT
For the safety of guests, staff and talent and in accordance with CDC, state, and city guidelines the event will follow strict Covid protocols. All drive-in and venue staff will be wearing PPE.
Remember your mask, gloves, sanitizer!
Guests must remain inside their vehicles and adhere to drive-in movie theater rules per the city/state "order".
To watch the entertainment per guidelines you must be seated inside your vehicle. Sitting on top of or in front of a vehicle is prohibited.
Tailgating is prohibited.
Masks are mandatory and must be worn when engaging with event and venue staff or if outside of vehicle for any purpose.
If outside of your vehicle you must adhere to the social distancing rule of staying 6ft apart from others.
Restrooms are located inside the Magic Castle.
Please observe all social distance guidelines and respect any and all direction from event/venue staff.
Guests are highly recommended to bring gloves and sanitizer.
If you have been exposed to Covid-19 or if you are exhibiting Covid symptoms such as fever or coughing, please stay home!
Guests who do not act in accordance with event guidelines will be escorted off the property and will not be refunded.
EVENT RULES
Guests must be 21 years of age & older
Tickets are non transferrable and non-refundable. Ticket name must match ID. No Exceptions, All Others will be denied entry...
Tickets can be purchased online, there will be no box office onsite. Please head to the ticketing page to purchase tickets.
Parking is limited. This is a pop-up "Drive-in" style show. Be prepared to park event as the staff guides you.
Entrance will close for admittance at 7:30p. No refunds.
No more than 5 persons per vehicle. (no overcrowding in cars...if you only have 4 seatbelts then only 4 people can be in the car and etc)
Only attendees within vehicles are allowed to attend this event.
No RVs, buses, or campers. No full sized Hummers. No motorcycles, scooters, mopeds. (No more than 5 people per vehicle)
Any and all larger sized vehicles will be directed to park in a location that does not obstruct the view of other cars.
Any and all larger sized vehicles determined by our staff will be parked in the back or in an area that will not obstruct the view of others..
Large or tall SUVs or vehicles will be parked in the back row.
No sitting or viewing the show outside of your vehicle. No sitting in the back of a pick up truck nor on top of your vehicle.
All attendees must stay seated in the vehicle seats.
The show will go on rain or shine! No refunds.
No re-entry.
No pets are allowed.
No professional cameras, drones, or video or audio recording equipment.
NO HONKING! At this venue honking is considered heckling.
Attendees can flash their lights, use the hand clappers/noise-makers that we offeror purchase and/or they can laugh or jeer out their open car window.
Food is available for purchase (presale only) online as an add-on item. Items will be delivered to you via window-car side. Get your order in now!
Venue will supervise all concessions & delivery.
No weapons, guns, fireworks, knives, pepper spray, or laser pointers.
Staff will be on site to enforce social distancing standards. Non-compliance will subject ticket holders to be escorted off the property and will not be refunded.
Audio will be streamed via FM transmitter. Please make sure to arrive with a working FM radio in your vehicle or it will be difficult to listen to the show.
If you prefer to watch the show with vehicle windows down then you are strongly encouraged to wear a mask.
Arrive early to get settled and be a part of the fun! Lot will NOT be open before 6:30pm.
Drivers caught concealing other persons in their vehicle, weapons, alcohol, drugs, or outside food and beverage will be turned way or asked to leave without a refund.
All vehicles are subject to search.
No drugs, or illegal substances will be permitted at the event or inside your vehicle. Police & security will be on-site. Your vehicles may be searched upon entry.
Smoking or vaping is prohibited outside of vehicles.
If you want to partake in smoking or vaping you must be in your vehicle and your vehicle must be sealed - doors closed and all windows and sunroofs sealed.
Convertibles - If your top is down then you are required to wear masks at all times unless you have your windows rolled up.
Convertibles - If your windows are rolled up and your top is down we request that all within the vehicle wear a mask.
Convertibles - You are required to sit in the seat inside the vehicle. You may not sit on or around the vehicle.