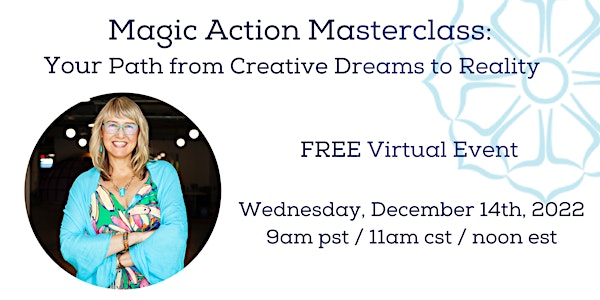 Magic Action Masterclass: Your Path from Creative Dreams to Reality!
Learn methods to bring your creative ideas and dreams into the world!
About this event
You dream of what your next chapter could bring.
* Starting or growing your own business
* Pursuing your creative passion full time
* Transitioning into a new career
* Enjoying your retirement fully
You dream of creative projects and passions you want to pursue in your personal or professional life.
* Starting a podcast
* Writing your book
* Creating more art
* Hosting an event
* Leading workshops
* Creating reels for Instagram
* Building a YouTube channel
You dream of living a truly creative life where you ~
* Spend your time and energy on things you really care about
* Create consistently, rather than once in a blue moon
* Experience the freedom and joy that come with creative expression
* Use your talents, skills, education and training to the fullest
Join me to learn what it takes to turn your creative dreams into your reality!
During this masterclass you'll learn…
🌟 How to spot common blocks that keep you stuck.
🌟 The three things you need to cultivate to move past those blocks to turn your creative vision into your reality.
🌟 Real life success stories using these methods.
🌟 Details about my creative coaching cohort ~ Magic Action for Multi-passionate Creatives ~ and first chance to claim one of the 10 available spots for yourself before they open to the public.
Multi-passionate creatives from around the world turn to me when they're finally ready to stop dreaming and start doing.
It's your turn now!
*By registering for this masterclass, you agree to receive communications from Jill Allison Bryan ~ Creative Oasis Coaching. Your information will never be shared with others and you may unsubscribe at any time.