About this Event
Exceptionally versatile singer-songwriter Maggie Rose released her highly anticipated album, Change The Whole Thing, September 21, 2018. The album was named by Rolling Stone as one of the "Best Albums of 2018". Stamped with her affinity for finely crafted melodies and intricate storytelling, the project encompasses a blend of American music melding Rock, Soul, Rhythm and Blues, Country and Gospel. Recorded entirely live at the famed Starstruck Studios in Nashville, TN and released to overwhelming critical-acclaim, Rose marked major milestones with first-time performances on NBC's "Today Show," Southwest's Live at 35, a debut at AmericanaFest with a show-stopping performance as part of WMOT/NPR's Wired In series, AOL Build, Paste Sessions and more.
Implementing an impressively demanding method highlighting an artist in complete command of her ever-evolving creative process: live with her 13-piece "family band" in one take, no overdubs, no bullshit and a sound that is best described by the following quote from Rolling Stone:
"Maggie Rose has come into her own with this current earth-conscious, trippy country-soul stage of her ever-evolving musical persona...Rose's performances [during Bonnaroo] showed her embracing her inner soul diva, belting with fire on 'It's You' and the pulverizing 'Pull You Through.' Just to drive the point home, Rose and her band even stretched out on a swinging cover of 'The Letter,' doing a more-than-respectable impression of the funky Mad Dogs & Englishmen arrangement originally sung by Joe Cocker."
Rose's ability to embrace her creative freedom in the studio as an independent artist and capture the synergy of her live performances continued to open the floodgates. Critics raved about her live performances including Rolling Stone who named her in their list of 20 Must See Acts (out of 700), USA Today who named her in their list of "...performers who'll go above and beyond, define a moment…," and The Nashville Scene who called her performance, "...visually striking, full-sounding, and highly entertaining…" The Washington Post shared, "...louder, looser, more spontaneous...her voice, which has always threatened to incinerate the eyebrows of anyone sitting in the front row…" and Columbus Alive added that her voice "...could run circles around most of the singers on country and pop radio today…
In addition to her head-turning live performances, critics applauded Rose's independent rise, after nearly a decade at various labels, both independent and major, and her ability to transcend genres performing with a range of artists. This past year, she toured nationwide on her headlining Change The Whole Thing tour, and made first-time festival appearances aboard the Cayamo Cruise, Peach Music Festival, and opened select tour stops with Rock icons Heart and Joan Jett and The Blackhearts, and pop superstar Kelly Clarkson.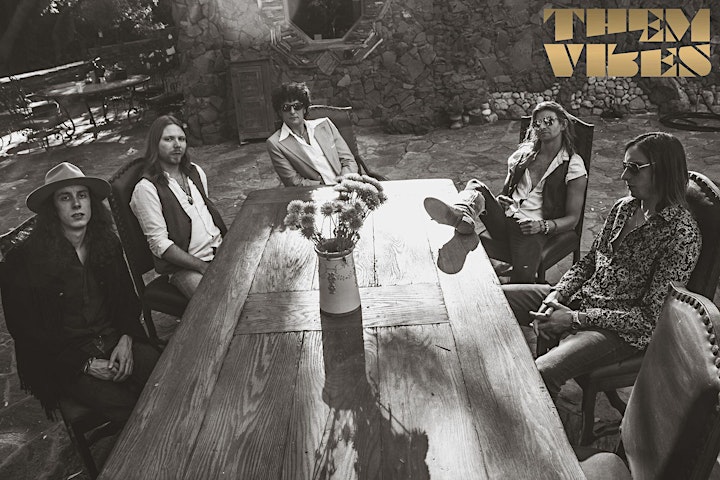 Formed in East Nashville's underground rock scene in 2013, the band quickly shook the foundations of Music City with their blitzkrieg live show and soulful songwriting. Influenced by the rhythmic sway of The Faces and T-Rex and infected with the raw energy of the Rolling Stones and the Black Crowes, Them Vibes have injected new life into the anemic arm of what currently passes for mainstream rock n' roll.
Co-founded by singer-songwriters Brother Love and Alex Haddad, Them Vibes released their debut record, Shine On, independently and began hitting the Nashville and Austin scenes as a five-piece band playing coveted gigs at the High Watt, The Basement, The Mercy Lounge, The Continental Club, the Blue Bird Café, to name a few. Their wild, high- voltage revival of a live show was brought to festival crowds at Austin's SXSW; they were the headliner at The Tomato Music And Arts Fest; opened for the Flaming Lips at the Sound Harvest festival; and, in front of thousands of onlookers, they have opened for such classic artists as Lynyrd Skynyrd and Molly Hatchet.
Performers
Date and Time
Location
Refund Policy