About this Event
DOORS: 8:00 PM, SHOW: 8:30 PM
AGE RESTRICTIONS: 21+
GENERAL ADMISSION, LIMITED SEATING
Important Notice: All tickets are nonrefundable and nontransferable with the exception of event cancellation. Support acts are subject to change
----------------------------
ABOUT MAGGIE ROSE
Exceptionally versatile singer-songwriter Maggie Rose will release her highly anticipated album, Change The Whole Thing, September 21, 2018. Stamped with her affinity for finely crafted melodies and intricate storytelling, the project encompasses a blend of American music melding Rock, Soul, Rhythm and Blues, Country and Gospel.
The resilient powerhouse recorded this album at the famed Starstruck Studios in Nashville, TN implementing an impressively demanding method highlighting an artist in complete command of her ever-evolving creative process: live with her 13-piece "family band" in one take, no overdubs, no bullshit and a sound that is best described by the following quote from Rolling Stone:
"Maggie Rose has come into her own with this current earth-conscious, trippy country-soul stage of her ever-evolving musical persona...Rose's performances [during CMA Fest and Bonnaroo] showed her embracing her inner soul diva, belting with fire on 'It's You' and the pulverizing 'Pull You Through.' Just to drive the point home, Rose and her band even stretched out on a swinging cover of 'The Letter,' doing a more-than-respectable impression of the funky Mad Dogs & Englishmen arrangement originally sung by Joe Cocker."
Leading to the Fall album launch, Rose incrementally released four Digital 45s from her forthcoming project beginning in October 2017 to both satisfy and build the anticipation of her growing fanbase. The initial 45 earned her a spot in the Top 10 on Sirius XM with the "smoldering" A-side, "Pull You Through." The "pulverizing" single was hailed by Rolling Stone as a "soulful ballad that rejoices in the healing powers of love...a bare-bones track [that is] really a showcase for the Dusty Springfield-worthy vocals of Rose…".
In Spring of 2018, Maggie released "It's You" and "Smooth." Rolling Stone once again praised Maggie Rose with "It's You" as "a giant, throwback Soul ballad that shows off her dynamic vocals [containing] shades of Aretha Franklin," and also praised "Smooth" as "a supremely funky rocker with hints of Grace Potter [and] Janis Joplin".
The enthusiasm surrounding each Digital 45 release has continually increased the appetite of her fans while relentlessly expanding her following via radio, streaming platforms and through her captivating live performances. The full-length album will feature 12 songs, 12 live in-studio videos, with a full-access behind-the-scenes one-hour musical documentary which peels back the layers and allows the viewer an intimate look into the making of the album.
Rose has been named to YouTube's Emerging Artist and Artist in Residence 2018 programs, and Pandora named her an Artist to Watch 2018. In June, Maggie's creative breadth and versatility sparked the first-ever partnership between Prescription Songs and Sea Gayle Music, with the two companies signing a joint-venture publishing agreement with Rose. In July, she was tapped by Land O'Lakes for a synchronization deal that lends her voice to a national ad campaign focusing on Women's Empowerment.
In 2018, Maggie Rose has played over 150 dates across the world including Bonnaroo Music and Arts Festival and The Cannes Lions International Festival of Creativity, while sharing the stage with artists such as Kelly Clarkson, Julia Michaels, Brandy Clark, and Bob Weir of Grateful Dead.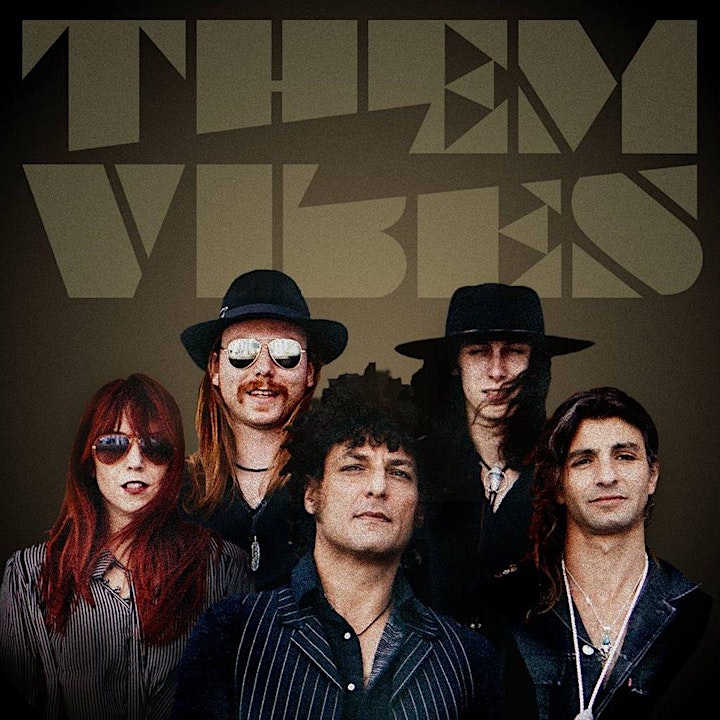 ABOUT THEM VIBES
Formed and honed in East Nashville by lead singer Brother Love, guitar players Alex Haddad and Kyle Lewis, and with the helping hand of a powerhouse rhythm section, Them Vibes shook the foundations of Music City with their blitzkrieg live show and soulful songwriting. Inflected with the rhythmic sway of The Faces and T-Rex, the raw energy of the Rolling Stones and the Black Crowes, and the whiplash funk of Sly And The Family Stone and James Brown, Them Vibes has risen to a sonic experience all of their own.
The band has opened for such legends as Cheap Trick, Lynyrd Skynyrd, and the Flaming Lips. With three records under their belt- Shine On, TV, Electric Fever- their songs have been featured on CBS's NCIS: LA, ABC's The Rookie. Showtime's Shameless, Amazon's Sneaky Pete, Netflix's The Ranch, and a National T-Mobile campaign. Their self titled single, Electric Fever, was ranked number 22 in the Top 200 Songs Of The Year by Nashville's number one independent radio station Lightning 100, WRLT.
Fresh off the road with Maggie Rose, Them Vibes roared back in the studio writing and recording their next record due out in the fall of 2019, featuring the unrelenting funk heavy single, "Right On," written by Alex Haddad, Brother Love, and Kyle Lewis, and featuring the brilliant, soul stirring vocals of Maggie Rose.
ABOUT HALEY JONAY
Haley Jonay, a twenty-year-old singer/songwriter, is an undeniably brilliant spark of light. Jonay puts on a high-energy, feel-good performance that showcases an eclectic blend of her original music. Using her acoustic guitar, piano, and ukulele she creates a solid, one-of-a-kind soundtrack to complement her mesmerizing vocals. Her songwriting combined with her passion for her craft generate a truly unforgettable sound that's all her own. She released her debut album Haley Jonay in November 2014, and her single, All the Bright Places has accumulated over 300,000 streams on Spotify since its March 2016 release. Her highly-anticipated sophomore album, Wilderness, which Haley wrote, composed, recorded, produced, and performed by herself, is available now.
Performers
Date and Time
Location
Refund Policy