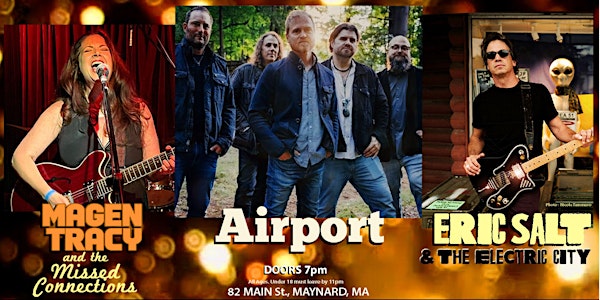 Magen Tracy & Missed Connections, Airport, and Eric Salt & Electric City
Join us at Sanctuary with these extraordinary artists: Magen Tracy & the Missed Connections, Airport, and Eric Salt & The Electric City!
By Sanctuary - Events, Music, Bar & Lounge
Date and time
Friday, July 14 · 8 - 11pm EDT
Location
Sanctuary 82 Main Street Maynard, MA 01754
Refund Policy
Contact the organizer to request a refund.
About this event
Magen Tracy & the Missed Connections, a soulful indie pop group from Boston. Led by singer-songwriter Magen Tracy's powerhouse vocals, this band combines lush harmonies, introspective lyrics, and infectious melodies to create a sound that is both deeply personal and universally relatable. Being a veteran of the New England singer-songwriter circuit and a busy side-player in the Boston rock scene (Juliana Hatfield, Band of Their Own, Nate Leavitt Band, St. Helena), Tracy first brought her bittersweet ballads and audacious anthems center stage in 2015 with a solo EP, Fiercely, produced by Nate Leavitt. Since then the band has become a staple of the Boston music scene, featuring such in-demand Boston players as Stud Green (Humble Tripe), Tamora Gooding (Gene Dante & the Future Starlets, Axemunkee), Mike Oram (Abbie Barrett Band, Eric Salt & Electric City, Cujo, Andrea Gillis Band), and Sam Spencer (Sera Del Fuego, Milling Gowns). In 2019, they released their first full-length album, Long Fuse Burning, and received a nomination for Singer-Songwriter of the Year at the Boston Music Awards.
Formed in 2010, Airport features the dynamic and soulful vocals of singer-songwriter, Craig Small, accompanied by a talented group of musicians. Airport has become a beloved staple of the Boston music scene, known for their catchy hooks, driving rhythms, and captivating live performances. Comprised of five talented musicians with roots in the local music scene, including acts like Waltham, Will Dailey, and Jenny Dee and the Deelinquents, Airport brings a fresh sound that draws inspiration from classic 70s rock, K-tel compilations, and more. Their music is characterized by sweet harmonies, jangly guitars, and hooky rhythms, delivering a dynamic live performance that showcases their unique sound. 
Eric Salt & The Electric City is a band led by the Boston-based songwriter, Eric Salt, who is recognized for his eclectic, jangly rock sound and well-crafted tunes. His career in the Boston rock scene dates back to the formation of the legendary Abbey Lounge music scene in 1997. Eric Salt & The Electric City has released three records, produced by the award-winning producer, Ed Valauskas, at Q Division Studios in Somerville, MA. Eric's debut LP, "The Hail Mary," was met with high praise, and his sophomore album, "Please Say Yes," earned him a place in the acclaimed 2016 Boston Rock & Roll Rumble, in which he was a semi-finalist. Eric Salt's latest album, "In Leisure Car," is a tribute to long road trips in your favorite car, featuring incredible rhythms by drummer/producer Dave Brophy. Eric is a member of Jenny Dee and the Deelinquents and has performed with many notable artists such as Ronnie Spector, Glen Hansard, and John Wesley Harding in venues both large and small, including Boston's Symphony Hall and Fenway Park.
Doors 7:00 PM / Show 8:00 PM
Tickets: $15 advance / $20 door
About the organizer
Sanctuary is a beautifully vintage, event and music venue centrally located in the heart of Maynard, Massachusetts, that hosts amazing experiences from private celebrations and community gatherings to incredible live entertainment.
Sanctuary was named to honor the history of the church and to let people know that we are a welcoming, safe environment.