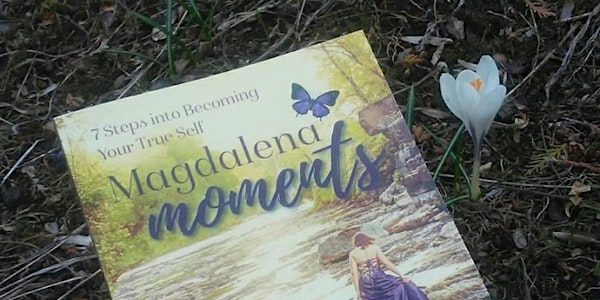 Magdalena Moments Reading Group
Refund policy
Refunds up to 1 day before event
Description
This class is the perfect place to start your healing journey. Learn about some things that you can try and practice simple techniques that you can add in to your own routine and apply from the comfort of your own home.
We will be reading a chapter each week and practicing the "Things to Try" and then checking in with each other over the phone.
One: The Basis of Health.

What is Health and how do you create physical/emotional/spiritual health? Learn some simple ways to get started that fit into your own lifestyle and that you can try from the comfort of your own home. Learn to be more grounded and create a strong foundation for your health.




Two: The Embodiment of Health.

Learn to understand the patterns in your own life and learn to listen to what your body is telling you. Your physical symptoms will draw your attention to where you need to heal.




Three: The Empowerment of the Self.

How to eliminate the negative from your life, learn what to avoid, how to begin making better choices and give your body what it needs through healthy living and good nutrition.




Four: Clearing and centering.

Learn to live in the present. Start living and loving to your full potential. Stop carrying around stories that are not yours, or that no longer serve you to make room for better habits and relationships.




Five: Bringing Forth your Creativity and Living in your truth.

Changing your language and making space in your life to be creative will start to make changes to your health. Start to pay attention to where you are holding yourself back and begin to feel more authentic and more fulfilled.




Six: Shifting your MindSET.

Begin to actually change your beliefs, rewrite your story, and let go of all that stress and worry.




Seven: Tuning in to your Intuition.

Become more conscious of how you translate your messages and follow your inner knowing. Create a plan to take everything that you learned in this series and take it into your current reality or teach it to others and pass it on.



Preregistration required.

If you can only make certain classes or if certain topics are specifically calling to you, then join us when you can, but the course is meant to be completed as a series, and the classes will build upon each other.
It is best to register for the whole course and practice the new techniques in between classes.
I will be using the 7 stages of healing and the 7 aspects of the Mothering Mission from the book Magdalena Moments in this 7 week healing program.
This program is designed for women who want to do this kind of healing for their families. If you are not a mother yet, but want to do this work for your future children, or to be more able to welcome children, or even to heal your mother-wound for past generations, you are welcome to join us.

This interactive group accountability program is accessible if you are just starting out on your healing journey.
I find that there are so many options and so much information at our fingertips these days, that sometimes we get stuck not knowing where to start.
This group program includes a lot of simple steps that you can take to get started that fit into your lifestyle and your family's routine and that you can try in the comfort of your own home (or while driving a minivan or sitting at a Little League game).
If you are already doing some deep work, inner reflection, trauma clearing, body work, journaling, therapy etc. this program can also be a great way to go deeper, to check in on your progress, and to be a mentor to others.
When we share our stories and lift each other up, we all heal.
Read more about these books on the Author website. Stay up to date and find inspiration on the Magdalena's Journey Facebook page.
Get your copies of the book here or ask your local library to purchase copies.