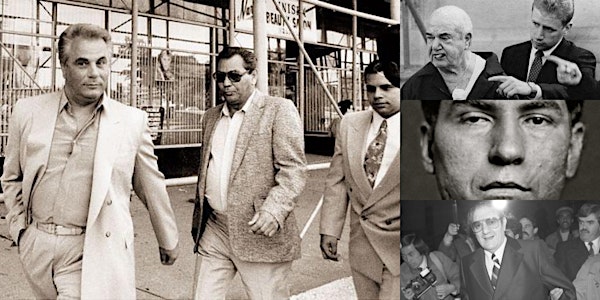 'Mafia Metropolis: History of Organized Crime through 1980s NYC' Webinar
Can't make it live? Register and get access to the full replay for one week! New York Adventure Club | www.AdventureClub.com
By New York Adventure Club
When and where
Date and time
Monday, February 13 · 5 - 7pm PST
About this event
As New York City bounced back from the depths of the horrific fiscal crisis of the 1970s, organized crime saw a prime opportunity for big money to be made — and boy did they capitalize. In only a couple of years, a handful of crime families expanded their operation from infiltrating construction industry worker unions to a monopoly of the ready-mix concrete business. So how did it end? This is the true story of how the Sicilian Mafia (aka Cosa Nostra) took advantage of NYC's building boom in the 1980s and gained more influence, power, and cash than they ever had before — and what the U.S. Government did to stop it.
Join New York Adventure Club as we explore the rise and fall of "The Concrete Club," an organized crime syndicate in New York City that flourished during the city's fiscal recovery of the 1980s.
Led by NYC Tour Guide Gary Dennis, our deep dive into New York City's mafia rings of the '80s — and the dramatic criminal trial that brought it all to an end — will include:
The rise of organized crime in America
A discussion around the five mafia families that made up The Concrete Club
The first big dent in the NYC mafia's power structure at the height of their influence
The development and application of the RICO Act, and how it gave the U.S. Government the tools it needed to dismantle New York's crime families
Rare photos and stories of the mafia family members, hangouts, and trial
Afterward, we'll have a Q&A with Gary — any and all questions about organized crime in NYC are welcomed and encouraged!
Can't make it live? Don't worry, you'll have access to the full replay for one week!
See you there, virtually!
*Immediately upon registering, you will receive a separate, automated email containing the link to join this webinar
**For the best possible viewing experience, please ensure you're using the latest version of your internet browser — Google Chrome is the most compatible. Exact technical requirements and a webinar user guide will be shared in the automated confirmation email upon registration.
***A full replay of the experience will be available to all registered guests for up to a week
About Gary
"I am a native New Yorker, NY subway aficionado, and product of an insanely competitive family of "know it alls". My parents, younger brothers, and I all love New York City history, and to get some parental attention I had to be historically correct and entertaining at the same time.
"I love this city and all its peculiarities, and I love sharing it with newcomers, returning visitors or native New Yorkers— I'll tell you these and other fascinating things you never knew about this amazing place I call home because 'there are 8 million stories in the naked city' and I will share with you as many as possible."
Testimonials
"So many stories - I don't know how he keeps it all straight!" -Jessica
"Thorough history of organized crime in New York" -Linda
"The presenter has an incredible wealth of knowledge!" -Lisa
"The speaker was very knowledgeable on NYC mafia history" -Gary
"great presenter so good in delivery and really keeps you interested and entertained. liked the pics of places and people both in the past and current sites of the buildings" -Noelle
"I love the history, cultural context. The crime scene photos were crazy to look at, but I have criminal justice and law background, research experience, so I wasn't as squeamish as I think the average person would be." -Maggie
"I'm very intrigued by the Mafia and found this interesting" -Mary Beth
"The breadth of information covered. The presenter covered nearly a century!" -Marina
"I thoroughly enjoyed the presenter's style and the depth of his knowledge. Really very entertaining. The time flew by." -Chantel
"Best one I've seen. Love Gary's tours" -Barbara
"I will sign up for ANY webinar hosted by Gary Dennis. Gary's presentations are so interesting and entertaining. He's a NY treasure. Get him to host more webinars!" -Diane
"Gary has an incredible wealth of knowledge and stories. He presents in a way that keeps listeners engaged" -Jeffrey
"Great presenter, interesting, fun and entertaining" -Robert
"The depth of information presented! Full of facts!" -Patricia
"Presenter was extremely knowledgeable and provided excellent slides and commentary." -Shirley
"The moderator was very knowledgeable and entertaining." -Frances
"The guide was super informative and his depth of knowledge amazing" -Fiona
"Again the speaker is very knowledgeable." -Robert
"I have loved every webinar that is performed by Gary! This was great!" -Wendy
"This was so informative and interesting." -Lee
"Gary did an amazing job as always! So informative & entertaining, & his research was so incredibly thorough. Loved all the photos & back stories!" -Mary
"The Instructor Gary shared a ton of information-talked for 2 hours straight in an interesting way without even taking a sip of water...super focused." -Marlene
"Wealth of knowledge." -Craig
"Very detailed and informative content." -Fanny
Disclaimer
By attending a New York Adventure Club experience, you accept our terms of service.
Categories: Virtual, Moments in History
About the organizer
NEW YORK ADVENTURE CLUB | Unlock Your City
We give you insider access to the city's best-kept secrets. But we're so much more than a tour company.
WHO WE ARE
We are a community-driven club that curates the most unique experiences in town, with a focus on history and storytelling. We show you a city you never knew existed, and offer a community you can't live without.
You won't find our special-access tours and exclusive events anywhere else. Think after-hours tours of New York City's most celebrated spaces, themed parties in unexpected locations, and weekend excursions to incredible destinations. All of our events end with social hangouts so you can meet people who love exploring as much as you do.
THE 'CLUB' IN NEW YORK ADVENTURE CLUB
Our current community is more than 50,000 members strong and includes everyone from recent NYC transplants to lifelong residents. Whatever borough you're from (or city or country, for that matter), we'll make it easy for you to take full advantage of the unique places and great people this city has to offer.  
Subscribe with our newsletter to get the inside scoop on the city's most interesting events.
 Visit our website to see our full line-up of fun experience.
"Don't be boring, go do something"
New York Adventure Club