Description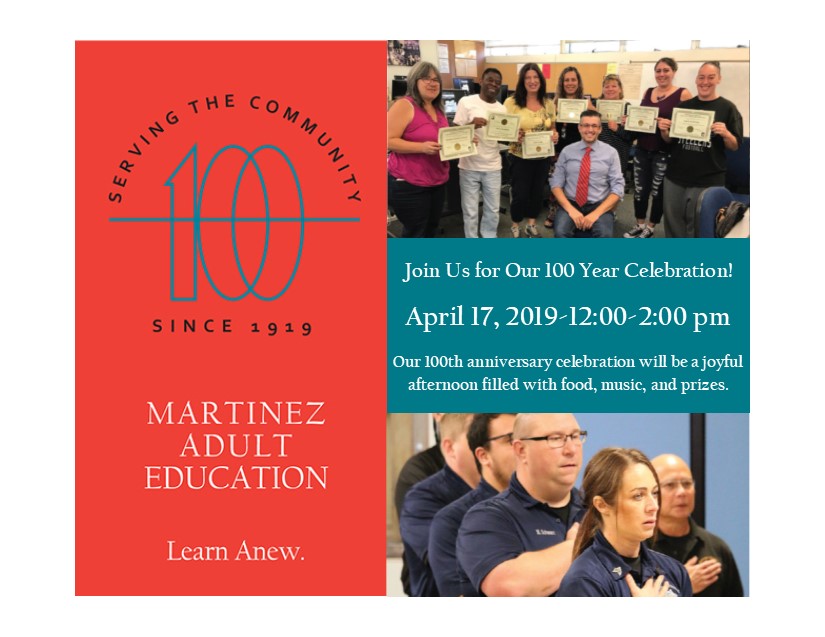 Since 1919, Martinez Adult Education (MAE) has enriched the lives of its students by providing a variety of educational opportunities in Career and Technical, Adult High School Diploma, High School Equivalency, English as a Second Language, Health and Safety, Peace Officers Standards Training, Apprenticeship, and Community Education programs. Our school has been a vital part of the Martinez Community and surrounding area, influencing thousands of students. We look forward to celebrating a century of service and the success of our alumni at our 100 Year Anniversary Celebration in 2019.
On behalf of the Martinez Unified School District and the Martinez Adult Education student body and staff, I would like to cordially invite you to join us for this heartwarming commemoration to be held on Wednesday, April 17th from 12:00 to 2:00 p.m. The program will begin at 12:30 p.m. and will be followed by an open house showcasing our institution's past and current achievements. There will be food, displays, demonstrations, a free drawing for prizes, and live entertainment. During the program, we look forward to honoring the MAE students who have recently been granted U.S. citizenship.
Please join us. We would be honored by your presence.