Sales Have Ended
Registrations are closed
We thank you for your interest, and we look forward to providing unique wardrobe enhancement wearables for you. Sincerely, Madona Cole-Lacy & James Lacy
Sales Have Ended
Registrations are closed
We thank you for your interest, and we look forward to providing unique wardrobe enhancement wearables for you. Sincerely, Madona Cole-Lacy & James Lacy
Description
Customers of Madona Cole Originals and Friends of Your Time For Creative Empowerment, Inc. are cordially invited to a Private Creatively Exciting Shopping Spree to which they can invite their friends and family members. Invitees are requested to kindly register their guests via Eventbrite prior to the day of their visit. This Open House Style Sale will feature: One-of-a-Kind Wearable Art * Handcrafted Treasures from Africa * Contemporary and Ethnically-Inspired Wearable Art - Fashions & Accessories * Authentic African Fashions for the Family * Wall Art * Dignity Headwear for Hair loss and Wardrobe Enhancement.
An Opportunity to Keep a Non-Profit Dream Alive - *10% of proceeds will benefit Your Time For Creative Empowerment, Inc. - - a 501c3 that creatively empowers youth & families. Learn more about this nonprofit and please feel free to be supportive with a tax-deductible donation. www.yourtime4liny.org
More Features
Earn Madona Dollars you can use toward your purchase when you invite 5 or more committed attendees.
Receive the benefits of one-on-one custom or customized fashion enhancement treatment at no additional cost to you.
Purchase raffle tickets for one-of-a kind handcrafted items in support of the Your Time For Creative Empowerment Inc. Creative Empowerment Arts Contest Scholarship fund.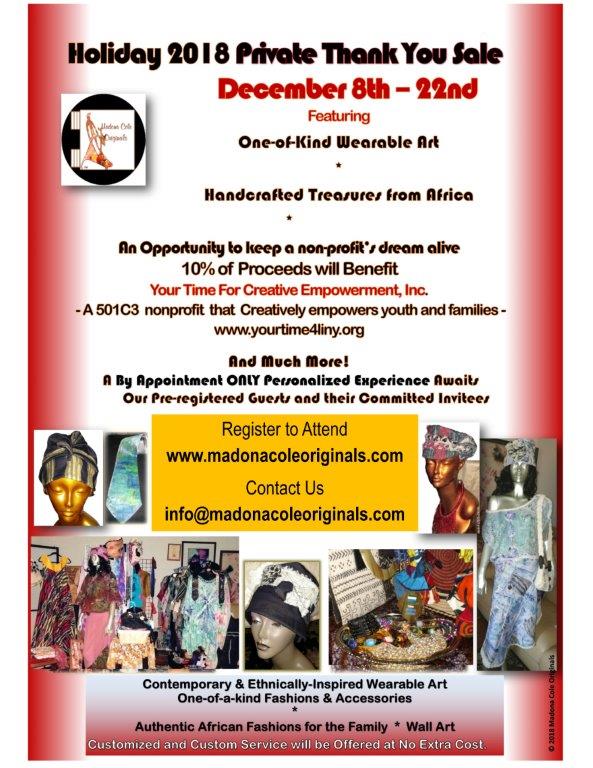 Organizer of Madona Cole Originals Holiday 2018 Private Thank You Sale
 Madona Cole Originals specializes in creatively integrating contemporay and multi-ethnic surface designs and form to create wearable art. MCO fabric designs typically start with white or solid colored natural fabric which Textile Artist/Designer,  Madona Cole-Lacy manipulates and adorns to create one-of-a-kind wearable art.   
It is not unusual for her to incorporate authentic handcrafted ethnic fabrics from Africa and other continents into her creations. 

With her husband, James A. Lacy as a source of support and inspiration, Mrs. Cole-Lacy keeps her creative juices flowing even as they navigate his health challenges.
Madona Cole-Lacy, is the designer behind the Carolyn Series and Dignity Headwear label - crafted to address hair loss and wardrobe enhancement. The sense of accomplishment she feels when she provides a wearable art solution for someone who may not be able to readily find what they want in the commercial market place, or for someone who does not like to see themselves "coming or going" is a driving force behind her creative journey. Mrs. Cole-Lacy believes in using her creations to make the world a smaller place. On that score, she has created a platform which showcases ways she connects her creativity to reach a broader audience.    https://www.iconnectthedotsofcreativity.org/
Madona Cole Originals wearable art items are available for purchase online, as well as, at the showroom on an appointment only basis.