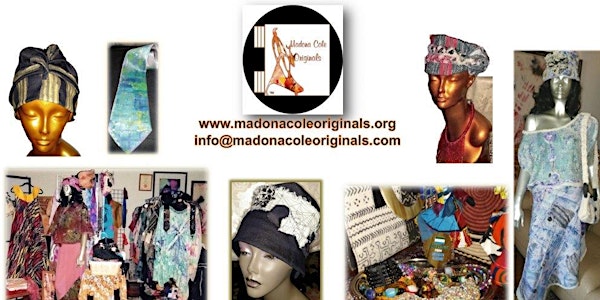 Madona Cole Originals Holiday 2018 Private Thank You Sale
When and where
Location
A personalized experience awaits our registered invitees and their guests Madona Cole Originals Showroom North Bellmore, New York 11710
Description
Customers of Madona Cole Originals and Friends of Your Time For Creative Empowerment, Inc. are cordially invited to a Private Creatively Exciting Shopping Spree to which they can invite their friends and family members. Invitees are requested to kindly register their guests via Eventbrite prior to the day of their visit. This Open House Style Sale will feature: One-of-a-Kind Wearable Art * Handcrafted Treasures from Africa * Contemporary and Ethnically-Inspired Wearable Art - Fashions & Accessories * Authentic African Fashions for the Family * Wall Art * Dignity Headwear for Hair loss and Wardrobe Enhancement.
An Opportunity to Keep a Non-Profit Dream Alive - *10% of proceeds will benefit Your Time For Creative Empowerment, Inc. - - a 501c3 that creatively empowers youth & families. Learn more about this nonprofit and please feel free to be supportive with a tax-deductible donation. www.yourtime4liny.org
More Features
Earn Madona Dollars you can use toward your purchase when you invite 5 or more committed attendees.
Receive the benefits of one-on-one custom or customized fashion enhancement treatment at no additional cost to you.
Purchase raffle tickets for one-of-a kind handcrafted items in support of the Your Time For Creative Empowerment Inc. Creative Empowerment Arts Contest Scholarship fund.