Madoka Magica - Part 1: Beginnings / Part 2: Eternal

Friday, January 11, 2013 from 7:00 PM to 11:00 PM (PST)
Event Details
Madoka Magica
Part 1 and Part 2
JANUARY 11, 2013 / at 7 p.m. / $20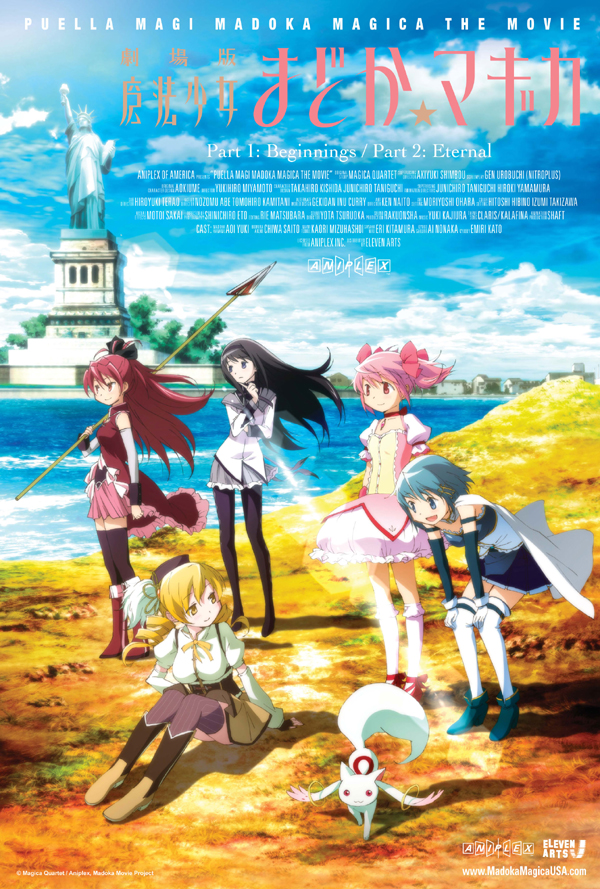 The Official Madoka Magica Movie Comes to Las Vegas!
Both Puella Magi Madoka Magica Movies Part 1: Beginnings and Part 2: Eternal.
Part 1 is 130 minutes and Part 2 is 110 minutes. That is 4 hours of anime fun!
One Night ONLY!
Only at theatre7!
http://theatre7lv.com/
Originally airing in Japan in the beginning of 2011, Puella Magi Madoka Magica is an original story developed into TV series by Gen Urobuchi  (Fate/Zero) of Nitro+ (Togainu no chi), directed by Akiyuki Shimbou (Goodbye Zetsubo Sensei, Bakemonogatari, Arakawa under the Bridge) and produced by Aniplex's Atsuhiro Iwakami (the Garden of Sinners, Bakemonogatari Oreimo, and recent project Fate/Zero).
With the popularity of the series growing worldwide, Aniplex of America isreleasing the series to the US audience. The not-so-typical story of Madoka Kaname and her choice to become a magical girl has taken the world by storm.
Part 1 and Part 2 of the Madoka Magica movies retells the original TV series and is set for the big screen. There is no doubt both movies will provide a new experience for both fans who have enjoyed the TV series or who are just seeing Madoka Magica for the first time.
Ticket price $20 (no discounts, no separate tickets)
https://www.facebook.com/MadokaMagicaUSA
We also have 30 movie posters to be given away at the event!
theatre7
1406 South 3rd Street, Las Vegas, NV 89104
In the Downtown Arts District
(702) 568-9663 
When & Where

theatre7
1406 South 3rd Street

Las Vegas, NV 89104


Friday, January 11, 2013 from 7:00 PM to 11:00 PM (PST)
Add to my calendar
Organizer
PollyStaffle Inc.
An entertainment and mass communication company that celebrates individuality, diversity, creativity, empowerment and community, PollyStaffle Inc. specializes in film production and promotion, film festivals, public relations, marketing and social media.
Madoka Magica - Part 1: Beginnings / Part 2: Eternal