Description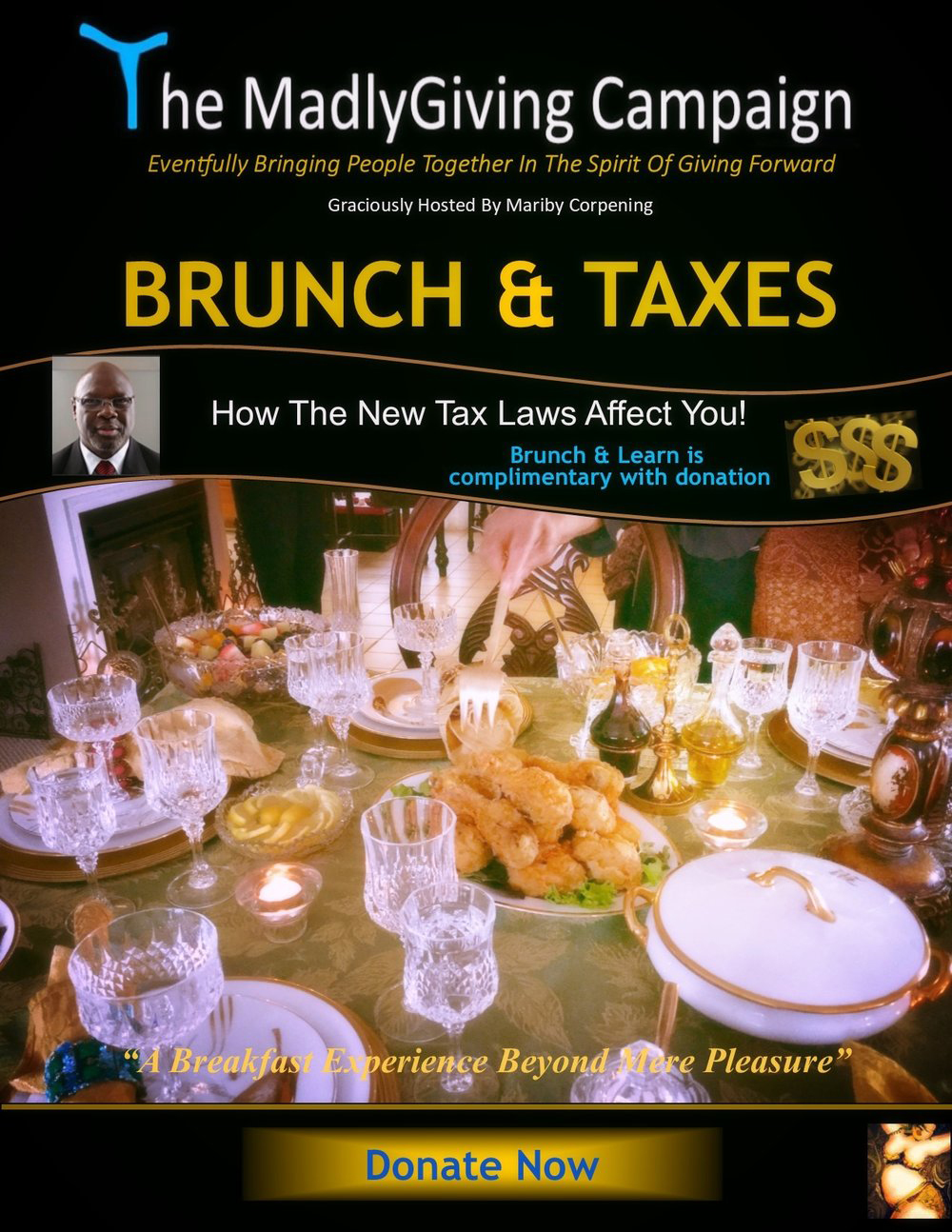 MadlyGiving's BRUNCH & TAXES with Calvin Brown of C. Brown & Associates, Inc.

A UNIQUE OPPORTUNITY FOR AN INTIMATE Q&A - FEATURING THE NEW TAX LAWS & HOW THEY AFFECT YOU!
Reserve your seat at the table for Saturday, January 27, 2018 at 9:30am SHARP, when we sit down together in Service and in Purpose - for a Brunch & Learn!
As tax season is upon us, certainly you have many tax questions. Especially, with new tax laws, if you own a business, started or lost a business, invested or divested in a partnership, purchased or sold property, got married or divorced, had or adopted a child, claiming/supporting others, single filing head of household, married filing separately, gambled and won or loss, and you need to know how it all affects you!
---
ABOUT CALVIN BROWN
Inherently doing unto us all, Mariby Corpening themed up The Ultimate Tax Q&A Consultation - BRUNCH & TAXES with Tax Consultant Calvin Brown, EA of C. Brown & Associates, Inc. - An accounting firm serving the Greater Washington Metro area, providing a full range of financial services including Accounting, Financial Planning and Tax Preparation. With over 33 years of accounting experience, individual and corporate taxation, of which 8 1/2 years were spent working as an IRS agent for the Internal Revenue Service, Calvin has extensive experience representing small to medium size firms, providing organizations with business support and counseling, as well as a host of other professional financial support and services.
NOTE: Calvin Brown will be addressing the new tax laws and answering your tax questions; though, for your more specific and personal matters, you may certainly schedule a private consultation with him at his office.
---
$25.00 DONATION
BY RESERVATION ONLY! For your donation of $25.00, join us on Saturday, January 27, 2018 at 9:30AM SHARP for a unique opportunity to Grill An Accountant & Tax Specialist, while enjoying complimentary breakfast - inherent fundraising - in support of The MadlyGiving Campaign - Eventfully bringing people together in the spirit of giving forward!
---
ON THE MENU
Guest Favorite: Herb-Seasoned Pan-Fried Chicken, Made-From-Scratch Belgian Waffles, Cinnamon & Spice-Fried Apples, Thick-Cut Smoked Bacon, Cheesed Eggs Souffled, Crisp Green Tossed Salad, Fresh Fruit Medley, of course, Mariby's Infamous Buttermilk Slap Biscuits and Complimentary Breakfast Beverages
No, thank you! It's What I Do!
Mariby Corpening
---
As this is a charitable endeavor, by acceptance of hosting, sponsoring, participating, contributing, attending and/or donating to The MadlyGiving Campaign and its principal, Mariby Corpening, All Participants agree to the following disclaimer:
DISCLAIMER
Liability. Participants, Hosts, Sponsors, Contributors, Donatees, Attendees, Guests (collectively, "Participants") agree to defend, indemnify and hold harmless Mariby Corpening and her representatives, agents, assigns, affiliates, service staff, subcontractors and property owners (collectively, "Indemnified Parties") from and against any and all allegations, claims (third-party and otherwise), actions, suits, demands, damages, liabilities, obligations, losses, settlements, judgments, costs and expenses (including without limitation attorneys' fees, costs and expenses) which arise out of, relate to or result from any act, omission, negligence or misconduct of said Indemnified Parties, including, but not limited to, said Participants and/or any and all their heirs, agents, assignees, representatives, affiliates, etc.
Damages / Personal Property. Mariby Corpening, including Indemnified Parties, cannot assume responsibility for personal property, including vehicles and/or any and all other items/equipment at or brought into event location and/or to Participant(s) private or other property(ies); however, Mariby Corpening reserves the right to collect from Participant(s) any charges and/or damages incurred by Participants.
---
ABOUT MADLYGIVING
There is just something about gathering over good food and good conversation, under a halo of purpose.
-- Mariby Corpening
A Brunch of Sundays and Brunch & Learn are literally a dream of Mariby Corpening's - an intimate dining experience, with a purpose! With your donation, it is my honor to thank you with a complimentary brunch, to include meaningful conversation and thoughtful collaboration for the good of community - for the good of us all - out of which a portion of the donations - inherent fundraising - will help support STEM Programs in Prince George's County, MD and throughout the DC Metro Area. Know that with your purpose-filled contributions - participating, donating, gifting, hosting and/or even sponsoring an intimate gathering, to include the collective resources of the many churches, non-profits, businesses, organizations and individuals - like you, we can make the difference and save some dreams, including some of our own! --MadlyGiving
EVENTFULLY BRINGING PEOPLE TOGETHER IN THE SPIRIT OF GIVING FORWARD!
-- Mariby Corpening
---
LINKS TO MORE INFO
MADLYGIVING'S A Brunch of Sundays