Description
This comprehensive 1/2 day seminar covers the increasingly related topics of security/compliance, network and data center infrastructure, and private/public/hybrid cloud, with new insights around containers.

Scroll down to see the full agenda and click on links to see company information and speakers' biographies, who deliver technical, educational and non-salesy talks. There are Microsoft and Amazon keynotes on their respective cloud offerings, from two globally renown IT evangelists, strategies to protect confidential data, stop identity theft and manage passwords from Centrify, plus insights on Container/Docker platforms from innovative startup Clouber.

Content is pre-approved by Angelbeat and past attendees to maximize learning; click here to download presentation guidelines that are followed by all participants, which makes the program so worthwhile for IT Directors, Security Analysts, Enterprise Architects, Network & System Administrators, Data Center/Storage/Infrastructure Managers, CISO/CIO's, etc.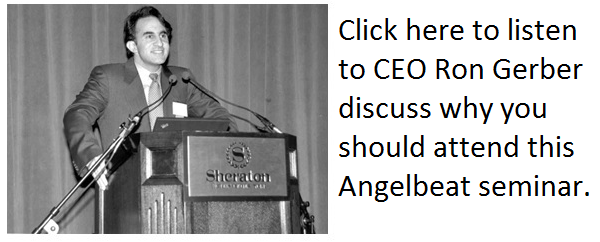 As one Walmart attendee states, "Of all the seminars I attend, your format is by far the best. Brief informative talks from vendors, followed by one-on-one time at their booth to find out more. I am out of the office for less than a day yet I have access to all the different solutions. This year I will follow up with two vendors." As another IT Director commented, "Thanks for hosting a very informative meeting with vendors that tied in well; it was an integrated picture of technologies that work together to create a complete infrastructure solution for the workplace."

Join your peers from the State of Wisconsin, Lands' End, CUNA Mutual, WHEDA, American Family Insurance, Exact Sciences, Sub-Zero, F&M Bank, Sauk Prairie Healthcare, Acumium and many more organizations who are confirmed attendees.

Every attendee receives a full hot breakfast, free parking, complimentary Wi-Fi, plus 3 CPE credit hours towards your CISSP or other certification. There are drawings for gift cards and other prizes at the end.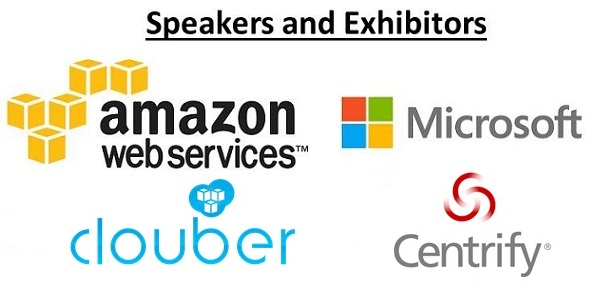 Agenda

7:30 - 9:00: Registration Begins, Full hot Breakfast Served, Exhibit Area Open with Product Demonstrations, Time For Peer Networking/Interaction

9:00 - 9:20: Identity Management and Password Solutions/Alternatives from Centrify
Centrify is the leader in securing enterprise identities against cyberthreats that target today's hybrid IT environment of cloud, mobile and on-premises. The Centrify Identity Platform protects against the leading point of attack used in data breaches ― compromised credentials — by securing an enterprise's internal and external users as well as its privileged accounts. Centrify delivers stronger security, continuous compliance and enhanced user productivity through single sign-on, multi-factor authentication, mobile and Mac management, privileged access security and session monitoring. Centrify is trusted by over 5000 customers, including more than half of the Fortune 50.

9:20 - 10:05: Microsoft Cloud Services: What's New with Azure, Windows Server 2016, and How It Can Power Your Digital Transformation
The cloud puts new demands on your organization to innovate faster, in order to compete effectively. You make decisions every day about how to balance traditional IT responsibilities with cloud innovation. At the same time, your organization faces increased security threats from outside and within. For these reasons and more, organizations adopt cloud computing at different rates.

In this session join Kevin Remde, Technical Evangelist at Microsoft, as he brings you up to speed with some of the incredible tools available in the Microsoft Azure Cloud Platform, from Websites to Databases, Machine Learning to Bot Frameworks, Mobile Solutions, Scalability and much more.

Mr. Remde will also cover Microsoft's substantial commitment to Open Source/Linux Computing, new features in Windows Server 2016, and containers in Windows 10, Azure and Server.

10:05 - 10:35: Coffee Break, Product Demonstrations, Exhibits Open, Peer Networking

10:35 - 11:20: Amazon Web Services: New Features and Innovations for 2017 from the Cloud Computing Leader
With a long history in enabling enterprises to successfully adopt cloud computing, Amazon Web Services delivers a mature set of services specifically designed for the unique security, compliance, privacy, and governance requirements of large organizations. With a technology platform that is both broad and deep, customer-obsessed Professional Services and Support organizations, robust training programs, and an ecosystem tens-of-thousands strong, AWS can help you move faster and do more.

Brian Lewis, a solutions architect with Amazon Web Services and former Microsoft cloud evangelist, will discuss major new features within AWS for 2017, and why organizations such as Netflix, Comcast and Major League Baseball rely upon AWS for their computing infrastructure.

11:20 - 11:40: Container Management Across Private and Public Cloud with Clouber
Clouber is an innovative Silicon Valley startup that provides a patent pending, end-to-end Container Management platform across Public and Private Cloud. Clouber works alongside Azure, AWS and other cloud platforms, enhancing their baseline functionality with additional features such as Hybrid Containers As A Service.

End of Event, Lunch is Served, Raffle Prize Drawings for gift cards and other great items!

FAQs

What are Angelbeat's privacy and optin/optout policies
Each attendee acknowledges/understands that financial support from Angelbeat sponsors allows him/her to attend this event at no cost, and that the sponsors will be given your contact information 2 days after the event for follow-up email and telephone communications. All sponsors are required to provide you with an opt-out option, allowing you to be removed from their database.

However each attendee can opt-out of sponsor follow-up by informing Angelbeat staff at the event, or by emailing Angelbeat immediately after the event, but before Angelbeat releases the attendee list to the event sponsors.

If you have any questions regarding Angelbeat's privacy policies and how your contact information is used, please contact CEO Ron Gerber directly at 516-277-2057 or at rgerber@angelbeat.com.

Who is eligible to receive a free pass
There is no charge to attend for an end user IT professional who works in the telecom/network/storage/security/data center/desktop/purchasing departments of corporations (private and publicly-held, large and small), universities, school districts, government agencies, hospitals/healthcare providers, pharmaceuticals, insurers, manufacturers, retailers, financial services/banks, real estate, legal/accounting/services, transportation/logistic firms, etc. and use, support, approve and/or are involved in or influence the decision to buy the products and services offered by our sponsors.

All free attendees must be pre-approved in advance by Angelbeat. Angelbeat reserves the right to accept or reject a free pass request at its sole discretion. As a general policy Angelbeat does not offer free passes to individuals at companies that are looking to sell their products/services to the end user personnel described above, who attend our events at no charge. If you fall in this category and would still like to attend then the fee is $150/person. To sign up please click here, complete the pdf document that appears and fax it back to Angelbeat at 703-783-8015. If you are a non-sponsoring vendor/integrator/consultant and would like to attend but avoid paying this $150 fee, then you must be accompanied by one of your clients who has not previously registered, and is a CIO, CISO or IT Director that meets the end user criteria above. Full-time reporters from major newspapers, websites, television and radio stations can attend as our guest, but again must be approved in advance.

If you do not meet the above criteria and still try to register, then you will receive an automatic reply/confirmation from Eventbrite. However you will shortly receive another email from Angelbeat, rejecting and cancelling your registration.

What are my transport/parking options getting to the event
Detailed driving directions will be sent out to all attendees one week before the event. There is complimentary self parking.

What is the dress code
Suggested dress is business casual.

What if you have special dietary needs/restrictions
If you have special dietary needs/restrictions, then please email Angelbeat below. We will do our best to accommodate any and all requests.

What if I am a government employee and cannot accept free meals and/or win raffle prizes
If you are a government employee and cannot accept free meals, then you can pay Angelbeat $35/person, to cover the cost of breakfast. Please contact the event organizer at registration@angelbeat.com to arrange payment.

Each sponsoring company/exhibitor handles its own raffle prize drawing; Angelbeat itself has nothing to do with these prizes and attendees are not automatically entered for any raffle prize drawing. Since each attendee must individually signup to win a raffle prize, then government employees (who are not eligible to win these prizes) can simply not signup for the drawing.