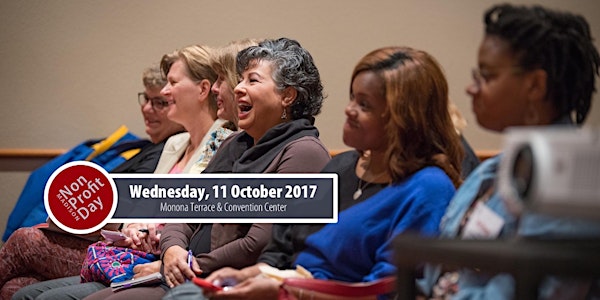 Madison Nonprofit Day Conference 2017
When and where
Location
Monona Terrace 1 John Nolen Dr Madison, WI 53703
Description
The Madison Nonprofit Day Conference is a single day, skills-building and networking conference. Dedicated to providing engaging education, networking, and skills-building opportunities for nonprofit professionals, social entrepreneurs, and community leaders. We select workshops and presentations that are informative, relevant, provoke discussion, provide opportunities for participant engagement, and encourage opportunities for user replication.
Between 500-600 professionals from a wide array of nonprofit and nonprofit adjacent— service providers, philanthropy, etc.—attend. Invest in your staff, your most valuable resources—send them to be educated, inspired, and revitalized.
We have 30+ workshop sessions to choose from, as well as Ask-an-Expert sessions, Flash sessions in the Social Media / Tech Room, and other learning opportunities. So grab tickets now and sign-up for future announcements.
SCHEDULE / HIGHLIGHTS
We'll start posting speakers and workshops for the conference in July, both here and on the madisonnonprofitday.org website. The website will always contain more details than this page, so please visit it.
SCHOLARSHIPS / DAY OF VOLUNTEERS
We work hard to keep the conference affordable, but sometimes further assistance is needed. We offer scholarship tickets starting July 1st until tickets run out. There are a limited number of scholarships and a large number of people in need, so please only grab one if you need it.
Alternatively, you can also volunteer to work for 2-hrs the day before or the day of the conference. We need volunteers for a variety of opportunities including check-in, information desk, room hosts, and more. There are generally more than 50 volunteer opportunities available, and besides a gorgeous gold volunteer badge, they provide free access to the conference.
SPONSORS / PARTNERS
Thank you to our early sponsors and partners. If you wish to sponsor Madison Nonprofit Day there are still opportunities available, please contact 608-241-3616 or email: madison.nonprofit.day@gmail.com
Collaboration for Good, Inc., Numbers for Nonprofits, Organic Payroll, Nonprofit Tech, Wegner CPA, Madison Public Library, Horizon Coworking, Understory, Timpano Group, WORT-FM, YNPN Madison, 100state, Monona Eastside Business Alliance, Madison Traffic Garden, Sustain Dane.